THE WILFRIED DUBBELS STORY – 2004 UPDATE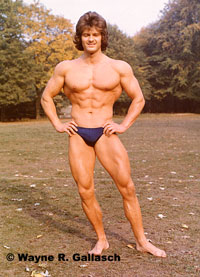 I met Wilfried Dubbels in London in 1972 when I shot my first pumping and posing films and photos with him. Wilfried was the 1971 Junior Mr. Germany and came to me as a fast rising young physique star of the future. He had the classic Steve Reeves look, tall, good looking with broad shoulders, a tiny waist and excellent symmetry. Plus the long hair that was in vogue back then!
The photos I took of Wilfried in various places in and around Hyde Park subsequently appeared in Muscle Mag in 1974, along with a short piece I wrote on him.
Then in September 1975 I travelled to Germany to do a grand tour of the main gyms with Wilfried acting as my guide, driver and interpreter. We started off with posing sessions with Wilfried and big blond Uwe Prink in the beautiful Jenisch Park in Hamburg. Then it was Hans Ringer in Hannover and on to Berlin, and many more cities and many more well known German names of the period.
While we were in Berlin I photographed Wilfried, complete with his flairs, sunglasses and long flowing hair in front of the famous Reichstag building. It is now called the Bundestag and is the new home of the German Parliament. A large blow-up of this photo has hung in my office for 29 years.
As a side trip, Wilfried drove us to Amsterdam for the 1975 IFBB European Championships which I filmed, along with feature films I shot with the winner Petr Stach of Czechoslovakia and Serge Lerus from France. Uwe Prink was runner up to Ben Herder of Holland in his class with Stach also winning his class. After filming several Dutch stars in Amsterdam it was back into Germany, more gyms and more shoots with bodybuilders. I have never since enjoyed a trip quite like this as it was virtually a bodybuilding pilgrimage to all the main gyms in Germany.
Now I am jumping forward 30 years from that first publication of Wilfried's photos in 1974. After the 2004 FIBO, I was invit
ed by Wilfried and his wife Marion to visit with him for a weekend in his hometown of Heeslingen, near Bremen. Wilfried is the local pharmacist where he is a very successful businessman, owning a supermarket, gym and block of flats. Being back there again was just like old times. Wilfried had specially prepared in the gym for some months ready for my visit. He was in outstanding shape and condition for a guy 54 years young. Always the professional, Wilfried was tanned, lean and muscular for our photo shoot in the rear garden of his superb new home. All the old "Reeves" poses were recorded, standing and kneeling twisting lat spreads being my favourites. It was decided to visit Jenisch Park in Hamburg and we soon found the very rock I had used as an impromptu posing platform back in 1975. More photos were taken as we continued our trip down memory lane.
Wilfried trains in his extremely well equipped home gym in the basement of his house. He works out 3 to 4 times a week and uses weights as heavy as possible but not to the point of sustaining injuries. That is apart from a slight shoulder injury, which is now almost 100% again! I used this excellent gym each morning for my own workouts and it was superior to many commercial gyms I have used.
Next year I hope to return to do a workout shoot in this gym, both videos and photos, to show how great Wilfried looks at 55 years of age!
To conclude my visit I had Wilfried tell his story on video (GMV-586DVD) as it related to the various photos we were looking at, which appeared in the physique magazines in the 1970s. My thanks to the Dubbels family for showing me such a tremendous time and for bringing back so many wonderful memories from the "golden seventies".