Matt Canning reviews Guntermania - Gunter Schlierkamp's Latest DVD


Inspired by Arnold, Günter moved to America from Germany in 1996 to pursue his dream of winning the title of Mr. Olympia. It has eluded him thus far placing 15th in 2001 and 5th in 2002. With the help of wold class trainer Charles Glass, Günter hopes to realize his dream. The road to Mr. Olympia is strewn with struggles and sacrifices. Few can understand the extreme training and dieting regimen it takes to win. See how the people's champion works and plays on his way to the biggest bodybuilding competition in the world!


Pro bodybuilder and Mr. Olympia competitor Gunter Schlierkamp is one of the IFBB's most well liked and personable pros. This is possibly because he is such an authentically nice and genuine person and extremely fan friendly. Gunter's DVD shows that and it is quite obvious from viewing it why he is well liked.
The DVD was produced by Palante Productions and directed by Rick Lombardo. Aside from Gunter, his training partner Richard Sears as well as his personal trainer Charles Glass appear in the DVD. The introduction is very cool and Gunter announces that after having improved from the 2001 Mr. Olympia Contest to the 2002 Mr. Olympia Contest that he wanted to take it all the way at the 2003 Mr. Olympia Contest. Unfortunately, this did not pan out as Gunter planned it to, but he still placed fifth in a very tough class.
Day 1 is on Thursday, September 25, 2003 - 30 days out from the Mr. Olympia. On this day, Gunter works hamstrings and calves. He has HUGE arms in this sequence. It's possible he lost a slight bit of size in his diet leading up to the show, because Gunter's biceps and triceps were probably at their biggest during this point in Gunter's career. In late August of 2003 he had a photo shoot with Ronnie Coleman and Jay Cutler at Gold's Gym in Fullerton, California, and his arms were the biggest I had ever seen them - as well, in the 2003 Battle for the Olympia DVD, they were also enormous, which leads me to believe that Gunter overdieted in 2003 to try to capture the condition he had during his amazing 2002 showing where he was the crowd favourite and considered by many to be the best bodybuilder of the night show and deserving of a placing higher than fifth.
For calves, Gunter hits donkey calf raises, standing calf raises, seated calf raises and tbar raises (which work the front part of the calves). Gunter believes that since we walk around all day, our calves are used to high reps and that high reps and weight are required to give them adequate stimulation above and beyond the normal stress they are used to. This theory has been advocated by many bodybuilders including Arnold Schwarzenegger himself, among others.
For hamstrings, Gunter hits seated hamstrings extensions, hamstrings curls, and stiff legged deadlifts. Unfortunately for Gunter, he came down with a leg injury - to his left quad and could not train 100% for two weeks. This resulted in losing 20 pounds, of which Gunter states in the DVD would have been 15 pounds of muscle with the remainder being water and fat - so obviously this injury was very detrimental to his pre-Olympia training routine.
After his day of training is complete, Gunter goes to the sushi bar where he orders a roll that the restaurent had designed specifically for him (the Godzilla roll)! Gunter explains his diet and then discusses his leg injury, where he explains he needed to be on antibiotics to heal. Charles Glass then explains that some changes needed to be made to his nutrition program, including an increase in his protein consumption in order to preserve as much muscle mass as possible while Gunter's quad healed.
Friday - On this day Gunter worked biceps and triceps. His exercises of choice as shown in the DVD are rope pulldowns, barbell skull crushers, barbell curls, and seated dumbbell curls.
Next we see Gunter in Hollywood, California on the KTLA morning news with a reporter from the station - Patricia Del Rio. Another member of the KTLA team, Donna Summers, was also present. Gunter's training partner Rich was a big fan of him. All in all, the KTLA experience was a great media opportunity both for Gunter and for the Mr. Olympia contest.
Saturday - Legs and abs - Gunter's exercises of choice are leg extensions, smith machine squats, leg presses, reverse hack squats, hack squats, full ab machine crunch, leg lifts, upper ab machine crunches.
Gunter explains that he had been interested in weight training since he was 12 years old, and after only a few months training Gunter had put on show much muscle mass and made such big improvements that the owner of his gym told him that he would be well off to compete in bodybuilding shows. From there he won seven bodybuilding contests in a row!
Monday - Chest. Gunter is a big fan of pressing movements including the incline and flat bench, as well as the seated flex press, and cable crossovers.
Next Gunter explains his separation with his wife Carmen. It was a very sad story, and happened 10 or 12 weeks before the Mr. Olympia Contest, just when he was at the start of his diet. Gunter had been with Carmen for around nine years at that point if memory serves me and it was obviously not something which helped Gunter's contest preparation. Along with his leg injury, it is no wonder that he did not manage to replicate his 2002 conditioning and form in 2003. Personal problems, especially of this scale, can only hurt. In this sequence, Gunter states that he is a big guy and has a big heart and that sometimes a big heart hurts. :( I think it's pretty obvious from this why Gunter is so well liked by the fans. While you have King Kamali talking smack in videos like the 2002 Battle for the Olympia, guys like Gunter keep quiet, and when they do have something to say, it's something exceedingly heartfelt and positive like the above mentioned comment. Granted, King has not talked smack for quite some time, but Gunter never has and probably never will. He is a genuinely nice person.
Wednesdays - Shoulders. Gunter does side lateral raises, front raises, dumbbell upright rows, smith machine military presses, and dumbbell shrugs. I've always felt that Gunter had some big delts, even on his large frame, they still look big.
Next Gunter checks out the grocery store to shop for some bodybuilding foods. He makes sure to check all labels before purchasing them as he is on a strict diet, both during the time of contest diets, and year round during the bulking phase.
Going in to the Olympia (after his last workout), his personal trainer Charles Glass feels confident in Gunter.
Olympia Weekend Begins - We see Gunter at the "Meet the Athletes" convention in Mandalay Bay in Las Vegas. Gunter's line of fans is HUGE - he probably attracts more fans than literally any other bodybuilder at the place - the reason being because he is such a nice and genuine guy as I mentioned already a few times - fans appreciate this.
The DVD shows some brief footage of the pump room as well as Gunter being interviewed by the producer of the 2003 Mr. Olympia DVD. Gunter explains that he always felt he had the qualities necessary to be compared to the top in the sport of bodybuilding but that the judges never gave him a callout in order to prove that and finally in 2002 they did and realized that he should have been at the top of the pack all along. Lots of fans agree with this (probably most), while I see on message boards that the more hardcore fans disagree with this and think Gunter is all hype and is only succeeding because of his looks and his smile. I disagree. Gunter in my humble opinion is world class - plain and simple, and a very worthy competitor in any show and without question top five or top 10 in the world. He could be a complete jerk to the fans and have an ugly mug, and I would still say his physique is deserving of top five or 10. I'm not just saying this because he's a nice guy. Check out this photo of Gunter at the 2001 Mr. Olympia contest where he placed 15th.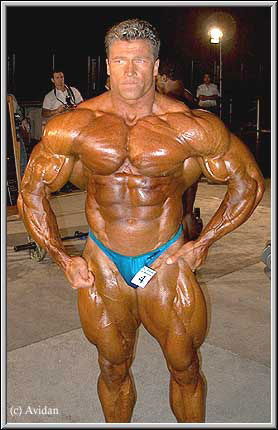 Photograph © Ron Avidan of GetBig.com. Reproduced with permission.
At that contest, I felt that Gunter should have been in the top 10 - if that had happened, it wouldn't have been such a shock that he placed fifth in 2002 - it would have (and should have) been expected. Because of his drastic 10 placing increase in a one year period people hailed him as a future Mr. Olympia, and as good as I think Gunter is, that was premature. For Gunter to be the Mr. Olympia, it would take a very rare combination of factors - he would need to enter the show in his 2002 Olympia or GNC form if not better, and the rest of the top five would need to come in off. Then Gunter could win - but this is not likely to happen and in the meantime there are probably five or 10 bodybuilders who - when ON - are very close to Gunter.
Back to the DVD - Gunter and his training partner and Charles Glass were not pleased with the prejudging where he did not receive a first callout. Gunter's individual posing routine brought him up a few points and he finished in fifth - considering the personal problems and injury he had just recently been through, this was a great placing. For fifth place, he received prize money of $30,000. Joe Weider appeared and said that Gunter "gained weight too fast" and that is why he was not able to improve from 2002. I felt that was a pretty ignorant remark since bodybuilding is about a lot more than just gaining weight - further, Gunter probably COULD have replicated his 2002 conditioning even at a higher body weight had it not been for the problems he encountered during his diet in 2003. I think Weider probably pulled that comment out of his ass. I guess I was mostly disappointed because Joe is the father of modern bodybuilding and really knows better than that. He especially shouldn't have gone on record with that kind of comment when it was groundless. But anyway, I'm starting to ramble...
After the 2003 Mr. Olympia coverage was complete, there was some miscellaneous footage as well as a sequence showing Gunter at a photo opportunity.
All in all, this was a well produced DVD and a must have for anyone who is a fan of bodybuilding DVDs or of Gunter Schlierkamp himself. The sound and picture quality is excellent, and while there is no interactive menu, the DVD is organized in a good way so that it is comfortable to watch. Gunter's charisma really fills the DVD and I think that even non bodybuilding fans could enjoy it. It's definitely among my favourite.

Review of GUNTERMANIA by Matt Canning.

For A-1103DVD GUNTERMANIA Click here.