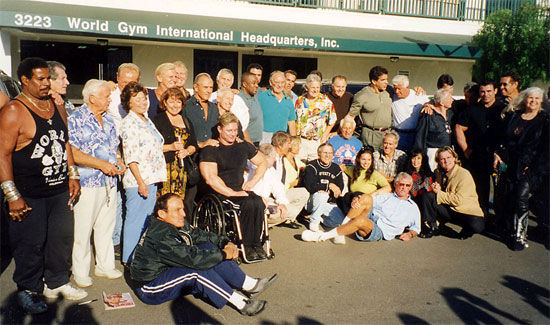 Update on Larry Scott and the Legends' Reunion of 2000.
As a result of the incredible amount of interest and feedback I have received since releasing the "LARRY SCOTT - A life in Bodybuilding" DVD last week, I felt it was appropriate to update my Legends' Reunion report where I had my first in-depth chat with Larry, back in 2000. At this event we took several great photos of him as well as many photos other famous people. To see our photos of Larry and a selection of some of the best of the other Reunion photos, recently all re-scanned at a high resolution, please click here.
Later this year our Legends' Reunion video and the photos will be released on DVD. In the DVD photo gallery it will be the complete archive of photos taken that day by Clive Jaques, Jerry Fredrick and myself. To see more details on the Legends' Reunion video, please click here for GMV-444. (The fact that the code number does not have ...DVD on the end of it means that this item is still only available on VHS. This applies to all similar items on our site.)
Larry Scott is one of the all time Legends of the sport and our DVD tribute to the first ever Mr Olympia winner is long overdue. Larry is still active appearing at Expos and running his own fitness business in Utah. For more information on our new Larry Scott release, please click here for full details on GMV-657DVD. In my updated version of the original Legends' Reunion report, I would like to pay tribute to those very dear friends who attended and are no longer with us today. This list includes Mickey Hargitay, Joe Gold, Gordon Mitchell, Joe Valdez, Gordon Wong, Harold Zinkin and Dr John Gourgott. If I have omitted anyone from this list, please let me know.
My updated report as at January 2007 is as follows.
The Legends' Reunion at World Gym in October 2000

In October 2000 Bill Comstock in conjunction with Joe Gold, World Gym and IRONMAN Magazine held a reunion of bodybuilding greats to honour my 35 years in bodybuilding film making and photography.
It all began back in 1965 when I took my first bodybuilding photos to submit with my articles to "IRONMAN" and English "Health & Strength" magazines. 1968 saw my first videos shot here on bodybuilders from my home stat of South Australia and then in 1970 I shot my first major bodybuilding movie. That was with the current Mr. Australia Frank Colombera.
In 1983 I commenced shooting on video, covering major contests and other events around the world, such as the FIBO Expo in Germany, to the Olympia and Arnold Expos, and the very popular 'behind the scenes and pump room" videos. It is impossible to say how may bodybuilders have passed through the lenses of my cameras in the period from 1968 to date!
This reunion was a rare opportunity to gather with my friends and associates, some of whom I had not seen for almost 30 years. However, I was really disappointed that my old partner Harold Mason of Film Associates was not able to attend. He helped me produce many of the films from 1970 to 1982. We all owe him a big thank you for fostering my film making in this early period which led to my current productions on video over the last 25 years.
This special event was held at the new World Gym Corporate headquarters in Marina del Rey. It was a wonderful time for reminiscences, short speeches and photo taking. I doubt we will see the like of it again with these former champions all in one place at one time. We were lucky that day with a magnificent southern Californian day of blue skies and sunshine. In fact I would rate the occasion as probably the best day of my life (apart from my wedding day of course!!). My good friend Clive Jaques recorded the day for me in photos while James Cook shot it for me on video. I also must thanks Jerry Fredrick who made all of his photos from this wonderful event available to me. As mentioned, all photos will be in the photo gallery of the DVD release. A few of the low res photos we first posted back in early 2001 are in our Male Gallery, please click here. However the newly rescanned photos mentioned above including Larry Scott can be viewed here.
The furthest travelled for the event were ERNIE SANTIAGO from Hawaii, photographer CLIVE JAQUES from England, and LIZZY TAYLOR from Germany. I truly appreciated the attendance of everyone at this very happy and historic event – the only disappointment being that none of my family could be there to share the fun and camaraderie with me.
I was able to chat on video to some of the stars, such as DAVE DRAPER, TOM PLATZ, ERNIE SANTIAGO, CLINT BEYERLE, EDDIE GIULIANI, GORDON MITCHELL, ROBBY ROBINSON - just to name a few. Larry Scott also spoke which you will see in the Scott DVD. Earlier in the day I had been a guest in the home of MICKEY & ELLEN HARGITAY, and I was delighted that they were also present. Over 2 separate sessions Mickey told m on video his life story in bodybuilding with Gordon Mitchell present and helping at the second taping.
The MC for the function was famous bodybuilding photographer and writer GENE MOZÉE. As usual Gene did a great job with introductions of famous faces and keeping things moving with brief comments on many of the special guests. There was not one person present who was unknown to Gene who has an amazing memory and knowledge on all things bodybuilding.
There were a number of personal highlights for me which included my first ever meeting with the 1st Mr. Olympia (1965) LARRY SCOTT, and his friend DON HOWORTH. Larry still has an 18" arm which he flexed for us. Also chatting with the famous TV and movie pinup girl GLORIA PALL - a super personality who was full of wonderful stories. I had nice tributes about my film work from TOM PLATZ and LOU FERRIGNO. I also thanked my sponsor of GMV at that time, TOM LINCIR of the IVANKO BARBELL COMPANY of San Pedro. My friendship with Tom goes back to 1969.
The gathering included a number of former Hercules actors - GORDON MITCHELL, MICKEY HARGITAY, BRAD HARRIS, ED FURY, LOU FERRIGNO and PETER LUPUS. This was certainly a first to see them all together and between them they have made hundreds of movies (not all Hercules of course). Two of the local Los Angeles TV stations sent cameramen to grab highlights of the reunion. They were aware that it was also the first reunion of bodybuilder/actors in the Italian sword and sandal type of movies, and the first reunion of some of the musclemen in Mae West's legendary nightclub act.
ROBBY ROBINSON presented me with a wooden statue he had specially carved for the occasion and DAVE DRAPER presented me with a copy of his new book "BROTHER IRON SISTER STEEL".
Apologies were received from John Balik, Mike Mentzer, Bill Grant and Don Peters. Mike & Don were both in poor health, with Mike passing away on June 10th this year, and Don Peters on March 16th, 2001. Don was 64 years old and died from cancer. Don Peters was a former Mr. America and I shot photos (on the Venice Beach) and a movie of him in July 1978. He was a real fun loving character and loved to tell stories about the other famous bodybuilders. I wish I had written these stories down. You can see Don's photos in the Men's Gallery. Please click here.
Finally the group photos were taken and it was impossible to fit everyone in the frame at one time! My thanks to both Clive and Jerry Fredrick for the photos used in our Reunion Gallery.
A list of the attendees follows (in no particular order). Once a again my sincere thanks to all those who attended and made this such a memorable day for me, and my appreciation to event coordinator Bill Comstock for the huge amount of time and effort he put in to tracking down and inviting many of the guys I had filmed and photographed in USA over the last 30 years. The gathering ended with some wonderful food, and those who could stay lingered on chatting until late into the evening.

A list of the attendees follows (in no particular order). Once a again my sincere thanks to all those who attended and made this such a memorable day for me, and my appreciation to event coordinator Bill Comstock for the huge amount of time and effort he put in to tracking down and inviting many of the guys I had filmed and photographed in USA over the last 30 years.
| | | | |
| --- | --- | --- | --- |
| Paula Boelsems | Glenn Sundby | Rory Leidelmeier | Joe Valdez |
| Gordon Wong | Don Howorth | Bill Cunningham | Don & Mrs. Arnold |
| Ed & Sheri Fury | Pat O'Brien | Steve Downs | |
| Charlie Fautz | Harold & Mrs. Zinkin | Bob Delmonteque | |
| | Mike Glass | Chuck Mahoney | Armand Tanny |
| Mandy Tanny | Zabo Koszewski | Ed Giuliani | Peter Lupus |
| | | Victor Konovalov | Bill Smith |
| Gloria Pall | Mickey & Ellen Hargitay | Roy Goldman | Bill Pettis |
| | Mo El Moussawi | Mike Uretz | John Isaacs |
| Jon Jon Park | Leroy Colbert | Joe Gold | Gordon Mitchell |
| Bill Comstock | Kip Behar | Bill Howard | Lynn Conkwright |
| | Brad Harris | Lizzy Taylor & Peter Hellmann | Gene Mozée |
| George Helmer | Tom Lincir | Jerry Fredrick | Kevin Thomas |
| | Jerome Fergusson | Martina Sharp | Dr. John Gourgott |
| | Bill Dobbins | Steve Marjanian | |
| Seymour Koenig | Markus Reinhardt | Clive Jaques | James Cook |
| Nercy Navab | Nima Kiani | Heather Tristany | Daniel L. Nelson |
| Eddie Espinoza | Negrita Jayde | Steve Cepello (Steve Strong) | Kevin Thomas |
To see the video of this event, please click here.