The Oscar Heidenstam Foundation 16th Annual MEMORIAL DINNER & HALL of FAME AWARDS - 2007

March 17th, 2007 London, England.
This reunion of bodybuilding aficionados was an absolute blast!

In March each year the OHF hosts a special dinner and Hall of Fame awards night to celebrate and honour those who have contributed to the sport of bodybuilding, fitness, physical culture and several other endeavours. Although there are various categories that are honoured, I will give you a brief report on the main bodybuilding side of proceedings. The event is held in the wonderful Marriott Slough/Windsor Hotel near Heathrow Airport making it very convenient for overseas guests to visit.
Around the walls behind the head tables are full size photos of all the previous Hall of Fame winners. This included such legends of the sport as John Grimek, Arnold Schwarzenegger, Bill Pearl, Reg Park, Steve Reeves, Mickey Hargitay, George Eifferman, Larry Scott, John Citrone to name a few, and many more recent champions.
At the other end of the ballroom were tables displaying memorabilia relating to Oscar Heidenstam's amazing life (1911 – 1991). He was the driving force behind the Universe contest from its inception in 1950 as the NABBA Universe till his death. Next to Oscar's many items (which would easily take up a small room in a museum) were the tables of bodybuilding stuff, books, magazines, signed posters etc which was part of the silent auction. Wonderful collectible items donated by friends and supporters of the OHF.
The superb souvenir programme was prepared by Malcolm Whyatt and Colin Gilham. My sincere thanks go to them and the whole OHF organising committee for giving Tina and me such a wonderful night. It was an honour for me to be there as their guest and an occasion I will always cherish. Later this year Malcolm will have available a DVD of the night's proceedings which may be ordered through GMV.
To see other OHF videos and related DVDs available, please click here. List soon to be updated.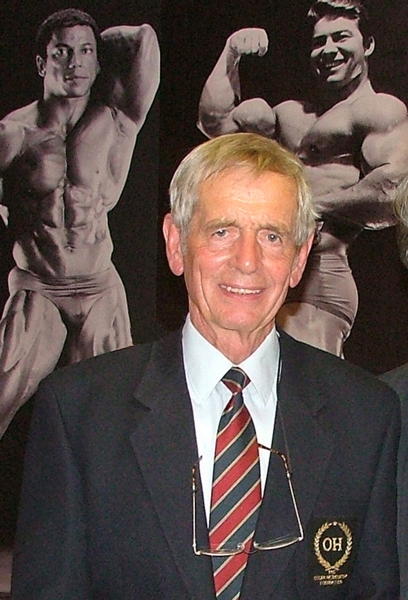 OHF event organiser - Malcolm Whyatt
After we all mingled, chatted, reminisced and enjoyed the wonderful camaraderie of the occasion. I managed to take some photos before the official awards commenced and also during the dinner. Some of the current and former bodybuilding stars I chatted with in the audience included John Citrone, Paul Sutton – current class 4 Mr Universe, Michael Sullivan, John Bubb, Roy Duval, Michael Whyatt, David Prowse, Kerry Kayes, Norman Hibbert and Colin Gilham. All honourees received beautiful crystal glasses and plaques from the OH Foundation. Susana Perez was ably assisted in her speech by NABBA Chairman Bryan Robinson while Kerry Kayes explained the Simon Robinson story.



Tina Gallasch and Dave Prowse (Darth Vader)



Part of the large crowd. Backs to camera are
David Webster & Clive Jaques.

We heard some terrific speeches from the various presenters and the honourees. No speech could have topped that of Eddy Ellwood as he shared with us a wonderful political history of his career. Stuff worthy of a book. The evening passed too quickly but the memories will live on with all of us for ever. Malcolm Whyatt did a great job as M.C. and kept things moving along as we started to run out of time. On behalf of my fellow honourees, I would like to thank all the many people who helped to make our night so special. Photos are by Malcolm Whyatt, Tina and Wayne Gallasch.

The 2 new members of the Hall of Fame were EDDY ELLWOOD of England and SUSANA PEREZ of Spain. Eddy is the record holder and 5 times consecutive winner of the Pro NABBA Universe title from 1997 to 2001. GMV-451DVD.

Susana Perez was near unbeatable as a Figure Universe champion winning the overall FIGURE title in the years 1993, 1994 and 1995.
GMV-212DVD.
| | |
| --- | --- |
| Eddy Ellwood and Ian MacQueen, M.D. | Tina and Wayne Gallasch. |
MIKE BAKER of England received the OHF Ambassador Award. The last time I saw Mike was when he was competing in the 1970 Mr Universe contest. He was a champion bodybuilder and an outstanding human being.


| | |
| --- | --- |
| Susana Perez and partner. | Wayne and Mike Baker. |




SIMON ROBINSON

was awarded the Dr Tom Temperley Award for Achievement in the face of adversity. Simon, who lost a leg, is an inspiration and some of you may recall his guest posing at the Mr Olympia and the English Grand Prix several years ago.GMV-551DVD

BILL RICHARDSON formerly of England and now of Holland received Malcolm Whyatt's Humanitarian Award. Bill was 1980 Amateur Mr Universe and also a noted strongman and arm wrestling champion. V-149DVD. (Bill is pictured below with Malcolm.)

WAYNE GALLASCH of Australia received the OHF Outstanding Services to Physical Culture Award. (A-1084DVD)

(The OHF DVD of the night's awards will be on the GMV site shortly.)


| | |
| --- | --- |
| Cliff Le Maistre presenting the award to Wayne. | The OHF Award |


To read some words of introduction to Wayne's award by presenter Cliff Le Maistre, please see below.



The following is a précis of notes used for the introduction speech to Wayne's award made by OHF Chairman CLIFF LEMAISTRE.



Oscar liked Wayne very much indeed.

Wayne has had a long connection with NABBA having judged at the Universe from the early 70s to the mid 80s as Australia's first ever Universe judge, to being President of the local NABBA South Australian bodybuilding committee in the mid 80s. Wayne was Mr South Australia and Mr Adelaide in 1968 and won the Australian National Powerlifting championships in the light heavyweight class from 1966 to 1970.

In 2000 he received state and National NABBA Australia Life Membership - Hall of Fame Legends category. 2003 he was the first recipient of the

Iron Man magazine's Cinematography Award

in USA. The year 2007 marked the 40th anniversary of what Wayne described as "my small step forward into the unknown world of physique photography, followed by international cinematography in 1970."



BUSINESS


Wayne and Tina's GMV Productions is probably the best and most well known bodybuilding and fitness video company in the world. They also turn historical physical culture film footage into videos and DVDs.

When did it all begin? In 1965 Wayne took his first bodybuilding photos to submit with his articles to Health & Strength magazine. This was on the advice from Oscar that his articles would be a lot more interesting with accompanying photos. That was his initial motivation to pick up a camera.
Subsequently GMV Productions was born. Later Wayne & Tina developed their own web site for on-line ordering, www.gmv.com.au



TRAVELLING


Wayne and Tina still travel the world and videotape major bodybuilding and fitness events, Expos and pro shows with all the biggest names competing. How many miles does Wayne travel in a year? 13,000 miles each way to cover the NABBA Universe from Adelaide Australia to UK. 37 years he has shot the Universe at 26,000 miles per round trip is 962,000 miles just for that one event. Also since the mid 80s, most years with 2 trips to USA to cover major events and separate mid year trips covering NABBA Worlds and WFF Universe contests. Wayne's guess is around 3 million miles travelling to shoot bodybuilding events.

Many thousands of bodybuilders have passed through the lens of Wayne's video cameras over the years. Since 1992 several of his contest productions have also appeared on TV in the UK and in Europe. It is said that recording history is as important as making history. Wayne is never satisfied.... the hall mark of a true professional. However let me assure you that we have always admired his results. No one has ever produced such excellent work as Wayne and with the valued help of Tina.

On behalf of everyone here and and the Oscar Heidenstam Foundation we congratulate you on your award tonight for Outstanding Services to Physical Culture.



The following is Wayne's acceptance speech for this award at the OHF Hall of Fame Awards.

(I am humbled to be among the who's who of bodybuilding. Being induced into the OHF Hall of Fame is the biggest individual honour of my bodybuilding and filming career. It is true that individual accolades are nice to look back on when your career in bodybuilding DVD production is over. To be inducted into the OHF Hall of Fame, alongside so many other famous people in the sport is simply humbling and almost embarrassing.)

Honoured guests, ladies and gentlemen. I seem to be on the wrong side of the video camera tonight! I am not sure if I can handle this! First of all I would like to thank the OH Foundation's organizing committee for selecting me for this wonderful award tonight. I am deeply honoured and proud to join such an illustrious list of bodybuilding legends.

I'd like to pay tribute for a moment to one of our dear friends who was honoured at these awards in 2003. Mickey Hargitay passed away last September and he will always be remembered for the wonderful and emotional speeches he made at these awards as well as at the 50th anniversary dinner for the NABBA Universe in 1998 in Birmingham. It was my privilege to call Mickey a friend.

It has been my good fortune to film and photograph virtually all the greats of world bodybuilding from 1968 to the present. Where did it all begin?

In 1965 when I took my first bodybuilding photos to submit with my articles to H&S, it was on the advice of Oscar Heidenstam. He said that my articles would be a lot more interesting with accompanying photos. That was my initial motivation to pick up a camera.

Having been a competitor and keen amateur physique photographer in Australia in the 60's, it was a matter of preparation meeting opportunity when I first came to the NABBA Universe in 1970.
See V-108DVD The annual trips to England for the Universe and also to USA have continued every year till this day.

In 1970 I felt that major events in England, USA and Europe, as well as Australia, should be recorded on 8mm film as moving images, not just in photographs. No-one else seemed to care about recording them on cine film, as it was called back then.

Filming contests was not deemed very important. With super 8 film quite expensive and 16mm film only for professionals, virtually no 8mm film was shot at Bodybuilding events in those early years.

I always sensed the feeling of being present at "history in the making" at these international contests in UK, USA and Europe. The best thing about being a cameraman is the opportunity and responsibility in capturing the most crucial moments that will never be repeated. The satisfaction of shooting perfect pictures on film or video is rewarding not only for me, but is useful as a treasured record for the many competitors and fans who contact me years after the event for a copy – now on DVD.

I had a singular determination back in 1970 to do this as a career, not knowing how it might work out, where it might take me, and to pursue it for as long as I was physically able.

Since I first started filming contests, the number of bodybuilders that have passed in front of my cameras would now be in excess of 20,000. I could not tell you how many miles I have travelled attending bodybuilding contests. Most years there have been 2 trips to USA to cover major events and since the eighties, the separate mid year trips to cover the NABBA Worlds and WFF European contests. The total figure today is probably some where around 3 million miles. That is a lot of frequent flyer points!

The total number of films and videos produced since 1968 is just over 1000 with around half of them now available on DVD.

One of my favourite sayings regarding my camerawork is this. If you do not plan for success in shooting a contest then you are in effect planning for failure. After all these years of shooting the NABBA Universe, I still feel nervous each year and only feel back in the groove when the first class of guys comes out for round one. The passion is still there in 2007 just like it was in 1970 at my first international contests.

I thought I would share with you a few interesting highlights from my 40 years of bodybuilding camerawork:

In 1970 in London I filmed my first Universe which was Arnold's final NABBA Universe victory. Frank Zane and his wife also won overall titles that day. It was a well know fact that pressure from USA meant this would be Arnold's last NABBA Universe. This motivated me to borrow the money to travel to England to attend this historic event. Arnold subsequently did extremely well in the movies and is today the very popular Governor of California.

Because it was not permitted in the early 70s to shoot photos, let alone movie film, in a theatre without an official press pass, I was somewhat in a bind. I used a brown paper bag to hide the 8mm camera from the security guys patrolling the aisles looking for any types of camera in the audience. I was lucky not to be caught and thrown out by theatre security! Thanks to Oscar Heidenstam's initial approval and encouragement, I have done it ever since - shooting the Universe that is. Thankfully I don't need to use a paper bag these days!

In 1971 I heard that Bill Pearl was to make his farewell contest appearance in the London NABBA Universe Pro Class, and that Sergio Oliva, Reg Park and Frank Zane had also entered. I captured this historic clash of the giants on film, and this time shooting from the balcony at prejudging in order to keep a low profile. After the show I was invited to celebrate Bill's victory back at his room with a group of his friends. I had known Bill for some years via postal mail (long before email) but we had never met. What a wonderful champion and gentleman he is – a 4 times Mr Universe winner.

One week later I journeyed to Paris with Wag and Dianne Bennett for the Serge Nubret promoted 1971 Mr. Olympia. Sergio had entered but was banned for having been in the NABBA Universe and was subsequently only allowed on stage as a guest poser.

This was Arnold's second Olympia victory and I was fortunately able to capture it on film. Contrast the one competitor of the 1971 Mr Olympia contest with the 25 competitors for example in the 2002 Mr Olympia!!

1972 was a stellar year. I made feature films of Arnold and Franco, Frank Zane and Sergio Oliva - all pumping and posing outdoors. These are probably some of my all time best known and most requested films – now as DVDs.

I must mention that if it had not been for the help and organizational skills of Wag and Dianne Bennett in ensuring that Sergio made it to the shoot, then this historic footage would probably not exist today.
| | |
| --- | --- |
| Dianne and Wag Bennett with Tina. | Wayne and Eddy Ellwood. |
1972 was also the first year I had the honour of officiating as Australia's judge at the NABBA Universe. I judged off and on over the years up to 1986 when Charles Clairmonte won the overall amateur Mr. Universe in a very close decision over Mike Antorino of USA.
In 1976 I made a pilgrimage to York, Pennsylvania and had a wonderful meeting with John Grimek, discussing the latest photography I brought to him for selection for the Bob Hoffman magazines. I will always treasure this very special time spent with the monarch of muscledom.
1980 was a truly memorable year and some what controversial. I was asked to be one of the sponsors of the Mr. Olympia in Sydney, sponsoring through our Nutra-Life supplements company. I agreed on the proviso that I could have filming rights to the event from the centre front row, and the promoter agreed to this. V-103DVDSP
In 1982 I was present in London when Chris Dickerson, a former NABBA Universe winner, finally claimed his Mr. Olympia crown. He was the oldest ever first time winner of this title, and this was the last event I shot on film. I shot on video from 1983 onwards.
In 1983 with my friend Tom Lincir of IVANKO I visited Peary and Mabel Rader in Alliance, Nebraska. Peary published more of my photos, covers and articles in IronMan magazine than any other publisher.
1983 was a special year for me. I sold my ownership of the Nutra-Life protein supplements company that I had started in 1966. This enabled me to start a proper video production studio, GMV Productions, which I originally ran from my home.
I can't let 1990 go past without mention! Our good friend Lance Robson recommended this up and coming young Northern bodybuilder called Eddy Ellwood, saying that we should produce a video on him if we could. As we were going up north to visit Lance, we thought we'd take a look at this young guy. By golly, he was good! We shot a full gym workout at Eddie Ellwood senior's gym followed by posing at the magnificent ruins of Finchale Priory. See below.
This proved to be very good talent spotting all round, as you all know what magnificent achievements later followed with Eddy!!! My congratulations Eddy on your Hall of Fame Award tonight.
Eddy Ellwood - Champion Workout - 5 Times NABBA Universe Champion

"This is a portrait of an all time British Champion and multi Mr. Universe winner!" In this DVD one of Britain's most popular young bodybuilders shows us what he is made of, as the camera follows Eddy through a genuine, gruelling hardcore workout.

There is no skimping on weights as Eddy pushes himself to the point of exhaustion, sweat pouring down his body.


In 1998 Andy Olson of Magna Media International asked me to shoot the Ms. Olympia for him in Prague. This was a wonderful challenge shooting my first Olympia on video. Not to mention the delight of working in a city like Prague. A-0964DVD
1998 saw the special 50th Anniversary Dinner for the NABBA Universe, held in Birmingham and organized by Ivan Dunbar. Ivan also shared with me on video the history of the NABBA Universe from 1948 to the present date. For me the NABBA Universe is the crown jewel of world bodybuilding contests.


THE 50TH ANNIVERSARY NABBA UNIVERSE DINNER & POSING HIGHLIGHTS: 1948-1998
This DVD is a very special record of the 50th Anniversary NABBA Universe Dinner and Posing Highlights. It consists of half an hour's posing highlights of the major Mr. Universe winners from Arnold in 1970 right up to 1997 inclusive. Regretfully we couldn't include all the winners in this 30 minute segment. However it does also include short posing segments by 4 of the all time greats prior to 1970 - Grimek, Reeves, Park and Pearl.

The second part of the DVD running for 60 minutes contains the highlights of the 50th Anniversary NABBA Universe Dinner and contains the complete speeches of STEVE REEVES, REG PARK, BILL PEARL and MICKEY HARGITAY, plus scenes of many other famous people in the audience that night.
In 2000 I had the privilege of recording Mickey Hargitay's life story on video, shot at his home in LA. Mickey always had a very long and close affinity with and affection for NABBA. He was one of the guest speakers at the 1998 50th Anniversary Dinner.
The same year Graeme Lancefield and NABBA Australia honoured me with life membership in their Hall of Fame – Legends Category. I enjoyed shooting all of our national NABBA events from around 1985 till the recent years.
Since around 2000 I have had the task of shooting most of the WFF Universe events for Klaus Hoffmann and his WFF organization. With huge numbers of competitors, usually over 200, those who have been to these events will know what I mean when I say it is quite a task! The WFF is a German based organization linked in friendship and spirit with NABBA. GMV-644DVDSP Men & GMV-640DVD Women
In 2000 we did a long overdue shoot with John Citrone in his new Team Valley gym, near Newcastle. A customer told Tina at the recent Arnold Classic that he felt that the Citrone video was the most inspirational DVD that GMV has ever produced. There are many ways to measure greatness but I rate John as one of the greatest British bodybuilders of all time because he has been a champion from his teenage years up to his early 60's. And you can't get much more inspirational than that!!! GMV-231DVD

In 2003, I had the honour of standing on the same stage as Bill Pearl when I received the IRON MAN magazine award for Services to Bodybuilding Cinematography. This was the same night that Bill Pearl received the Peary and Mabel Rader Lifetime Achievement Award. I was very proud of this award being the first non-American to receive recognition from Iron Man magazine. V-180DVD GMV-659DVD
What was particularly satisfying that night was that both Bill and I enjoyed our greatest success, in my humble opinion, through our long association with Oscar Heidenstam and NABBA. (Bill and Wayne pictured below at 2003 IM awards in USA)
My latest project has been putting together a documentary on the life of Bill Pearl. This will be followed with similar documentaries on legends Sergio Oliva and Frank Zane.


Frank Zane – Physical Perfection

This remarkable DVD is our tribute to FRANK ZANE and his outstanding life and career in bodybuilding. Frank is regarded as having the most desirable physique of all time.

His physical perfection, symmetry and condition is representative of what bodybuilding truly stands for. Frank is still in great shape today.


60 Year History of the NABBA Universe 1950 - 2010 2 DVD Set

Commencing in 1950, NABBA's first Mr Universe contest was won by Steve Reeves who defeated Reg Park. Some of the other great legends of the sport besides Reeves who won the Mr Universe title include Reg Park, Bill Pearl and Arnold Schwarzenegger (four-times winner). The 1948 Universe was sponsored by Health & Strength magazine and it was staged by its Health Strength League. It was won by John Grimek who defeated Steve Reeves. This fantastic trip down memory lane is narrated by IVAN DUNBAR who is the only person to have attended every single Universe contest from 1948 to 2008. A classic DVD of Legends!


I would now like to share with you a few amusing incidents from over the years. Most of you will recall Paul Grant from Wales, back in the Universes of the early 70s .
On asking him next day during our film shoot why he had such a huge chunk of skin out of his shins, he informed me that of all nights, on his last night at work as a bouncer, a drunken patron had kicked him in the shins, almost breaking his leg.
In the late 80s, Andy Ball and Bob Gruskin were responsible for a number of guys passing in front of my lens the day after the Universe.

People such as my old friend Joe Meeko who I saw 2 weeks ago at an Ironage Legend's Reunion in USA. Steven Strunk, Joe DeAngelis, Jerry Scalesse were just some of the many who were part of the USA/UK connection. All were great people to work with.
The first English guy I shot in the Alex McKenna studio was last year's honouree, Charles Clairmonte. It was back in 1986 and Charlie was very shy and extremely modest. We asked him if he felt he would ever become a professional bodybuilder. He replied that he would be happy to simply win a single Amateur Mr Universe title! The rest is history as to his achievements. I had a number of shoots with Charles over the years and I rate him as one of the best physiques to ever grace the NABBA stage, or any stage for that matter.
Talking about shy bodybuilders reminds me of the day I had booked Bertil Fox to shoot a posing and workout film with me. It was the mid 70s and Bertil trained at Del Martin's gym in Southall. Del later told me that if he had not gone to Bertil's house and bullied him into coming with him to the shoot, it would not have taken place. Bertil looked amazing that day, and I shot a rare bit of history recording the superb shape he was in, and the huge weights he lifted with ease.
Other top UK people who were a delight to work with included Basil Francis and Mary Scott. I owe Basil an apology for telling you this story. We were in Bradford and Tina suggested that I really should try and shoot a video with Basil. I was feeling pretty tired and not terribly interested in putting the camera equipment together again at such short notice. I approached Basil and offered him a fee which was probably less than I should have offered, in the expectation that he would say no and that I wouldn't have to do the job. Basil was happy to do the shoot and it all took place immediately and we ended up with a first class production.
When I am asked who is the best bodybuilder I have ever filmed it is impossible to give this accolade to one person. However, the best 4 I have ever filmed and in no particular order are Arnold, Sergio Oliva, Bill Pearl and Ronnie Coleman.
There are some very special people I would like to thank for helping me in my career.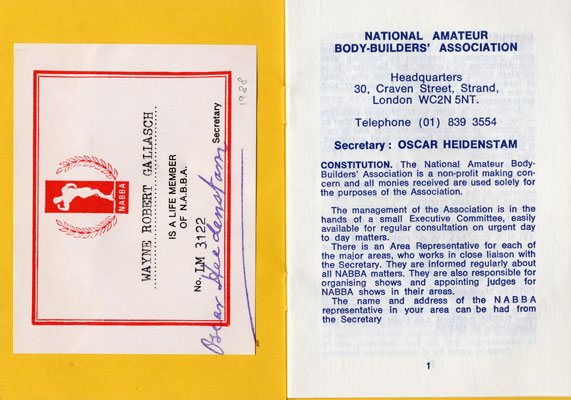 They include my friend Clive Jaques, my interviewer, photographer and general helper for the last 36 years - and here tonight. Clive, please could you stand up.
I owe a lot to the late Oscar Heidenstam for his continued encouragement and support and for granting me my Universe filming rights in the 70s; Ivan Dunbar, Bryan and Hazel Robinson, Val & Jim Charles, the Sullivans and all the NABBA officials both past and current.
John Balik of Iron Man, Wayne DeMilia and Andy Olson, my son Sean for taking over the editing of my work 13 years ago and Jeff Thompson from Adelaide for help at many different contests since 1970.

Wilfried Dubbels, my German friend who has made my taping possible of many top bodybuilders in Germany and Europe from the mid 70s till the present time.
On behalf of Tina and myself, special thanks to Malcolm Whyatt who I first met in 1970 and who is responsible for the formation of the OH Foundation, and all that it stands for today. Special thanks to Alex McKenna who for many years gave me free use of his North London photo studio for the shooting of many of my videos from the mid 80s to the early 90s.
I would also like to make a special mention of Kerry Kayes and CNP Professional for being the official sponsor of GMV Productions. A very big thanks to my 2 USA friends who have helped me run GMV in USA and they are Ray Snodgrass who has worked with me since 1968 and Dr Dick Rossan who has helped me since 2000. Also Kenny Kassel for his great interviews.
There are many others who have helped me over the years, too numerous to mention. However be assured that all of you are appreciated and are certainly not forgotten.
Last but not least, very special thanks to my business partner and wife, Tina, for doing all the hard miles with me through thick and thin, through many flights, and long separations from her home and her cat. She has suffered much more than me over the years! I ask her to stand up and take a bow.
Some people think my life is one long holiday jaunt to bodybuilding events. (Loud interjection at this point from Tina Gallasch – "it is!") However I say it's hard work and a hard life at times, dragging my heavy bags of video equipment around the world, and through endless airport security checks, often travelling on my own. I do have to say, though, there is not a single contest that I don't look forward to.
My aim has always been to leave behind me a comprehensive record of the sport of bodybuilding for others to enjoy, both now and in the future. Much of it would probably never have been recorded, and now future generations will be able to look back and see for example what made Arnold Schwarzenegger such an amazing bodybuilder-from the age of 19, to the present day as Governor.
I hope to go on recording bodybuilding history on video - for DVDs and Downloads over the coming years, health willing. To sum up, it has been a lifetime of recording ordinary men and women with extraordinary physiques. I thank you all for sharing this passion with me, and may there be many more adventures ahead.

(Special Note: In 1996 Malcolm Whyatt received a special award from the AOBS in USA. In 2000 Malcolm & Wendy Whyatt received the OHF Board of Trustees Award.)