The 20th Anniversary 2009 Iron Man Pro – Contest Report by Wayne Gallasch, GMV.
This famous annual Pro event was held once again, along with the LA FIT EXPO, in the Los Angeles Convention Center.
In preparation for the contest, there were three tanning tents set up back stage by Jan Tana. The contest would step into the tent and get spray tanned. The tent prevents the surroundings from being tanned and is much faster and cleaner than hand applied tanning solution. As far as I could tell, only half the competitors took advantage of this fantastic service. The colour was perfect, not too light and not too dark. A second top-up coat was given on Saturday morning before prejudging started at 10:30AM. Jan said it was a new tanning formula she had developed.
The show opened with Lonnie Teper's tribute to the winners of the Iron Man contests over the last 19 years as a prelude to this the 20th year of the event. The past winners who were present were then presented on stage such as Shawn Ray, Chris Cormier, Flex Wheeler, Jay Cutler, Dexter Jackson and Phil Heath. This was a nice touch for a group photograph with John Balik.

There were 28 competitors from 14 countries making this an extremely even lineup of mostly guys you would call non-monsters. More the type of physique presented by the current Mr. Olympia, Dexter Jackson. I call this the look of the future and a turning away from the monster physique with the bloated mid-section and often loss of aesthetics. The first five places were as follows:
1. Silvio Samuel - Spain
2. Moe Elmoussawi - NZ
3. Ronny Rockel - Germany
4. Hidetada Yamagishi - Japan
5. Ahmad Haidar - Lebanon
All five are eligible to compete in the 2009 Mr. Olympia contest. What was also interesting was the spread of countries of the top 5 placegetters. Not the usual dominance of mostly USA physiques. In fact Silvio Samuel was born in Brazil, has represented Spain and now lives in California.
Once again my camera was linked to the 2 big screens mounted on either side of the stage to bring the bodies closer up for those fans not sitting in the front seats. Not surprisingly the lighting by Mike Neveux and his crew was outstanding. It is always the best lighting I see at any contest every year. Why other contests can not copy or try to reproduce this lighting is a mystery.
2009 proved to be the year of mid-sized physiques as the top 5 were all roughly the same size. These top 5 were also all in superb condition, hard and shredded. I was pleased to see Haidar get his qualification for the Olympia this time as so often he has missed out by one placing over the last few years.
Although the Iron Man NPC Figure event was not staged this year, I do hope to see it back next year. In its place was the 2009 Iron Man Magazine/BodySpace Spokesmodel Search. Bodybuilding.com and Iron Man Magazine, one of the longest-running bodybuilding publications, have officially announced Allison Ethier and Sean Harley as the 2009 Iron Man Magazine/BodySpace Spokesmodel Search Winners.
Over 250 contestants went through four different rounds of online voting on Bodybuilding.com to be narrowed down to the top 10 finalists (5 women/5 men). On Saturday night, January 24th, the Iron Man Magazine/BodySpace Spokesmodel finalists took the stage at the Iron Man Pro for a final swimwear round. They all had the chance to introduce themselves and to give one last impression to the judges (comprised of Bodybuilding.com Editor-In-Chief Kris Gethin, IFBB Pro Marika Johansson, and Iron Man Art Director Terry Bratcher) and to online voters at home. It was a close race, but Ethier and Harley claimed the prize.
These two lucky winners will be featured on the cover on Iron Man Magazine and will appear in a national advertising campaign for Bodybuilding.com. Also, they will receive a fully paid trip to both the 2009 Arnold Expo in Columbus, Ohio, and the 2009 Olympia Expo in Las Vegas, Nevada, where they will appear as spokesmodels for Bodybuilding.com and the BodySpace community.
This year the prejudging ran for 95 mins, with every single athlete getting an even chance to put his best foot (or should I say best pose) forward for consideration by the judges. I feel sure that the much larger venue resulted in a larger attendance this year and in part, was due to the 20 year anniversary of the contest.
Before I talk about the top 5, I did feel that several guys who looked fantastic were perhaps slightly unlucky to just miss final 5. I refer to 6th placed Eddie Abbew from UK and 7th placed Mohammad Bannout from Lebanon. Bannout, a cousin of Samir Bannout, 1983 Mr. Olympia - looked sensational. He was the most shredded and freaky looking guy in the whole contest. In 8th was Mr. Symmetry in Mark Dugdale. I suspect the judges expected Mark to be slightly tighter, although he still looked quite outstanding.
Rounding out 9th and 10th spots were Marcus Haley of the muscle control posing and Johnnie Jackson of the powerlifting fame.
Now a few comments on the top 5.

After prejudging I asked one of the top BB scribes who would win. Silvio Samuel was the immediate reply. No surprises there and you could almost see the striations through his clothes! He had the total package and if only for slightly larger calves, he could be a top contender for a Mr. Olympia title. I recall Silvio being ridiculed at the 2008 Mr. Olympia Press Conference by one of the other pros as a "Fitness Competitor". I think Silvio had the final word on that matter! He is for real an extremely good pro bodybuilder.
In second place it was Moe Elmoussawi, the man who has great genetics and is now working extremely hard to add add better calves to his total package. His arm shape and size was probably the best set of guns in the contest this year.
Ronny Rockel was 3rd in his all time best condition in my opinion. I have been filming Ronny in contests since his early NABBA days over 10 years ago and he was right on the money at this contest. In my opinion, his physique was slightly more symmetrical than Moe's and he could easily have taken 2nd place or even have won. His abs were tight and hard, no belly bloat and had a brand new posing routine designed by Germany's master poser Mario Rieger.
In 4th place the amazing Japanese star, Hidetada Yamagishi made a powerful return to the top level. He is extremely popular with everyone and had an outstanding physique as well. I hear he is now living in California . Typical of the Asian physique, he has very powerful leg development.
The extremely lean and ripped condition presented by Ahmad Haidar after a year off competition allowed him to clearly edge out the highly fancied Addie Abbew. I have never seen Ahmad look more depleted and shredded as he was on the day. Famous for his abdominals, they were again the standout feature of his outstanding physique. Although not quite as big as some of the guys, Ahmad wins with pure class.
Here are the complete Results:
2009 Iron Man Pro:
January 24th, 2009, Los Angeles Convention Center, California
1. Silvio Samuel SPAIN
2. Moe Elmoussawi NEW ZEALAND
3. Ronny Rockel GERMANY
4. Hidetada Yamagishi JAPAN
5. Ahmad Haidar LEBANON
6. Eddie Abbew UK
7. Mohamad Bannout LEBANON
8. Mark Dugdale USA
9. Marcus Haley USA
10. Johnnie Jackson USA
11. Troy Alves USA
12. Oliver Adzievski SWEDEN
13. Martin Kjellstrom SWEDEN
14. Thomas Benagli ITALY
15. Con Demetriou AUSTRALIA
16. Rusty Jeffers USA
16. Tamer ElShahat EGYPT
16. Don Long USA
16. Fedel Clarke USA
16. Cesar Mendible VENEZUELA
16. Adorthus Cherry USA
16. Oleg Emelyanov RUSSIA
16. Aiman Faour LEBANON
16. DeShaun Grimez USA
16. Marc LaVoie CANADA
16. Daron Lytle USA
16. Evgeny Mishin RUSSIA
16. Omar Deckard USA
Bodybuilding.com Online People's Champion: Silvio Samuel
Special Surprise Presentation:
To John Balik for promoting the Iron Man Pro event for the last 20 years, with the help of his partner Mike Neveux and all of his loyal staff and helpers. John gave an outstanding speech thanking all who had contributed over the years.
The LA FIT EXPO was a wonderful mix of many different events, including a street dancing contest, Mixed Martial Arts, Strong Man, powerlifting and the traditional bodybuilding booths and more. With my interviewer Bill Dobbins we interviewed dozens of personalities of the sport including Flex Lewis who was working on the Gaspari booth. I even caught Ruth Silverman and Terry Bratcher for interviews representing Iron Man magazine!
Bill Dobbins was my new interviewer and he did a fantastic job on both Saturday and Sunday up till the time I stopped to shoot the Dexter Jackson seminar. Matthias Busse did an outstanding job shooting second close-up camera at the show, as did Michael Lenglez in shooting all the backstage footage, and as always, my loyal helper and friend Dr. Richard Rossan gave invaluable support as still photographer. All in all it was a memorable and outstanding year. My thanks and congratulations to John and his team for putting on this wonderful contest every year. Long may it continue.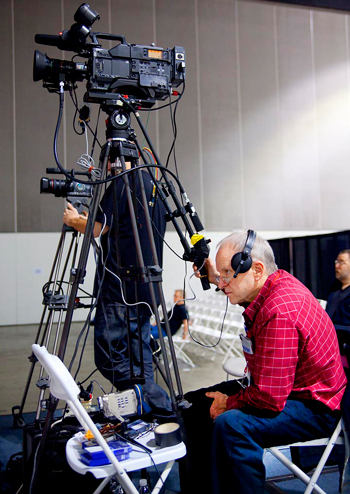 Silvio Samuel, the 2009 Iron Man Pro winner Wayne displaying Intensity and Sense of Purpose at the IM Pro in this photo by Bill Dobbins!