WAYNE'S HARD NEWS - 2010 NABBA Universe Report

"CELEBRATING THE 60 YEARS OF NABBA: 1950 - 2010"

The first NABBA Universe was held in 1950 and was won by Steve Reeves who was then at his absolute peak. Reg Park came back the next year to take the title in 1951. This year, 2010, was celebrated as the 60 Years of NABBA, from 1950 to 2010. The special anniversary weekend started off with a 60th Anniversary of NABBA Dinner, held on the Friday night in the Prince of Wales Hotel Ballroom in Southport.

The 60th NABBA Anniversary Universe dinner was presented by Bryan Robinson, Michael Sullivan, Tony Sullivan and Dave Wright of Creative Fitness. They proudly dedicated this special evening to the many great athletes who have made NABBA and in particular the NABBA Universe - the outstanding event it is today.

Special crystal NABBA awards were presented to the following people who attended the dinner:

EDDY ELLWOOD, JOHN CITRONE, GRAEME LANCEFIELD, IAN LAWRENCE, STEPH SINTON, JULIA ABEL, ROY DUVAL, BILL RICHARDSON, SYLVIA HIBBERT, PAUL SUTTON, FRANK RICHARD, TERRY PHILLIPS, WALTER O'MALLEY and BRYAN ROBINSON.
In the back of the ballroom, Bryan and Hazel had set up a wonderful display of photo boards with hundreds of photos covering much of the history of NABBA and the NABBA Universe from the early days of Oscar Heidenstam, (with help from Malcolm Whyatt), showing champions from Arnold and Reg Park till the present day stars. It was a wonderful dinner and great reunion of old friends.
The 2010 Universe was staged in the Southport Floral Hall Theatre on October 30th with 117 competitors gracing the stage. As usual I will start with my comments on the Men's Classes followed by my thoughts on the Women's Classes.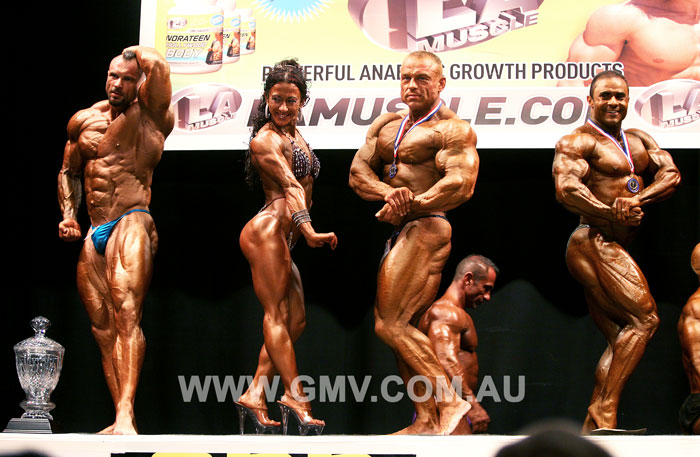 MASTERS OVER 40
Once again the quality of physique in this class of 19 was incredible. I know I say this every year, but it's absolutely true. JASON CORRICK finally made it to the number one position after some near misses in the past. He displayed a massive, herculean type of physique and had too much muscle power for runner-up PAVLO ZELENKO from Ukraine. Pavlo moved up a place from his third of last year. This meant that 3 time winner NORTOM JAMES MURAYAMA of Brazil had to settle for 3rd place this year, such was the standard.
MASTERS OVER 50
In recent years, Latvia's bodybuilding star Aivars Visockis has been the man to beat in the Over 50s. Always consistent and always displaying amazing condition, he is a very tough competitor. This year he met his match in the form of HUGH ROSS of USA. Born in Guyana, Hugh is the first person from his country to ever win a Universe title. His physique was near flawless with great condition, good size and excellent posing. I felt he had this class won from the moment I saw the class of 12 walk out on stage.
Hugh was born in 1959 in Guyana and, prior to migrating to the USA around 1990, he served as an officer in the Guyana Defence Force where he held the rank of Captain. He is a former power lifting champion and has many titles under his belt. This helps explain the thick and mature muscle density he now displays as a champion bodybuilder.
Although the margin was very close, this year AIVARS VISOCKIS had to settle for second place. In third place it was MARTIN HOLROYD edging out DEREK JONES from Wales. PHIL KUKLINSKI from NZ took out 5th place and I thought he displayed an outstanding, well defined physique. He is one to watch for the future.
JUNIORS UNDER 21
This year the Junior Class had 9 excellent competitors. The winner was PERO TOMAS of Croatia, a small country with a very strong sporting record. His excellent shape and symmetry coupled with very sharp condition saw him finish a couple of points in front of the Aussie champion, ALED BARRY. Aled displayed a very mature physique with great size and shape. However he had lost a small edge from his winning condition in Sydney and had to settle for the second place trophy. I think he can blame the Qantas meals on that very long flight from Australia!
UK's JOHN WADDLE just missed out on 3rd place which went to the young star from Lithuania in ERNESTAS GRIGAITIS. Ernestas had a confident posing routine and a very polished physique for one so young.

AMATEUR MR. UNIVERSE
MR CLASS 4
This class had 13 competitors, nicely up on last year's entry which was unusually low. Last year's runner up from Brazil, LEANDRO RODRIGO REBELO, could not reproduce his form and slipped to 6th this time. This was quite a surprise. Another surprise was the brilliant shape and condition of French champion, CHRISTIAN LACOCHE who just managed to eke out a victory over the outstanding and ripped Italian, SIMONE MEATTINI. When it got down to the last 2 during the awards at the evening Show, I felt the decision could have gone either way. No doubt the judges during the morning session's prejudging felt the same way.

In 3rd place it was a Brazilian I had not seen before in OLIZARIO ANAIBAL JUNIOR. He had a symmetrical, crisp physique and just edged out UK's MICHAEL REECE. These top 4 guys all had a little too much size for the Aussie star in his first NABBA Universe, ANGELO GALATI. Angelo had a lean and ripped physique with a unique split in his biceps. Angelo is no stranger to fame being an international star in powerlifting with a triple bodyweight benchpress, plus many other records on his resume.
MR CLASS 3
In last year's Universe SHANE COPLEY showed great form, but had to settle for second place behind eventual Overall Amateur Mr. Universe in Zoltan Toth. This really inspired him and drove him to all out effort in 2010 to take this class. His whole year had been focused on winning this class. He presented an amazing physique, huge delts, sharp condition, superb back, massive legs and powerful posing. There was no detail missing from his physique. No judge placed him other than 1st or second. His big rival was TONY MOUNT from Northern Ireland. Tony had a shredded physique, amazing back, wonderful symmetry and was just a fraction behind in leg size compared to Shane. These two UK guys provided the standout battle of the Universe in my eyes. Last year I predicted that Shane would be a future winner of this class!
Not far behind Tony was FABRICE RADKOWSKI from France. It was a very good year for France at the 60th year of the Universe. Fabrice brought some French flair to the stage with a very symmetrical package of size, shape and definition, the key elements of successful bodybuilding. I liked his physique and posing routine, and with more size, he can to win this class.
MR CLASS 2
Once again this was the toughest class of the contest, with 17 fantastic competitors including the eventual Overall Winner of the Amateur Universe, MIHA ZUPAN from Slovenia. How does such a tiny country as Slovenia produce so many champions! It must be part of the national gene pool plus their amazing work effort! Miha is an amazing champion with "freaky" striated glutes which were tensed every time a rear pose was displayed. Last year Miha had to settle for second place and this year he was not to be denied. His physique was sheer perfection from the great upper body, amazing back and great legs. Like last year's winner he had size and was sliced to perfection.
Miha did not have it all his own way however. In second place was the current Mr. Britain in DAVE GUEST. He has a mature physique no real weaknesses and it was only the sheer brilliance of Zupan that denied Dave the title. Dave also improved his placing from 3rd in the 2009 Universe. In 3rd place was the big improver in 3 time Mr. Australia, JUSTIN WESSELS. Justin has been steadily improving each Universe and has the genetics and desire I feel sure to take this class in the near future. His biggest assets are symmetry, condition and posing mastery. With a fraction more size while presenting the same rock hard condition, Australia may have its first men's open class winner in some years. The last Aussies to do it were Grant Clemesha - Class 1 (and Overall Amateur Mr Universe) and Shane Stratton - Class 3, back in 1995.
In 4th place it was SERGEI DUKHOTA of Ukraine. He presented a very mature and experienced physique which was good enough to clearly win this class at the 2002 Universe and also win Class 2 at the 2003 NABBA Worlds. The size was still evident but this year the condition was not quite there, with the midsection the weakest link.

MR CLASS 1
The much anticipated tall guys come out last on stage in the amateur classes before it winds up with the professionals. There was no wandering out to visit the trade stands when this class of 12 came out on stage! The excitement level rose to fever pitch with the enormously popular and charismatic British champion DAVE TITTERTON up against the very talented Slovenian SASO PETEK. This is the order in which they finished with Dave getting straight firsts for a most decisive victory. Dave's physique dominated this class and his "presence" and natural charisma lights up the stage whenever he steps forward in a callout comparison or to pose. The British crowd simply love him.
Dave is shredded and outstanding in every bodypart, especially his rock-hard abs, along with a wicked most muscular pose. Probably the only way Dave can go one step further in the Overall Posedown is to add a bit more size to his tall frame. Saso was outstanding in all areas but did not have the condition of the Geordie star Dave Titterton.
In 3rd place it was the massive LUKAS GABRIS representing UK. He has the size, shape and genetics to take this class in the next year or so if he comes in a bit leaner and tighter. He displayed loads of muscle spread over his very large frame. A popular guy with the fans, he has huge arms and legs and being young, has many years of improvement ahead of him. In 4th place was the hug, ripped and scary physique of Austria's WALTER LETTNER. He is like a modern day Dorian Yates type, with rock hard condition and a look of raw power about him. He was 4th also in 2009, and we now wait to see what Walter can bring to the stage in 2011 and whether he can lift it up a gear.
THE OVERALL AMATEUR MR. UNIVERSE
The Overall Amateur Mr. Universe title was again decided at the end of the evening show after a round of compulsory poses. I know that time is always an issue at the show, but I would love to see these 4 class winners given a head-to-head 60 mins posedown after these compulsories. I felt that Zupan would have an overall edge, not just because he had striated glutes but due to his total package of size, shape and condition. It was also evident that both the Brits in Copley and Titterton would press Zupan to the limit for the overall crown. It was not a one-horse race by any means. As it turned out, the man with the unusual name, MIHA ZUPAN, was the Overall NABBA Amateur Mr. Universe winner for 2010.

PROFESSIONAL MR. UNIVERSE
Once again there were 8 competitors in this class with 3 guys from Brazil, and one each from Ukraine, Norway, Czech Republic and 2 representing UK. There was a huge variety in types of physique from the small, compact and ripped physique of 2005 Overall Amateur Mr. Universe winner in CHARLES MARIO to the tall muscular physique of JOAO BISPO DE ANDRADE – also from Brazil.

Another battle was soon evident between the tall GARY LISTER, a many times past winner at the Universe - to the short and compact physique of PETR VANIS from the Czech Republic. Petr is noted for his rock hard condition and razor sharp abs. His condition was good but not quite as good as last year when he placed second. In a very tight photo finish Petr had to settle for 3rd place behind the experienced Gary Lister who received one more first place vote compared to Petr.
The man who really stood out and had a clear margin over Gary with his magnificent physique was CHARLES MARIO. Charles now joins the illustrious ranks of those who have won the double – both the Amateur and Professional titles at the Universe. Charles had the stand-out package on the day, from his rock hard sliced condition, amazing abs, superb back, great arms to polished posing routine. Gary knows how to display his best bodyparts and not emphasize his weaker areas such as legs and triceps, compared to Mario. Having said that, Gary still has a great physique, and has been a NABBA champion for many years. Now that he is past 40 it is not easy when being compared with much younger physiques at this level.

In 4th place it was another former NABBA Universe champion in MARILANDIO PONCHET from Brazil. Not quite at his peak this year, he still amazes the crowd with his symmetrical physique and wonderful posing artistry. 5th place went to YURIY KOVALOV from Ukraine. This guy has some great bodyparts with his huge arms and calves and overall great balance in his physique. When he gets really serious and brings this physique along with great condition to the Universe, he will WIN this class! 6th place went to the always impressive JOAO BISPO DE ANDRADE of Brazil.
OHF Men's Best Presentation Award
Being that this was a very special year for NABBA, the OHF Best Presentation Awards returned and were sponsored, judged and presented by Malcolm Whyatt. The men's award went to a most deserving Justin Wessels of Australia. His posing presentation was elegant, entertaining and displayed the classical style of posing made famous by Frank Zane and Chris Dickerson. This style perfectly complimented Justin's physique.

THE WOMEN
FIGURE CLASS 2
The quality in the 2 Figure Classes for 2010 was outstanding, but the number of female competitors was strangely down this year. I have no idea why this was other than to perhaps blame the World financial situation making it much harder for Federation to send their top women to the Universe. Of the 7 women in Class 2, three of them were from UK and 2 were from Italy with one each from Ukraine and Brazil.
FLORA CONTE from Italy was simply outstanding and in my opinion looked the winner from Round One. She was up against defending 2009 Overall Figure Champion in DORA RODRIGUES from Brazil, so it was no easy walk in the park. However Dora could not reproduce her fine condition of last year and was a bit softer. She still looked fantastic, but her condition cost her a repeat victory on this occasion. I do not know how much influence the posing routine has on the judges, but I did feel that there were a few too many dance moves in Dora's routine compared to traditional style figure poses.
Flora on the other hand had what I could best describe as a superb mini physique, perfectly sculptured on her tiny frame, with great arms, back and abs along with fantastic condition. This was all wrapped up in a totally feminine package.
For the second year in a row, in 3rd place was the Italian bundle of dynamite, namely FEDERICA ORTU. She presented a sizzling posing routine and I still feel that she has the quality of shape and size and charisma to be a future winner of Class 2. The much improved UK competitor SILVANA IMBROGNO had to settle for 4th place. A final comment on a competitor I felt a bit sorry for. I refer to 6th placed OLGA PROKOPENKO from Ukraine. She was obviously more of a physique class competitor than a figure woman, and yet she was too small for the Physique class and too muscular for the Figure Class. Her lines were excellent with great symmetry, but the judges had no where to put her in this event other than down in 6th position. This appeared to be lower than she really deserved.
FIGURE CLASS 1
8 women took to the stage in this class with a new champion emerging from Spain in the form of LIDIA MIRALPEIX. In the past she has placed 4th in this class in the years of 2003 and 2009. This year she really nailed it with her combination of size, proportion and condition. Trained by her husband, she had greatly improved on last year and was a very narrow winner over MARIA BULATOVA from Russia. Maria had the best V-Shape of any of the Figure Women but her condition was not quite up to Lidia's, and in my eyes, that was the small difference between them. Maria is a physique artist when it comes to posing and posed and acted like a true champion throughout the event.
In 3rd place was the Australian star in HAYLEY BERTRAM with South Africa's DELENE WATKINS close behind her. It is my feeling that 5th place was not the placing that UK's JO SPERRING was hoping for. The former NABBA Miss Britain Trained Figure winner was in my opinion worthy of 4th place. Israel's figure star IRA MAYAN had to settle for 6th place this year. Although she was carrying more size and had better calves than when she placed 2nd in 2008, this was not the overall look for Ira that impressed the judges in 2010.
THE OVERALL FIGURE MISS UNIVERSE
It seemed to me during the Overall judging of compulsory poses at the evening show that FLORA CONTE had a clear edge in her symmetry and shape. It was a superb little muscular package that was presented to the judges and they responded by awarding her with the Overall title of 2010 Miss Figure Universe.

MISS PHYSIQUE
This class was a disappointment with only 2 competitors. VALENTYNA YEFYMCHUK from Ukraine was the convincing winner with straight firsts over the challenger from Spain in SONIA CABRE. This takes nothing away from Valentyna's victory as she has a great physique presented with outstanding size, shape and hardness. It was not her fault that she had only one other to beat. Valentyna and Sonia moved up from 3rd and 4th places respectively from last year.
It would seem to me that next year it would be a good time to drop the Women's Physique Class and introduce the Toned Figure Class in its place. However, I do not have anything to do with NABBA UK policy, but as a visitor to the NABBA Universe for the last 40 years, I hope nobody takes offence at my suggestion.
OHF Women's Best Presentation Award
The women's award went to the elegant and beautiful Maria Bulatova of Russia. I think this was an easy decision for Malcolm to make - her routine was simply flawless and amazing. I am sure the audience wished it could have lasted a little longer.
ACKNOWLEDGEMENTS
One again my special thanks to all of the hard working NABBA officials from Chairman Bryan Robinson, to Val and Jim Charles, Paul Jeffreys, plus Aussie friend Dr. Rob Szabo who assisted me with the video equipment and photography. Plus Alex McKenna and the Southport Theatre staff. Last but not least a special thanks to the two major sponsors who were CNP Professional and LA Muscle.com, along with all the other sponsors who help to make this great event possible.

***************************************

2010 NABBA Universe Results
October 30th, 2010 Southport, England
Celebrating the 60 Years of NABBA: 1950-2010

THE MEN
MASTERS OVER 40
1 Jason Corrick - UK
2 Pavlo Zelenko - Ukraine
3 Nortom James Murayama - Brazil
4 Tony Hanson - UK
5 Fotis Plevritis - Greece
6 Nigel Cox - UK
not placed
Jurans Normunds - Latvia
Andy Bell - UK
Eric Brugh - USA
Oscar Roberts - UK
Swen Meyerholt - Germany
Paul Megwa - UK
Marco Parisi - Italy
Wolfgang Peetz - Germany
Gennadii Gorbatenko - Russia
Thierry Bidault - France
Ernst Barnet - Austria
Michael Sheehan - Rep. of Ireland
John O'Toole - Rep. of Ireland
MASTERS OVER 50
1 Hugh Ross - USA
2 Aivars Visockis - Latvia
3 Martin Holroyd - UK
4 Derek Jones - UK (Wales)
5 Phil Kuklinski - New Zealand
6 John Lee - UK
not placed
John Gallagher - UK
David Foo - UK
Sean Monaghan – UK (Scotland)
Tony Rizzo - Australia
Luis Flavio Felicio - Brazil
Gordon Pasquill - UK
JUNIORS
1 Pero Tomas - Croatia
2 Aled Barry - Australia
3 Ernestas Grigaitis - Lithuania
4 John Waddle - UK
5 Adam Baines - UK
6 Rafael Picorone - Brazil
not placed
Obinna Mwabueze - Rep. of Ireland
Brett Lloyd - UK
Daniel Barry - UK

MR. CLASS IV
1 Christian Lacoche - France
2 Simone Meattini - Italy
3 Olzirio Anibal Jr. - Brazil
4 Michael Reece - UK
5 Angelo Galati - Australia
6 Leandro Rodrigo Rebelo - Brazil
not placed
Uwe Hörter - Germany
James Salmond - UK (Scotland)
Fernando Luiz Sardinha - Brazil
Enrico Dietze - Germany
Ricky Moore - UK
Paul Scarborough - UK
Jerry Koolhoven - Holland

MR. CLASS III
1 Shane Copley - UK
2 Tony Mount - UK (N. Ireland)
3 Fabrice Radkowski - France
4 Samoel Oliveira Munhoz - Brazil
5 Aleksei Shaikin - Russia
6 Bruce McCall - UK
not placed
Lee Henderson - UK
Dominique Verney - France
Paul White - Rep. of Ireland
Ian Porritt - UK
MR. CLASS II
1 Miha Zupan - Slovenia
2 Dave Guest - UK
3 Justin Wessels - Australia
4 Sergei Dukhota - Ukraine
5 Edilson Oliveira - Brazil
6 Dominic Schieda - Malta
not placed
Andy James - UK
Andrew Pinnock - UK
Gerald Lopez - France
Michael Zimmermann - Austria
David Martin - UK
Alessandro La Porta - Italy
Abraham Elzaibak - Australia
Andrew McBride - UK (N. Ireland)
Juan Jose Hidalgo - Spain
Kostiantyn Zelamskyi - Ukraine
Hermanis Plisko - Latvia

MR. CLASS I
1 Dave Titterton - UK
2 Saso Petek - Slovenia
3 Lukas Gabris - UK
4 Walter Lettner - Austria
5 Mouss El Bakkouchi - France
6 Stuart Garrington - UK
not placed
Evgeny Petrov - Russia
Rob Reinaldo - UK
Felix Decker - Germany
Donny Henderson-Smith - Australia
Lee Harding - UK
Mario Hemmer - Austria

PROFESSIONALS
1 Charles Mario - Brazil
2 Gary Lister - UK
3 Petr Vanis - Czech Rep.
4 Marilandio Ponchet - Brazil
5 Yuriy Kovalov - Ukraine
6 Joao Bispo De Andrade - Brazil
not placed
Mike O'Hanlon - UK (Scotland)
Charlie Abboh – Norway
THE WOMEN
MISS FIGURE CLASS 2
1 Flora Conte - Italy
2 Dora Rodrigues - Brazil
3 Federica Ortu - Italy
4 Silvana Imbrogno - UK
5 Linda Gartside - UK
6 Olga Prokopenko - Ukraine
7 Laura Irving - UK (Scotland)

MISS FIGURE CLASS 1
1 Lidia Miralpeix - Spain
2 Maria Bulatova - Russia
3 Hayley Bertram - Australia
4 Delene Watkins - South Africa
5 Joanne Sperring - UK
6 Ira Mayan - Israel
not placed
Danielle Findlay - UK
Olga Kourkoulin - Israel

MISS PHYSIQUE
1 Valentyna Yefymchuk - Ukraine
2 Sonia Cabre – Spain
OVERALL WINNERS:
Overall Amateur Mr. Universe: Miha Zupan - Slovenia
Overall Miss Figure Universe: Flora Conte - Italy
Professional Mr. Universe: Charles Mario - Brazil

FINAL PHOTO THANKS
All photos that appear on our product pages and the NABBA UK site's 2010 Universe Photo Report were taken by GMV's photographer Rob Szabo.




GMV-808DVDSP
2010 NABBA UNIVERSE: TRIPLE PACK
3 DVD SET - MEN & WOMEN