WAYNE'S HARD NEWS - John Hansen's Legends Series - "Interviewing Wayne Gallasch of GMV."

Natural Mr. Olympia John Hansen recently interviewed me as a guest on his Bodybuilding Legends Show. I was the latest Episode, #18 "Wayne Gallasch - John Hansen interviews photographer/videographer Wayne Gallasch from Australia about his memories of filming some of the legends of the sport of bodybuilding.
Wayne talks about his beginnings as a videographer, filming the 1970 and 1971 NABBA Mr. Universe contests - Arnold, Frank Zane, Sergio and Bill Pearl, the 1971 Mr. Olympia and other competitions, including the controversial 1980 Mr. Olympia contest in Australia."
The video interview runs for almost 78 minutes and can be found at this link.
It was something of a role reversal as John was my interviewer at the Olympia for Meet the Olympians from 2009 to 2011. If you wish you can read about the various GMV teams at the Olympia here.
Pictured below at the 2011 Olympia from L to R: Ted Marty, Wayne and John Hansen. Photo by Dick Rossan.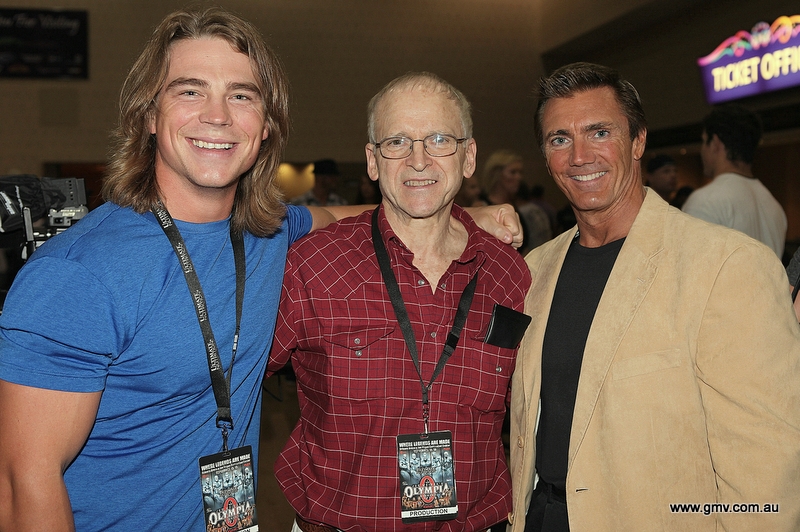 You should check out some of John's wonderful interviews with great legends of the sport such as Chris Cormier, Bill Grant, Mike Katz, Rich Gaspari, Chris Dickerson, Samir Bannout, Boyer Coe, Shawn Ray, Mike Quinn, Lee Haney and Vince Taylor. I am honoured to be included in this series, along with these legends of bodybuilding.

I was the guest of John and Deke Warner at the recent 2016 NPC Mid Florida Classic in Orlando, Florida, June 18th, 2016. You can see the some of the PHOTOS taken by John and myself plus RESULTS, and in the contest report. Plus 2 photos below of winners from the show.

John is CEO at Floridaphysique.com in Tampa, Florida.
Floridaphysique.com
naturalolympia.com
johnhansenfitness.com
musclesatthemovies.com
| | |
| --- | --- |
| Crystal Thomas | Ivan Bucher |