2011 IFBB Flex Pro Bodybuilding Championships
Los Angeles February 19th, 2011
See REPORT below the photo.
1 Evan Centopani - USA
2 Dexter Jackson - USA
3 Fouad Abiad - Canada
4 Dennis Wolf - Germany
5 Ben Pakulski - Canada
6 Ben White - USA
7 Grigori Atoyan - USA
8 Vladimir Sizov - USA
9 Stan Efferding - USA
10 Omar Deckard - USA
11 Constantinos Demetriou - Australia
12 Robert Belisle - Canada
13 Dan Hill - Germany
14 Milton Holloway - USA
15 Jojo Ntiforo - USA
16 Dainus Barzinskas - Lithuania
16 Wendell Floyd - USA
DNF Adorthus Cherry - USA

TOP 3 PHOTO BELOW, COURTESY RON AVIDAN.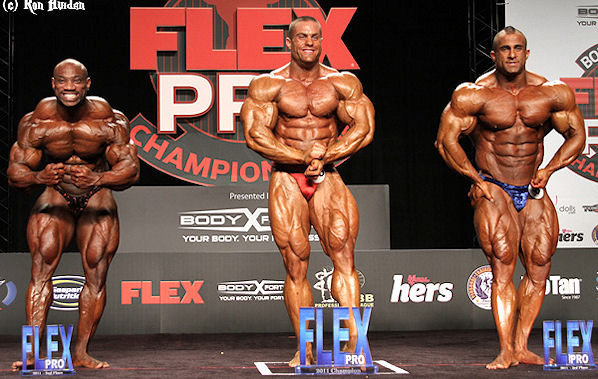 2011 FLEX PRO REPORT - Courtesy of BODYBUILDING.COM
The Analysis of the Top Six
6. Ben White
When Ben White came out for his 60 seconds of free posing, he looked dry and shredded. As the judging progressed, he started to fade very quickly. His details weren't popping and he seemed to flatten out. It's really strange when you see that happen to a competitor.
It's very common, but to see their appearance change so quickly is always intriguing to me. When White deflated it made his weaknesses even more glaring. He needs a lot more width and thickness in his back and his legs need to be thicker and bigger also.

5. Ben Pakulski
When the judging began, Ben Pakulski came out first and he was looking absolutely incredible. He was tight, full and extremely wide in the shoulders. When I first saw him I thought he'd be vying for a top-three spot. That was without seeing any of the other competitors, of course. About 20 minutes later Pakulski came back on stage for the comparisons and he looked like he had lost something.
He looked smoother than he did a just few minutes earlier. By the end of the judging he faded quickly and looked like he had spilled over. Watching him on the side of the stage I think he sensed it and that's never a good feeling for a competitor.
Pakulski's thighs and calves are tremendous. They're almost Platz-like - almost. One thing I noticed about his legs that struck me as odd is that his knees are very thick, much thicker than the other competitors. I guess thick knees give you a better base to build big thighs on, huh?

4. Dennis Wolf
The California crowd eagerly waited for their first view of the Big Bad Wolf. This was the first time Dennis Wolf stepped on a pro stage during the early IFBB pro season. His past competitions have been in late spring, summer or in the fall, but never in February or March.
He looked very good and his back width is unbelievable. His lats seem like they are extending further than humanly possible. Combined with his tiny waist it creates one of the best "x-frames" in the business today.
One of the things that photos and video do not capture with Dennis is how his body expands when he flexes, especially his back. His back appears wide and thick when he's relaxed, but when he flexes everything just sort of expands into a huge volume out of nowhere. It is very dramatic to watch in person.
I thought Dennis looked a little bit off from his Olympia appearance in 2010, but not much. His hams were not as sharp as the 2008 Olympia or some of his earlier shows in 2007, but he was very full and not flat like he was at the 2010 New York Pro.
I couldn't help but thinking that this was a warm-up for the Arnold Classic in two weeks. If he comes in just a bit sharper and pulls the details out in his hams, he could be looking for a very high placing at the show.
Wolf's color was running a bit and looked a bit blotchy, but it wasn't terribly distracting. His shaking during the early poses was distracting, though. He was either a little too dehydrated or he hadn't put enough hours of posing in to get ready for this show. Whatever the case, he should know that a competitor always flexes harder on stage than in practice and one has to plan for that.
All in all after the judging I thought Wolf was in third place. It was close between him and Fouad Abiad. Dennis is huge and Fouad was holding his own in the size department. Abiad was a little sharper and if Wolf would have tightened up a bit, he could have had third place, but he didn't. Wolf looked about the same as the judging and Abiad tightened up for the finals, which gave him the edge over Wolf.

3. Fouad Abiad
The only time I have seen Fouad Abiad compete was at the 2008 Mr. Olympia and he looked much better at the Flex Pro than he did then. He made many improvements. I'd say he's bigger overall and has more detail. That's what every bodybuilder strives for and he achieved that. If the contest would not have had a former Mr. Olympia and Evan in it, he could have won the whole show.
I was very impressed with Abiad. He has a thick and rugged physique and he carries a lot of mass. He could use a little more separation to make his muscles pop a bit more, but he deserved to place third and again qualify for the Mr. Olympia this year.
From my vantage point, which was about 10-15 feet from the stage, Fouad was the only competitor to make improvements between the judging and finals. Evan and Dexter looked about the same; Wolf slipped a little - not much, but a little.
I think this is the reason Abiad was able to get by Wolf and knock him out of third place. It was a good effort on Fouad's part and he obviously worked very hard to get that spot.

2. Dexter Jackson
When it comes to muscle shape and proportion, Dexter is at the top of his game. He's always known for his conditioning and that's why he's called The Blade, but Dexter Jackson was not the sharpened blade I've seen in the past.
His front looked good, but his thighs were not as crisp as they were a few years ago and his hamstrings were much smoother than I've seen on Dexter. Last year's Arnold was the smoothest I've seen Dex's hams and they were even softer at the Flex Pro.
By himself he looked great, but just a bit smooth. Standing next to Wolf and Centopani, however, he looked small. The size difference was obvious. Dexter looked to be giving up at least 30 pounds to each one of those guys.
Jackson had the best poise and he always stands there with such confidence and looks like the champion by the way he presents himself on stage. That stage presence comes with time and he has definitely served his time as an IFBB Pro. The younger guys could learn a thing or two from Dexter Jackson about how to handle themselves on stage.

1. Evan Centopani
Evan looked huge and shredded on stage. He hit his peak for the judging and he seemed very relaxed back stage before the show began. Evan knew he was gunning for a win. He did seem just a little nervous on stage, but he's only been in a half-dozen shows in his life. I think Dexter did that many shows in one year a few years back!
Evan easily had the best hamstrings in the show. They were thick and shredded; you could see every detail. He seemed to have a little difficulty controlling his quads. It almost seemed he could have flexed them a bit differently to pull out some more details. He was also having just a little trouble keeping his waist tucked in.
It made him appear blockier than he really is. It was obvious when he stood next to Dexter, who looks like a statue and doesn't move. You can barely see Dex breath. Again, I think that has more to do with Evan's lack of experience on a stage. Give him a few more shows and he'll have that under control.
Evan's mass really overshadowed most of his competition. Wolf was pretty close and so was Pakulski, but I gave Evan the edge for mass along with honed-in detail. His shoulders looked Cutler-like in the back double bicep pose. That pose was the clincher for the showdown between Dexter and Evan. He crushed Dexter in that pose.
If I had to pick apart Evan's physique, I'd have to say his lat width and detail in the back lat spread are lacking. His chest appears a little flat, but like I said in my preview article, he has trouble with that. Cutler has the same problem. They both lose fullness in the chest when they're dieted down.
His abs and midsection could show more detail and be a little tighter. It might help if tried to do more of a vacuum in a couple of his front poses.

Why Evan Won
It's not always obvious when looking at the photos posted online after a pro bodybuilding show, but it's easier to see how decisions are made by judges when you are actually at the event and you're watching and analyzing it. There's a 3-D element that is always lost in photos.
You can see the depth and hardness of a physique or how a muscle looks as it's moving. These are huge factors that photos cannot capture.
When Evan was standing on stage, your eyes would be drawn to him more than the other competitors. His arms look huge in photos, but when you see those arms move and see them from various angles as he turns on stage, you really get an idea of how big Evan's arms are.
I know the emcee of the Flex Pro, Bob C., has said, "You can never have too much money and your arms can never be too big," but Evan's are almost too big. They are like Phil Heath's when he's on stage; they are just bigger than everyone else's arms.
Evan's Arms Are Like Phil Heath's. They Are Just Bigger Than Everyone Else's Arms.

Like I said earlier, Evan was a lot bigger than Dexter and he plain old out-massed him. Cutler has done a good job of out-massing Dexter, but Jay is a couple inches shorter than Evan and so Dexter looked much smaller because of Evan's height. It didn't help that Fouad, Wolf and Evan were in the same group as Dexter and that made Jackson look even smaller.
If Dexter would have come in with his classic conditioning, he might have pulled this one off and chalked up another win. Dexter's combination of decent size, shape and proportion will win only if he combines it with that incredible conditioning.
When that's gone, Dexter looks aesthetic, but your eyes are not drawn to him as much. Evan had the conditioning combined with extraordinary mass and your eyes were drawn to him instead of Dexter.

A Great Day
I drove down from Lancaster to Santa Monica Saturday morning. Traffic was light and it only took a little more than an hour. Usually with So Cal traffic it'll take at an hour and half so I was fortunate. (On the way back that night I actually had to drive through some snow and a slippery freeway on a mountain pass so you can't win them all!)
Before the judging, I went backstage to see what was taking shape. The smell of ProTan and vasodilators filled the air. Ah, the aroma of a bodybuilding competition! Most of the athletes were in their sweats and sitting around or lying down resting. Not really too exciting. I did notice Evan was up and around.
He was smiling and joking around with people. He was very energetic. The other guys all looked nervous or half dead. Now that I know what Evan looked like, I would have smiling too if I was in shape like he was!

During the judging, I went onto the Bodybuilding.com Forums in the IFBB section and posted a play-by-play for the judging. Most of the posts were quick statements as they happened without too much depth or description.
My computer wouldn't connect to the Civic Center's Wi-Fi and I can only type so fast with my thumbs on my phone, but I'm getting better at it. Some guys in the forum were posting photos and that was helpful for the many fans that were depending on the forums when a show is not webcasted.
After the judging I headed off to Gold's Gym to grab a workout. I had been at my gym up in Lancaster at 6:00 a.m. and did my time on the stepmill for my daily cardio, but I couldn't pass up the opportunity to blast back and arms at the "Mecca."
It had been several years since I had trained there. It was a great workout too. It had to be after seeing some of the best IFBB pros on stage only an hour before the workout. It gave me plenty of motivation. (Two scoops of Jack3d didn't hurt either!)
There is such a rich history of the sport of bodybuilding inside the walls of Gold's at Venice Beach. Posters and photos of bodybuilding champions from the last 40 years or so line the walls. Various jerseys from college and professional athletes are also displayed. I could have spent an hour just looking at everything, but I didn't want to look like a geek so I nonchalantly glanced at them as I trained.
The workout at Gold's took me about an hour and a half to complete and then I headed over to the Firehouse and had a Bob Bowl. It had been several years since I had eaten there too and the Bob Bowl wasn't on the menu at the time. Again, I couldn't pass up the opportunity.