Wayne's Hard News: 2009 Australian Pro Grand Prix Contest Report, Clip and Complete Event Results.
Who says that top pro bodybuilding stars do not want to make the long journey to Australia? Do not try asking promoter Tony Doherty that question after he drew to Australia the winners of the first 2 pro shows of the season! I refer to SILVIO SAMUEL who was winner of the 2009 Iron Man Pro and KAI GREENE, winner of the 2009 Arnold Classic one week before. This was the first time ever Tony has had both winners of these events at his show, all from the same year.

He also had TONEY FREEMAN and RUSTY JEFFERS from USA, along with some other great local and overseas pros. Others stars to drop out at the last moment included Dennis James and Moe Elmoussawi - plus of course LEE PRIEST who did an interview on stage, talking about his recent operation to repair his torn biceps. Lee was not really a drop out as he had a very serious injury to be dealt with just prior to the contest.
Also spotted in the audience was former IFBB Pro and 2 time NABBA Universe winner, JOHN TERILLI from Sydney. Head Judge was John Tuman from USA.

The PRO RESULTS were as follows:
Dallas Brooks Hall, Melbourne.
March 14th, 2009.

1. KAI GREENE – USA
2. SILVIO SAMUEL – USA
3. TONEY FREEMAN – USA
4. MICHAEL KEFALIANOS – AUSTRALIA
5. IVAN SADEK – AUSTRALIA
6. OSCAR TUA DEXTER – TAHITI
7. RUSTY JEFFERS – USA
8. CON DEMETRIOU – AUSTRALIA
9. GRANT PIETERSE – NEW ZEALAND
*Please click here to see our clip from this event. The DVD including the Amateur Contest will be ready from GMV in 2 week's time. Stay tuned!
As we all expected, Kai Greene won the Grand Prix and was an uncatchable favourite. It was then down to a titanic battle between Silvio and Toney for 2nd place. New pro recently arrived from Greece, Michael Kefalianos was also in great shape and was going to be in the mix. The judges preferred Silvio's look to that of Toney and that is how it finished with Kelalianos placing 4th in his first pro show and gaining an invite to the Olympia! This feat is not achieved very often. The top 3 had all previously qualified for the 2009 Olympia.
The first 2 prejudging callouts pretty much gave you the placings if you were an astute judge. The callouts were as follows:
1st callout: Kai Green, Toney Freeman and Silvio Samuel
2nd callout: Ivan Sadek, Mike Kefalianos, Rusty Jeffers
From this you can understand why Rusty Jeffers was very disappointed that he did not make the top 6.
Here is the 1st Callout: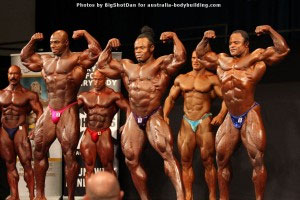 Part of the Lineup: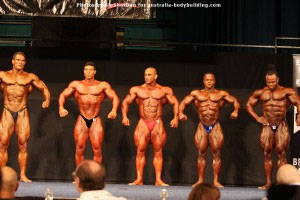 Now for a few comments on each competitor.
1st Kai Green
This was Kai's first time in Australia and boy did he make an impact. As the winner of the Arnold Classic the week before, we all wondered how he would hold his condition after the long flight. We did not need to worry as I felt Kai looked even better than he did in Columbus. A pro since 2004 he won his first show in 2007. I predict he will win many more shows. His quads in particular are sensational, as is his posing and muscle control.
Kai sketches out on paper his posing routine and it is superbly choreographed like a musical composition as it rises and falls throughout the perfectly structured routine. No wonder Arnold said it was the best posing he had ever seen! Kai's leg poses standing on his head have to be seen to be believed.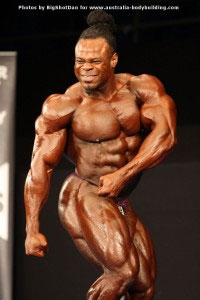 2nd Silvio Samuel

Silvio Samuel was born in Brazil, lived in Nigeria and then Spain and now lives in California. He is truly an International star and won many overall titles in the WABBA organization before turning professional with the IFBB.
Silvio was shredded and this probably pulled him just a touch ahead of Toney Freeman who also looked sensational. Silvio's trademark poses are his side triceps/abs shot and his arms over head Sergio pose.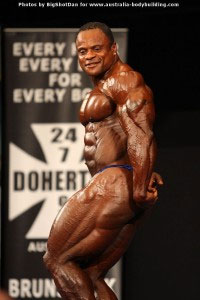 3rd Toney Freeman

Toney is one of the biggest, tallest and best competitors in the world. He is 6ft 2? (188cm) and competes close to 300lbs. I feel that Toney is a real Olympia contender and could consider himself a little unlucky in not taking out second place at this event. It all came down to style of physique as Silvio is totally different in almost every way to Tony. Silvio was a bit sharper in the abs and this probably clinched second for him. Toney is the "X Man" with broad shoulders and a tiny waist and great legs and back. Toney's posing routine is pure entertainment and one of the best in the whole contest.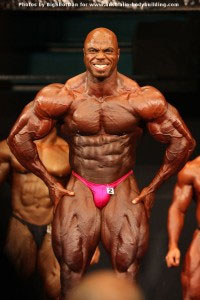 4th Mike Kefalianos
Mike was unknown to almost everyone being an Australian/Greek in his pro debut. He has a tight, symmetrical physique and posed extremely well. As mentioned above, Mike earned an Olympia qualification in his pro debut contest. It is also some time since Australia had a competitor in the Mr Olympia. Our last 2 would have been Lee Priest and Jonathan Davie.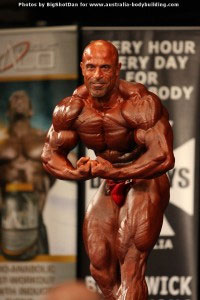 5th Ivan Sadek
A Sydney resident of Lebanese extraction, Ivan Sadek earned his pro card in 2004. Surprisingly this was his pro debut. Sadek was huge and symmetrical and most impressive. I believe he weighed around 250lbs. Sadek and Kefalionos both did some training and posing footage in the gym for the GMV cameras on the day after the event. He will place much higher given a little more experience and with some fine tuning here and there.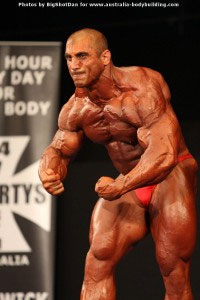 6th Oscar Tua Dexter

This big guy from Tahitian has tremendous potential. He is tall yet symmetrical and had very good condition. I suspect if he was a little better known, he may have placed higher. He had great legs and a brilliant back and also posed extremely well. Watch out for this name in the future.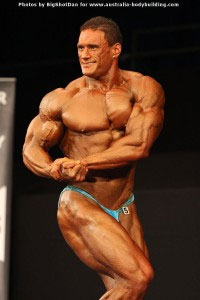 7th Rusty Jeffers

Rusty came to Australia planning to compete alongside his training buddy in Lee Priest. It was not to be for Lee. Rusty hits all his poses old school, classical style. The audience loved it and so did we. He is pure class and displays great posing artistry in all he does. His posing routine was dramatic, inspirational and outstanding. I was sorry that he did not place higher. The crowd certainly loved him.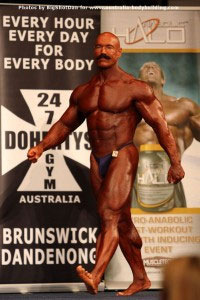 8th Con Demetriou
Con Demetriou is becoming very well known in USA as a physique model and made his pro debut at this event last year. Con Demetriou has great shape, excellent arms - and with a bit more thickness in the lower body will receive the higher placings he richly deserves.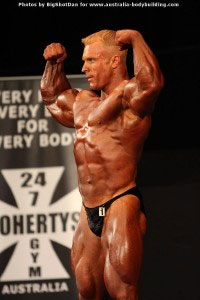 9th Grant Pieterse

From New Zealand, Grant is one of the youngest bodybuilders on the pro circuit. He will have greatly benefited from standing on stage with the top Americans and can only improve. This time his condition let him down and I am sure he will learn from this experience and come back much stronger and harder.
Wayne Gallasch, GMV.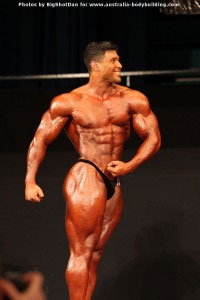 All photos courtesy of Daniel Reynolds of bigshotdan.com Special thanks also to Patricia for some of this basic information and the help she has given me.

2009 NPFC-IFBB All States Amateur Championships
Dallas Brooks Hall, March 14th, 2009
MEN'S MASTERS

1. MICHAEL MACKAY
2. MICHAEL GREGORIOU
WOMEN'S FIGURE
1. RHONDA BRYERS
2. ERIKA DERBY
WOMEN'S BODYBUILDING
1. HELEN ALOIAI
2. JENNY MORRIS
MEN'S CLASSIC
1. WES NEWELL
2. LEIGH CARMICHAEL
3. LUKE TRAINOR
SEAN PUALIC
CHRIS GOFFETT
RYAN QUINN
CHRIS KANTARAS

MEN'S UNDER 80KG
1. NICK JONES
2. BRENDAN McLEAN
3. JASON WELLS
MEN'S OVER 80KG

1. GRAEME BENNETT
2. ERIC McENTYRE
3. ARIEL DENCIO
4. GLEN WEBSTER
2009 Pro Bench RESULTS:
The PRO BENCH was held on the 14th March, 2009 at the Dallas Brooks Hall, at the Australian Pro Grand Prix event.
1st. Shaun Bostock (NZ) 325 KGs @ 144.2kgs (All Time New Australian Record)
2nd. Nemo Strimic (Serbia) 280KGs @ 120.2kgs (New Australian Record)
3rd. Marty Girvan (Aus) 230KGs @ 125.2Kgs
4th. Daniel Portelli (Aus) 220KGs @ 128.2Kgs
5th. Daniel Di Piscalli (Aus) 210KGs @ 86.8Kgs
6th. Clint Gregan (Aus) 200KGs @ 98.7Kgs
7th Steve Brown (Aus) 200KGs @ 109.3Kgs
Referees: Geoff Barclay (Bear), Charlie Coleiro, Frank Mormile.
Thank you to Tony Doherty, loaders and spotters and George at MSR for transporting all the lifting equipment in the rain. Thank you also to our proud sponsors MUSCLETECH and DOHERTY'S 24/7.