Wayne's Hard News - Mike Mentzer Remembered 9 Years On.

The Mike Mentzer Shoot at Muscle Rocks, Malibu, CA - 1977.

Over a period of 4 years, 1977 to 1980, I was able to record Mike at his absolute peak and also did some important recording of Ray at his peak in 1978. Recording on movie film was my main thrust with the photos being taken to show Mike's condition on the day, and to illustrate what was in the movies. The most important shoot with Mike, in my opinion, was the one at Muscle Rocks, in the mountains behind Malibu, in August 1977.
I had 5 separate shoots with Mike during these years – more than I have had with any other bodybuilder in my 44 year career to date. The first filming session was on the Marina Del Rey beach (see photo below), and next to the oil wells nearby. This was in late July, 1977. I had heard of this famous spot called Muscle Rocks where John Balik had done some classic photo of Arnold Schwarzenegger. I tracked down the exact location, as it certainly had no sign posts saying this is the spot, and went to check it out. I worked out the best time of day to be shooting in order to get the best background angle and the correct angle of the sun.
I then arranged to take Mike there for what turned out to be my all time classic shoot of films and photos. It was exceedingly hot, and expecting the rocky ground to be too hot to stand on in bare feet, I took with me a small carpet square the same color as the ground for Mike to stand on. This all took place in early August, 1977 on a magnificent Californian sunny day. Everything was perfect; Mike was in incredible shape and was full of energy posing without complaint in the very hot conditions. We recorded some wonderful film and photography, pumping and posing, with much of the photos still not scanned and seen by Mike's fans. These remaining photos will be done in due course!


On the climb down the steep and rocky hillside from the photographic site at the top of the mountain, carrying a camera bag and dumbbell, I slipped and fell, making sure that my arm and hand took the brunt of the fall so that the bag of cameras was not bumped or damaged. The scratches suffered by my watch band in that fall are still with me today in that the watch is still the only watch I wear, and it is a reminder of that wonderful experience 33 years ago. The Muscle Rocks shoot was film session #2.
The following year, I was back in LA again and this time we had 3 separate filming sessions. The first shoot was on the Marina Del Rey beach again with both Mike and Ray. This took place on July 26th, 1978. We did duo posing and solo posing films and photos, again with both guys in superlative shape. It was agreed to meet in the gym several days later to do what was session #4 with Mike, this time to be a duo gym workout session. Of course it was not like a gym workout shot today on video, with live sound and lots and lots of footage. Film was expensive, there were no on-camera lights back then, and I had to move a light from machine to machine as we progressed. It was the only gym training footage ever shot of Mike and Ray training together and was more of a display workout than a true workout shoot of today.
I still had a few days left in CA before I was due to return home, so I booked Mike for one 5th and final filming session to take place on the last day of July, 1978. It was to be in Mike's apartment in West L.A. and would be a dumbbell pumping, training and posing session I dubbed in my brochure as being "Mike training at home".
I set up my 2 movie lights and away we went with Mike putting out an incredible effort that lasted around 90 minutes or more. I asked Mike if he was able to continue, as it was an exceedingly hot night. Mike's classic reply was this, "Wayne, I will keep pumping and posing for you as long as you have film in your camera!" It was another amazing shoot leaving us both drained. Sadly it was to be my last solo shoot with Mike. This footage became part of "The Final Chapter" DVD which included all of my remaining footage of both Mike and Ray.
Our paths did not cross in 1979, the year in which he won his class in the Mr. Olympia, to lose the Overall title to Frank Zane. I next saw Mike in my home city of Adelaide, South Australia in May of 1980 when I presented Mike in seminar, which included his powerful guest posing routine. Mike then returned to USA to prepare for the 1980 Mr. Olympia which was to be held later that year at the Sydney Opera House. With both Frank and Mike entered, it was obvious that Mike was to be one of the hot favourites to take out the 1980 Mr. Olympia crown. The event was to be a one class contest in 1980. This would be the 7th, and as it turned out, final time that I had Mike in front of my movie camera.
Much has been written about the controversial 1980 Mr. Olympia, so I do not plan to go over it again. Just to say this. Mike's placing of 5th was unkind, and in my opinion, unjustified based on the package he presented on stage that day. I was not a judge, but I have seen hundreds of professional and top level contests and Mike was worthy of a higher placing that 5th. I suspect it so disheartened him, this poor placing along with a number of other factors, which meant that Mike never ever competed again. That was bodybuilding's huge loss.
His career was too short, a star burning brightly - and then it was gone. I can say without hesitation that Mike was one of my closest and dearest friends in bodybuilding, and I still miss him greatly, today June 10th being 9 years after his death. My last communication was one week before his death when Mike called me full of enthusiasm over his latest project. I will always remember the great times and wonderful filming sessions we enjoyed together. Mike Mentzer, RIP.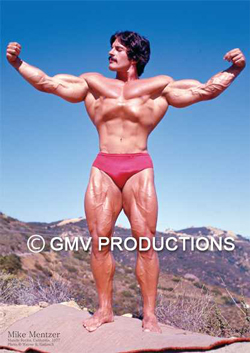 Please click here for the POSTER product page that will lead you to all our Mike & Ray Mentzer material.

Click here to read Wayne's original tribute to Mike and Ray.