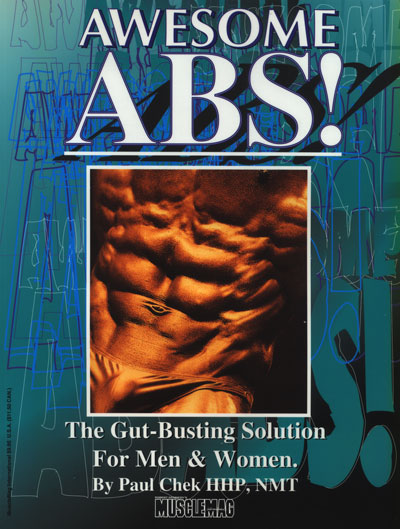 Awesome Abs: The Gut-Busting Solution for Men & Women

Awesome Abs is an easy-to-follow guide for all those who yearn to own a full set of healthy, ripped 'n' sexy abs, plus total midsection conditioning. Awesome Abs spells out simply and clearly all the necessary training and dietary secrets to firm and flatten anyone's abdominals no matter how out of shape they may be.

Book Description - How to test abdominal strength and coordination. Brings light to the myths of ab training and the implications of poor training. Nutritional considerations and exercise menu.

Freight on Books
Freight on books is based on their weight and country of destination. We can ship books by AIR or Surface/Seamail and charge you the relevant freight cost. Some times we state on the book product page what the exact Airmail or surface mail cost will be. If you want books shipped to you by air, please ask us for a special quote on freight. You can email tinag@esc.net.au Otherwise we will charge the relevant surface mail freight cost based on weight and destination. Please note that the default cost of $7.00 for freight per book will always show on the order form, but disregard this figure of $7.00.
150 pages.