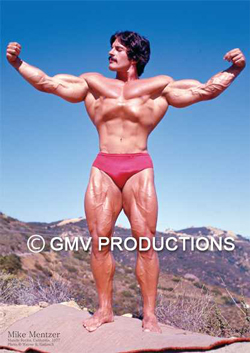 MIKE MENTZER POSTER #1(S) – SMALLER VERSION, A3 SIZE - NOW SOLD OUT.

(Presently sold out, and next one in the series will be Wayne's 2 different size posters of FRANK ZANE, details soon.)

For poster & print enquiries, email me at wayne@gmv.com.au for more details.

Master photographer Wayne Gallasch has selected some of the very best muscle photos from his archives and is releasing the first one as a limited edition full color poster. Now available in 2 sizes. This is the new smaller version MIKE MENTZER poster.
Our classic photos of Mike have never before been offered for sale as posters!! They are completely unique.
The first poster released is a classic shot of the late great Mike Mentzer taken by Wayne in 1977 at the bodybuilding Mecca known as Muscle Rocks, California.
ONLY 50 WILL EVER BE PRINTED OF THIS SMALLER VERSION
A3 Size 16.5" (420mm) high x 11.7" (290mm) wide: ready for framing.
Printed on thick 240gsm SATIN art paper and printed to the highest quality.
Each poster will come with a Certificate of Authenticity with a unique number, signed and dated by Wayne Gallasch.
WE CAN THEN CHECK ON THE AUTHENTICITY OF ANY SUCH POSTER BEING OFFERED FOR SALE ON THE INTERNET IN THE FUTURE.
This incredible collector's item costs only $24.95 + $12.00 postage and handling for AIRMAIL shipment worldwide.
Be one of only 50 people in the world to own this classic Mike Mentzer poster - new A3 size.
Click here to read Wayne's tribute to Mike and Ray Mentzer.
Click here for details on Mike Mentzer at the Beach and Muscle Rocks V-112DVD.
Click here for details on the second Mentzer DVD which is Mike and Ray in the gym V-121DVD.
Click here for details on the 3rd and final Mike Mentzer DVD The Final Chapter, V-208DVD.
Click here for details on the Triple Pack Special Deal Set of all 3 Mike Mentzer DVDs, V-209DVDSP.
Click here for details on the latest DVD, Mike Mentzer & Contemporaries, V-147DVD.
Click here for details on the larger size poster of Mike. PS-001MM. (Also now Sold Out.)