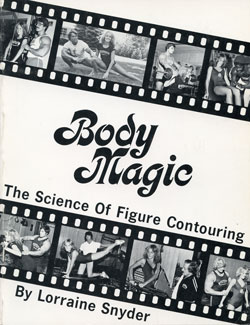 Body Magic by Lorraine Snyder
The Science of Figure Contouring.
Beauty Contestants
Housewives & Working Women
Teenagers & Girls of All Ages

Discover the Exciting World of Bodybuilding for Women! Body Magic is the Official Training Manual of the Women's Bodybuilding Association.
Learn the most effective and fastest methods to acquiring a firm and trim figure. Lorraine illustrates every exercise with the assistance of the "World's Most Famous Bodybuilders".
Contains many classic photos of Arnold, Franco, Frank Zane and most of the stars, men and women, of the period.
Lori Snyder with her dad George and 7 times Mr. Olympia Arnold Schwarzenegger. Both George and Arnold have been responsible for promoting bodybuilding throughout the world. They are without doubt the two biggest producers and sponsors of bodybuilding contests in America in the late 70s through the 1980s. Lori has now joined her dad in organizing the Women's Bodybuilding Association, an affiliate of the International Federation of Bodybuilders.

132 pages, soft cover.