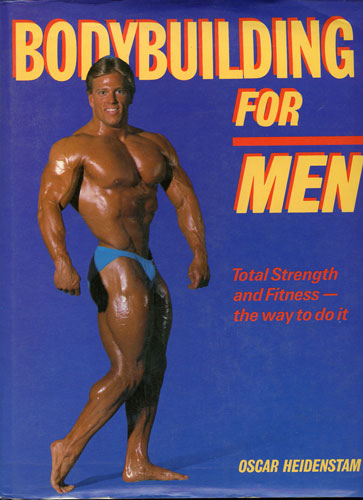 Bodybuilding for Men
Total Strength and Fitness - the way to do it
By Oscar Heidenstam
Bodybuilding is for everyone-and you can do it with or without machines, in a health club or at home.
It's never too late to start bodybuilding, whatever your age or condition. It is used by sports people worldwide and can improve your appearance and attractiveness beyond your wildest dreams.

Bodybuilding takes care of your whole physique. It also keeps you both mentally and physically fit - better able to face the stresses and strains of everyday life. And with all this comes improved confidence, better concentration, and a spring in your stride!

Unfortunately, many men who would like to take up this health-giving activity, and who attempt to find out about it, are discouraged by what seems to be a confusion of complicated workout routines and anatomical and dietary do's and don'ts. Bodybuilding For Men cuts through all this confusion.
Section I is a concise, simple and general introduction to the practice of bodybuilding and contains advice on how to start, down-to-earth dietary information, and a guide to basic bodybuilding exercises and workouts. It also features many of the world's top bodybuilders in exciting action.

Section II is a step-by-step color picture guide to all the exercises described in the first section.
Whether you have ambitions to become the next Mr. Universe, whether you want to improve your performance in sports, or whether you just want to look good on the beach, Bodybuilding for Men is the book for you.
SECTION I
Bodybuilding and Fitness Bodybuilding will add or subtract the inches where and when you want them — and keep you mentally and physically fit.
Bodybuilding basics: How to make a start, how not to get "musclebound", how often to train, what to wear.
Your physical type. There are three basic body types. Which one are you? How your body type will affect your training.
Diet for the bodybuilder: What to eat for ultimate health and physique.
Making a start: A guide to the essential free-standing exercises.
A basic bodybuilding program for all the basic routines that will give rapid results.
A glossary of barbell, dumbell and machine exercises. All the exercises and how to perform them.
SECTION II
An easy to use, step-by-step color guide to all the basic bodybuilding exercises you need.
Oscar Heidenstam has spent a lifetime promoting physical culture. An international bodybuilder before World War II (and still winning prizes 20 years later!) he was editor of Health and Strength magazine for 27 years and is the author of innumerable articles and books.
He is President of NABBA - the National Amateur Bodybuilders' Association - which organizes the annual NABBA Universe bodybuilding contest and other NABBA contests in UK. (Oscar was president of NABBA at the time of this release.)
Hard cover, large format, used with an inscription, dust jacket, in good condition apart from slight spine damage, all photos are in colour. A collector's item. Includes Arnold, Sergio, Lee Haney, Jeff King, Joe Meeko and much more. Meeko is pictured front cover. See our DVD on JOE MEEKO, GMV-079DVD here.
120 pages