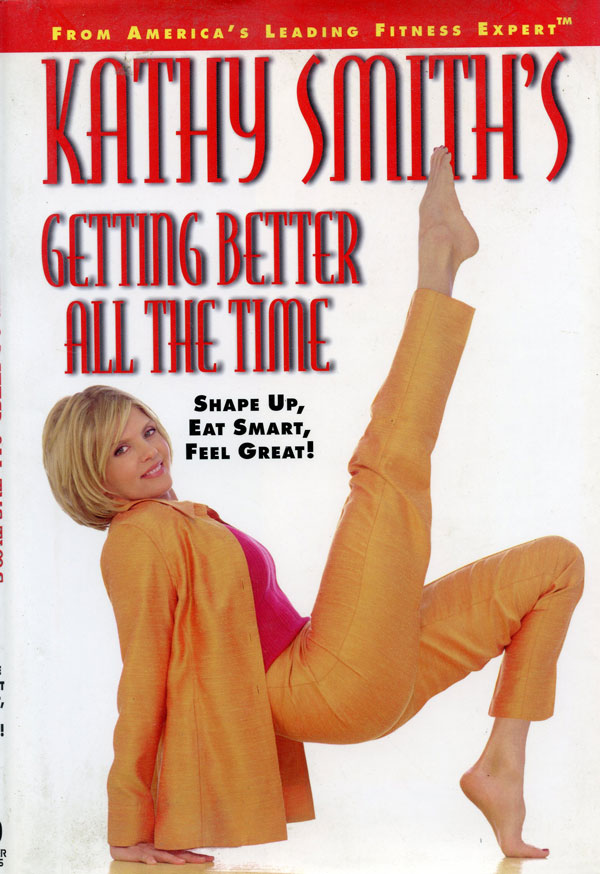 Kathy Smith's Getting Better All the Time
Shape Up, Eat Smart, Feel Great!
She has been the fitness correspondent for NBC's Today show. She's been featured on ABC's Good Morning America, CNN, Entertainment Tonight, and Extra! She has had more bestselling fitness videos than any other expert in her field. Her books— Kathy Smith's Fitness Makeover and Kathy Smith's Walkfit for a Better Body—have shown thousands of readers the way to health and fitness.
Now with the insight and compassion that have made her America's leading fitness expert, Kathy Smith brings it all together. No matter how out of shape and discouraged you are today, Kathy's new program will motivate you, inspire you, and give you the tools you need to take control of your life. KATHY SMITH'S GETTING BETTER ALL THE TIME introduces you to the Power of Choice Plan: a comprehensive, easy-to-understand formula for shaping up, eating smart, and feeling great.
Presented with the expertise the world has grown to trust and the personal touch her fans have come to love, this book reveals:

• Kathy's seven keys to success—a step-by-step program that changed her life and can change yours too
• 3 unique approaches to eating—complete with recipes that you can tailor to your body type and metabolism, and designed to liberate you from a "diet" mentality forever; you'll lose weight and still eat the foods you love
• a flexible, results-oriented workout program that you personalize for your body's needs, featuring the new Lean Walk System™, guaranteed to burn calories
• Kathy's own moving story told for the first time— featuring photos from her personal photo album.
So say goodbye to measuring your self-esteem by a number on the scale. And say hello to rating your success by the undeniable improvements in your relationships, your work, your family, and your productivity. After all, you're the one in charge. You can make changes; wonderful changes that will seem like miracles. The power of choice is yours!

KATHY SMITH has been a fixture on the American fitness scene since her first video, Kalhy Smith's Ultimate Video Workout, premiered in 1984. A featured health and fitness columnist in the Los Angeles Times and Living Fit Magazine, Kathy is a sought-after expert by national broadcast and print media and serves on the board of stewards of the Women's Sports Foundation. She lives in California with her husband and two daughters.
Hard Cover from Warner Books. Mint condition. Many photos in colour and B&W.

280 pages