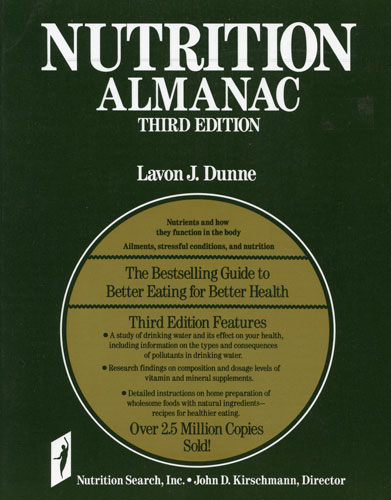 Nutrition Almanac
The Expanded and Updated Third Edition by Lavon J. Dunne

NUTRITION ALMANAC:
The Expanded and Updated Third Edition provides thousands of Facts About Nutrition at Your Fingertips.
Proper nutrition is a vital component of good health. The more you know about nutrients and how they really function in the body, the greater the physical and psychological rewards you'll reap from maintaining a healthfull, well-balanced diet. That is why millions of health-conscious individuals and nutrition professionals have turned with confidence to the NUTRITION ALMANAC again and again, for simple and sensible information about nutrition.
The Third Edition of this authoritative guide to better eating and better health helps you keep on track with the accelerating pace of nutrition research. Covered in detail is a wealth of critical new data about the essential roles that vitamins, minerals, amino acids, and fiber play in your diet.
Packed with hundreds of pages of useful facts, statistics, and reliable dietary guidelines, the Third Edition of NUTRITION ALMANAC delivers:

* An important, new study of drinking water that profiles a broad spectrum of pollutants and details their effect on your health.
* New information regarding the sources and dosage levels of vitamin and mineral supplements.
* The latest information about herbs and herbal preparations.
* An expanded, easy-to-read food composition chart providing a complete nutrition analysis of over 600 foods.
* A complete cooking guide for healthier eating — including recipes for wholesome meals with all-natural ingredients.
Large format, soft cover from McGraw-Hill Publishing, with charts and tables, new copy.
340 pages