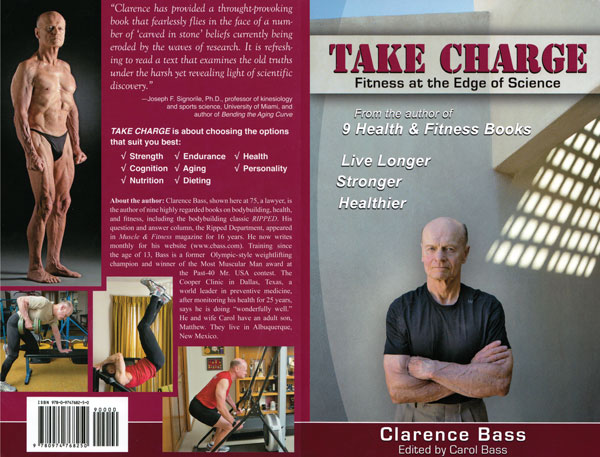 Take Charge
Fitness at the edge of science by Clarence Bass
Edited by Carol Bass.
The full title of the book is TAKE CHARGE: Fitness at the Edge of Science.
Here is a recent quote on Clarence Bass -
"You have likely done something with your life that no one else in the world has ever done or probably ever will. Through unfailing life-long consistency and careful documentation you have shown the role that high intensity exercise, endurance, and excellent nutrition can contribute to the maintenance of maximum human physical function throughout the life span. Your life is a superb case study that will probably be referred to forever. Congratulations, and thanks!"
Waneen Spirduso, Professor Emeritus, The University of Texas at Austin, Co-author of Physical Dimensions of Aging (Human Kinetics, 2005)

"Science has opened up many new roads to fitness in recent years. Our task is to find the path that suits us best. The purpose of TAKE CHARGE is to help people do that. Clarence Bass."
Take Charge spotlights new discoveries that are opening up more training and diet options than ever before. This new book collects the most important findings in one place--allowing you to review and evaluate them. Clarence tells what works best for him--and why, along with the other options science has opened up for all of us.
This is Clarence's 10th book and the reception in USA for Take Charge has been phenomenal. The launch of the first book by Clarence Bass, RIPPED, in 1980, was spectacular and it is always in stock at GMV and still selling strong! The RIPPED DVDs series is also available from GMV, see details here.
Chapter 12, the final chapter, is about "Take Charge People." Six people are profiled, all successful in their own way. Each has a fascinating story to tell, each different, each inspiring. Why mention Chapter 12 at the start? It's Clarence's favorite chapter. "We hope and believe readers will love it. We can all learn from their examples, not by imitating them, but by appreciating their uniqueness and drawing inspiration to find our own way." (One of the 6 stories is on GMV's Wayne Gallasch - World Record Holder at 70.)
TAKE CHARGE is about choosing the options in life that suit you best:
Strength Endurance Health
Cognition Aging Personality
Nutrition Dieting
"Clarence has provided a thought-provoking book that fearlessly flies in the face of a number of "carved in stone" beliefs currently being eroded by the waves of research. It is refreshing to read a text that examines the old truths under the harsh yet revealing light of scientific discovery.
Joseph F. Signorile, PhD, professor of kinesiology and sports, University of Miami, and author of Bending the Aging Curve."

BOOK REVIEW:
Click here for Steve Holman's review of this book.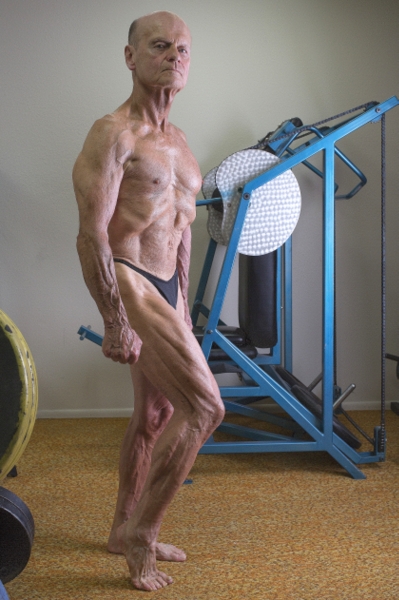 About the author:
Clarence Bass, shown here at 75, a lawyer, is the author of nine previous and highly regarded books on bodybuilding, health, and fitness, including the bodybuilding classic RIPPED series. His question and answer column, the Ripped Department, appeared in Muscle & Fitness magazine for 16 years.
He now writes monthly for his website (cbass.com) Training since the age of 13, Bass is a former Olympic-style weightlifting champion and winner of the Most Muscular Man award at the Past-40 Mr. USA contest.
The Cooper Clinic in Dallas, Texas, a world leader in preventive medicine, after monitoring his health for 25 years, says he is doing "wonderfully well."
WHAT IS THE BOOK ALL ABOUT?
Here are some comments from Clarence:
"Weight training grabbed my attention when I was about 12 — and never let go. I started learning then and added to my knowledge with the passing years. I began with strength training basics and later added new dimensions of fitness one by one: nutrition, aerobic exercise, weight control, motivation, exercise physiology, and health.
This book is about new things I've learned in the last several years — and how they can help readers take charge and improve their lives. The wonders of modern science keep uncovering new ways we can help ourselves live longer, stronger, and healthier.

The paths to success in fitness and health have never been more open and diverse. We can take charge in ways that suit us, ways that we enjoy and do best.
For example, there are many forms of resistance training that build strength and muscle. Some of them also build aerobic capacity. On the other hand, some forms of aerobic exercise also build strength. What's more, both strength training and aerobic exercise improve brain and other bodily functions.
Another emerging area is diet dynamics, expanding our understanding of the idiosyncrasies of dieting and weight loss. We'll talk about these and many other new developments — along with a few old ones that have re-emerged.
That barely scratches the surface of the wondrous opportunities opening up to people willing to take charge of their bodies and their lives."
As Clarence says in summing up:
"When I encountered road blocks, I looked for ways to overcome them, not by force, but by using my mind and methods I have learned in a lifetime of study and taking care of myself. It has almost always worked. At 75, it's still working. I intend to keep training and looking for ways I can improve.
The process has been amazingly rewarding. The last few years have been filled with new discoveries in the areas I've already touched on, and more. Discoveries that all of us — men and women, young and old — can use to shape our future. In short, I have done what I hope you will do: take charge."
We at GMV hope you enjoy reading TAKE CHARGE as much as Clarence enjoyed writing it. As a combination of science and life experience, it is inspirational information that is unmatched.
Softback (6 X 9), 226 pages, 42 photos, $39.95 + shipping (see postage costs below based on zone)

Australia/New Zealand $10
Asia Pacific $15
North America $17.50
Rest of World $25
Disregard the automated postage shown on the order page. All charging is done manually and the correct amount will be charged, based on the shipping address.
If we have your current address and recent credit card information, simply send us an e-mail to charge and send you a copy. As simple as that!

PHOTOS:
The first photo below shows Clarence demonstrating the Concept 2 Ski Erg while warming up before making a 500m PR while Wayne looks on in support.
The second photo shows Wayne, Carol and Clarence Bass during the book shoot, September, 2012. Photos by Laszlo Bencze.