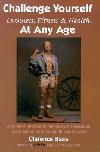 Clarence Bass' CHALLENGE YOURSELF: Leanness, Fitness & Health at any Age
(Dual price US$20.95 or A$29.95 Shopping cart defaults to US$ price)
* Always strive to improve
* Forget the fat-burn zone
* Solve the glycemic index conundrum
* Lose fat, gain muscle

It's all in this thought-provoking new book from an acknowledged master of staying lean, fit and healthy. Clarence Bass shares the knowledge gained form a lifetime quest for improvement. The key, he says, is to continually challenge yourself in an intelligent and thoughtful way.

Check out the 9 books we have in stock by Clarence Bass click here. There is also a SPECIAL DEAL 3 BOOK SET FOR RIPPED 1, 2 & 3 - click here.

Please click here for details on the RIPPED DVD COLLECTION complete set of 3 Ripped DVDs.

Click here to read an article on Clarence Bass.
Important GMV Dual pricing policy.
* All customers outside of Australia/New Zealand will be charged in US dollars. If an imported item has dual pricing, (that is in Australian and US dollars), all customers OUTSIDE of Australia and New Zealand will only be charged the US dollar price.

Unfortunately, our site cannot automatically cope with dual pricing based on your country of residence and will default to the US dollar price on the order form you see displayed. Regardless of this, all customers will be manually charged the correct price based on the above.
To refer to our FAQ section for this and any other questions, please click here.