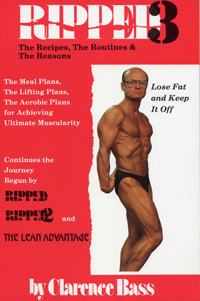 Clarence Bass' RIPPED 3

In RIPPED 3 lear the meal plans, the lifting plans, the aerobic plans, for achieving ultimate muscularity. Continues the journey begun by Ripped and Ripped 2.

Diet: Proper food selection is crucial for fat loss.
Deprivation, however has no place in the process.
Aerobics: Aerobic exercise burns fat. But don't overdo, or you'll lose muscle.
Weights: Ripped 3 presents exciting new variable routines adapted from a training model developed in Russia called Periodization.
Clarence Bass' routines will keep you gaining.
Check out the 9 books we have in stock by Clarence Bass click here. There is also a SPECIAL DEAL 3 BOOK SET FOR RIPPED 1, 2 & 3 - click here.

Please click here for details on the RIPPED DVD COLLECTION complete set of 3 Ripped DVDs.

Click here to read an article on Clarence Bass.