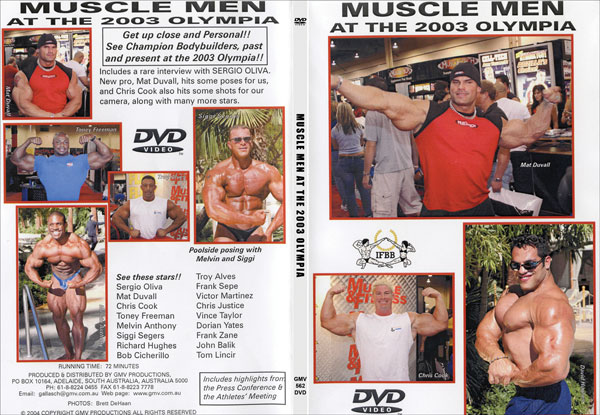 Preview clip.
Muscle Men at the 2003 Olympia

Get up close and personal with the champions!!
See Champion Bodybuilders, past and present at the 2003 Olympia!!
Includes a rare interview with SERGIO OLIVA at the Expo. New pro, Mat Duvall, hits some poses for us, and Chris Cook also hits some shots for our camera, along with many more stars. And there's poolside posing with Melvin Anthony and Siggi Segers.
Front cover photos clockwise from top, MAT DUVALL, DAVID HUGHES & CHRIS COOK.

Hardcore bodybuilding fans -- don't miss the 90-minute 2003 Mr. Olympia Prejudging DVD. Click here for details on A-1072DVD.
Hardcore bodybuilding fans -- don't miss the 90-minute 2003 Mr. Olympia Finals DVD. Click here for details on A-1073DVD.




See here the 2003 Mr. Olympia Prejudging & Finals 2 DVD Set, A-1072DVDSP.






You will also see Ronnie at the Athletes' Meeting and Ronnie and the other guys at the exciting and controversial Press Conference.
See these stars!!
Sergio Oliva
Mat Duvall
Chris Cook
Toney Freeman
Melvin Anthony
Siggi Segers
Frank Sepe
Victor Martinez
Chris Justice
Vince Taylor
Dorian Yates
Frank Zane
David Hughes
Bob Cicherillo
Troy Alves

John Balik (Editor, Iron Man magazine) and Tom Lincir (founder of Ivanko Barbells) also feature.
Organised by Wayne DeMilia, this is one of the best ever Olympia Expos. It had something for everyone.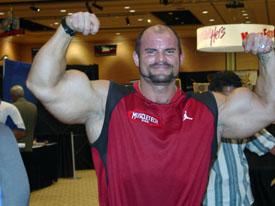 Photo of Mat Duvall taken by Wayne Gallasch at a
Mr. Olympia Expo at the Mandalay Bay Hotel. Copyright GMV.

Reconstruction of a Bodybuilder - Dave Palumbo, Mat Duvall
A clever premise, involving Dave and his training partner Mat Duvall as volunteers in an experiment to create superhuman cyborgs, who have to protect a future legislator from an anti-bodybuilding faction. As a legislator, this guy is destined to preserve the future of bodybuilding in the next century. Interwoven in the plot is serious hardcore instruction. At Bev Francis' gym in Syosset, Dave and Mat show the basic exercises for working pecs, delts (with Dave's beautiful fiancé Barbara Moran providing inspiration), arms and legs. They are joined by Jim "Iron Bull" Pellechia for a super back workout. Greg Kovacs appears at the end. There are also segments on diet and nutrition.


To see the WOMEN'S DVD from this Expo, please click here for GMV-561DVD.

Female Muscle at the 2003 Olympia

This DVD is a galaxy of female bodybuilding stars at the 2003 Olympia.

Most of them posed for us in this exciting look at women at the Olympia. This DVD rocks! Features 25 different women!

Many famous names.


GMV-561DVD


NTSC DVD, OPEN REGION