See the DVD's preview clip here.


See the preview clip here of Sam the Man.


Men of Muscle # 6 - Born to Pose

Can you imagine a DVD with a collection of some of the best physiques and best posing routines we have ever seen?? Well, this is it!! We have researched our video archives from the last 4 years in putting together this super posing tape. It contains some segments which have never been seen before.

Do not try to copy many of these routines as they may be injurious to your health!

Enjoy the classic work from the following list of masters of the posing platform as they elevate the art of physique display to new levels.
Also includes some brief oiling, pumping and workout segments.
Photos on back cover from top to bottom: Frank Cuppens, Luis DeJesus, Stefan Havlik.

Running time: 90 mins

Click here to read a detailed review of this DVD.

MASSIVE DVD PHOTO GALLERY OF 50 DYNAMIC IMAGES
Stars Featuring in this DVD:

ERNIE TAYLOR
GUNTER SCHLIERKAMP
CHRIS CORMIER
KAMAL ELGARGNI
STEFAN HAVLIK (Winner of the 2012 Arnold Classic Amateur)
KING KAMALI
MELVIN ANTHONY
LUIZ DeJESUS
FRANK CUPPENS
MARIO RIEGER
AHMAD HAIDAR
JAY CUTLER
DEXTER JACKSON
DARREM CHARLES
SAM THE MAN
FLAVIO BACCIANINI
CHRIS COOK
FABIO DES SANTOS
LUKE WOOD
MARKUS RUHL
TOMMI THORVILDSEN
CRAIG TITUS v KING KAMALI in the Ultimate Posedown.

See our COMPLETE INDEX LISTING OF ALL MEN OF MUSCLE DVDs here.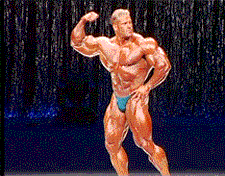 * Available in NTSC DVD (region free)