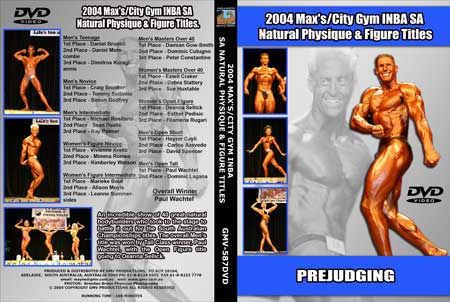 2004 INBA South Australian Natural Physique & Figure Titles - Prejudging.
An incredible show of 40 great natural bodybuilders who took to the stage to battle it out for the South Australian Championships titles, in this major show sponsored by Max's and City Gym. This was the biggest natural event ever staged in South Australia.
In this DVD see every round of every class at the Prejudging.
The Overall Men's title was won by Tall Class winner, Paul Wachtel, with the Open Figure title going to Deanna Sellick.

For all of the details on THE SHOW DVD from this event, please click here for GMV-588DVD

2004 INBA South Australian Natural Physique & Figure Titles
Adelaide October, 2004

Men's Teenage
1 Daniel Brunoli
2 Daniel Morcombe
3 Dimitrios Karagiannis
Men's Novice
1 Craig Brooker
2 Tommy Settimio
3 Simon Godfrey
4 Walter Sims
5 Robbie Zeuner
6 Jeffery Smith
7 Daniel Fusi
Men's Intermediate
1 Michael Rositano
2 Sean Pualic
3 Ray Palmer
Men's Masters Over 40
1 Damian Gow-Smith
2 Dominic Cutugno
3 Peter Constantine
4 Peter Mander
Men's Open Short
1 David Spencer
2 Carlos Azevedo
3 Hayzer Cayli
4 Ken Lavanda
5 Martin Trott
6 Sandro Santucci
7 Paul MacGregor
8 Jose Azevedo
Men's Open Tall
1 Paul Wachtel
2 Dominic Lagana
Men's Overall Winner: Paul Wachtel
Women's Novice Figure
1 Vivienne Krstic
2 Mimma Romeo
3 Kimberley Watson
4 Eva Milekovic
Women's Intermediate Figure
1 Marieke Bout
2 Alison Moyle
3 Leanne Summersides
Women's Masters Over 40
1 Estelle Craker
2 Debra Slattery
3 Sue Huxtable
Women's Figure
1 Deanna Sellick
2 Esther Pedisic
3 Filamena Rugari

RT: 95 mins

NTSC DVD, OPEN REGION