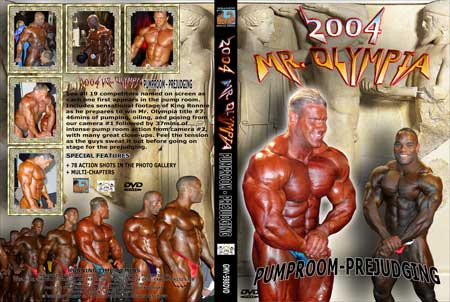 Click here for preview.
2004 Mr. Olympia - Prejudging Pump Room
See all 19 competitors named on screen as each one first appears in the pump room. Includes sensational footage of King Ronnie as he prepares to win Mr. Olympia title #7.

Enjoy 46 mins of pumping, oiling, and posing from our camera #1 followed by 37mins of intense pump room action from camera #2, with many great close-ups. This is one of our best ever Olympia pump room action DVDs with some wonderful scenes of Ronnie and Jay.
TRT: 84 mins

2004 MR. OLYMPIA

1 Ronnie Coleman USA
2 Jay Cutler USA
3 Gustavo Badell Puerto Rico
4 Dexter Jackson USA
5 Markus Rühl Germany
6 Günter Schlierkamp Germany
7 Chris Cormier USA
8 Dennis James USA
9 Victor Martinez Dominican Republic
10 Darrem Charles Trinidad
11 Pavol Jablonicky Czech Rep.
12 Kris Dim USA
13 Ahmad Haidar Lebanon
14 Johnnie Jackson USA
15 Troy Alves USA
16 Craig Richardson USA
17 Mustafa Mohammad Jordan
18 Richard Jones USA
19 Claude Groulx Canada


2004 Mr. Olympia Prejudging and Show - 2 DVD Set

Feel the tension as the guys sweat it out before going on stage for the prejudging.
NTSC DVD, OPEN REGION