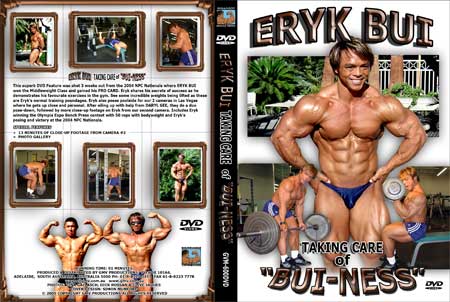 Click here for DVD preview clip.


Click here for his CHEST TRAINING clip.


Eryk Bui - Taking Care of Bui-ness
Also on Digital Download.

This superb DVD Feature was shot 3 weeks out from the 2004 NPC Nationals where ERYK BUI won the Middleweight Class and gained his PRO CARD.

Eryk shares his secrets of success as he demonstrates his favourite exercises in the gym. See some incredible weights being lifted as these are Eryk's normal training poundages.

PHOTO GALLERY.

Eryk also poses poolside for our 2 cameras in Las Vegas where he gets up close and personal.
After oiling up with help from DARYL GEE, they do a duo pose-down, followed by more close-up footage on Eryk from our second camera.

GMV MUSCLE USA #1 - DARYL GEE

This outstanding DVD video, shot over a period of 13 months, features Asian-American up-and-coming superstar DARYL GEE. See him posing poolside for our two cameras at the 2003 and 2004 Olympia Weekends in Las Vegas.

After Daryl oils up with the help of 2004 NPC Middleweight Champion Eryk Bui, they do a duo posedown followed by more close-up footage of Daryl from our second camera. See his fantastic biceps fill the screen in some great close-ups.


The DVD also includes Eryk winning the
Olympia Expo Bench Press contest
with 50 reps with bodyweight, and Eryk's posing and
victory at the 2004 NPC Nationals
.
Eryk Bui - Contest and Core Movements.

"If you think Eryk is amazing on stage, you'll be blown away when you see this awesome physique in training! Eryk achieves lifts that are out of this world, and he will inspire you to be your best."


SPECIAL FEATURES

+ 13 MINUTES OF CLOSEUP FOOTAGE FROM CAMERA TWO

+ SUPERB PHOTO GALLERY

Click here to read a detailed review of this DVD.

SPECIAL THANKS to Richard Rossan who discovered these 2 models and made this DVD possible.
Photographers: Richard Rossan, Wayne & Tina Gallasch, Clive Jaques.

NTSC DVD, OPEN REGION