Mike & Ray Mentzer - Gym Workout
Also on Digital Download. Preview clip.
The awesome Mentzer brothers, fuelled by their intense rivalry, show what they can do when they pump iron at the gym.

Filmed in the gym late at night, they blast their way through their display workout routines with heavy weights which are a little less than they would normally use. However this is the only known footage of them training together.
Mike and Ray each go through their most incredible workouts, muscles dripping with sweat - the intensity, muscle display and sheer power will shock you!
Obviously every single set could not be recorded on film the way it could be recorded today if shot on video - with full live sound! There is no live sound in the gym and we have a music background added.
See the MIKE & RAY MENTZER PHOTO GALLERY.

After Mike flexes and poses each muscle group, hard and pumped, they head for Venice Beach. Ray Mentzer oils, pumps and poses in a fantastic solo presentation, for the final 15 minutes of the DVD.

As mentioned above, this original video V-121 was shot on silent super 8 film back in July 1978 while Mike and Ray were working out in the gym. It was not just a staged pump-up. At that time no one deemed them worthy of a full professional 16mm film production complete with sound and a big budget in order to do it the way some videos are shot today. Back then I had the foresight and luck to get the 2 guys into the gym and record as much as I could afford to do with the technology available at the time. This was about 4 years before home video cameras came onto the world market.
Due to the high cost of film and developing in the seventies, it was not possible to shoot lots and lots of reels of film, recording more sets with each one getting heavier, or more exercises. But this rare documentary is the only known footage showing Mike and Ray actually working out.

Hear Mike speak!
Mike did record a TRAINING SEMINAR that was sold on cassette tape. Mike's seminar was later licensed to GMV from Muscle Media 2000 to be used as part of the soundtrack of this video, now on DVD. This is an extremely rare and valuable DVD as we have no other recording of Mike's voice.
If only we had the technology available then to shoot something like the Dorian Yates or Ronnie Coleman DVDs of today. It is also worth mentioning that not a single complete workout film was shot with Arnold Schwarzenegger or Frank Zane back in their competition days! Workout films as we know them today were almost never shot in the 70s and early 80s.

The DVD includes a PHOTO GALLERY of many of Wayne's unpublished photos of Mike & Ray in the Gym.

See Ray's complete contest record at the bottom of page.

More on Mike Mentzer at the Beach and Muscle Rocks V-112DVD.
More on the 3rd and final Mike Mentzer DVD The Final Chapter, V-208DVD.
More on the Triple Pack Special Deal Set of all 3 Mike Mentzer DVDs, V-209DVDSP.
More on the special MIKE MENTZER LARGE A2 POSTER, see below.
Read a review of the DVD Mike Mentzer at the Beach & Muscle Rocks.
Read Wayne's tribute to Mike and Ray - RIP. Mike and Wayne were very close friends. See Mike's personal comments to Wayne below, showing front and rear covers of the booklet in which he wrote this tribute!

NTSC DVD, OPEN REGION



UNIQUE POSTERS FROM GMV.
MIKE MENTZER POSTER #1 PS-001MM.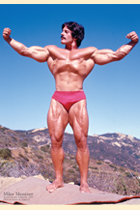 Master photographer Wayne Gallasch has selected some of the very best muscle photos from his archives and is releasing the first one as a limited edition full color poster. For Mike Mentzer posing at the famous Muscle Rocks, USA, click on poster image above.

RAY MENTZER'S COMPLETE CONTEST HISTORY:

1971
Teen Mr America - AAU, 10th.

1976
Mr America - IFBB, Tall, 2nd.
Mr Eastern America - IFBB, Tall, 3rd.
Mr Eastern USA - IFBB, Overall Winner.
Mr Eastern USA - IFBB, Tall, 1st.
Junior Mr America - IFBB, Tall, 1st.

1977
Mr America - IFBB, HeavyWeight, 2nd.
North American Championships - IFBB, HeavyWeight, 3rd.
Mr USA - IFBB, HeavyWeight, 2nd.

1978
Mr America - AAU, Medium, 6th.
Mr International - IFBB, HeavyWeight, 3rd.
Mr USA - IFBB, Tall, 1st.
Mr USA - IFBB, Overall Winner.
USA vs the World - IFBB, HeavyWeight, 2nd.

1979
Mr America - AAU, Medium, 1st.
Mr America - AAU, Overall Winner.
World Amateur Championships - IFBB, HeavyWeight, 2nd.

1980
Canada Pro Cup - IFBB, 9th.

1981
Grand Prix California - IFBB, Did not place.
Grand Prix New England - IFBB, 11th.
Night of Champions - IFBB, 9th.

1982
Night of Champions - IFBB, 10th.
World Pro Championships - IFBB, 7th.

Mike Mentzer's Complete Contest History

1970
Mr Pennsylvania - AAU, Winner
1971
Mr America - AAU, 10th
Teen Mr America - AAU, Most Muscular, 2nd
Teen Mr America - AAU, 2nd
1975
Mr America - IFBB, Medium, 3rd
Mr East Coast - IFBB, Medium, 2nd
Mr USA - IFBB, Medium, 2nd
1976
Mr America - IFBB, Medium, 1st
Mr America - IFBB, Overall Winner
Universe - IFBB, MiddleWeight, 2nd
1977
North American Championships - IFBB, MiddleWeight, 1st
North American Championships - IFBB, Overall Winner
Universe - IFBB, HeavyWeight, 2nd
1978
USA World Qualifier - IFBB, HeavyWeight, 1st
USA vs the World - IFBB, HeavyWeight, 1st
World Amateur Championships - IFBB, HeavyWeight, 1st
1979
Canada Pro Cup - IFBB, 2nd
Florida Pro Invitational - IFBB, Winner
Night of Champions - IFBB, 3rd
Olympia - IFBB, HeavyWeight, 1st
Pittsburgh Pro Invitational - IFBB, 2nd
1980
Olympia - IFBB, 5th

NTSC DVD, OPEN REGION