Preview clip

Serge Nubret - Seminar Part 1 and Posing
Also on Digital Download.

The Black Prince of Paris: Mr. Europe - Mr. World - Mr. Universe. Nubret is a legend in the world of bodybuilding! A master poser who presents the perfection of a seasoned champion, and the powerful muscular display of a world class physique. His superb classical posing is designed to show off the flawless symmetry and beauty of his body. Truly one of the all time legends of bodybuilding!

The audio is the soundtrack of the Seminar Part 1 given during Serge's Australian tour, but the vision consists of him posing world wide. You will hear Nubret speak of his many years of experience and share his secrets while at the same time, you watch him oiling, pumping and posing in a masterful presentation on the beach at Marina del Rey, CA.
The rest of the NUBRET SEMINAR, PART 2 is included in V-142DVD, which is Roger Walker - Mr. Universe Training & Posing plus Serge Nubret Seminar Part 2.

This beach segment was filmed and photographed by Wayne Gallasch of GMV in August 1980 with Serge shredded and in absolute top condition. It was a hot, sunny day and the sweat was flowing.
See Serge in closeup as he goes through his classical poses. He demonstrates muscle control in which he isolates and flexes the individual segments in his abs and massive pecs. A masterclass lesson in muscle control and classical posing! This beach segment runs for about 28 mins.

See Serge's CONTEST HISTORY at the very bottom of this page. Serge Nubret won his last contest, something very rare with most top bodybuilders when they end their careers.
Also included in this DVD is Serge's convincing win at the European Pro World Championships. This is followed by seminar posing and guest posing at the Mr. Australia Show. The entire DVD is rounded off by a presentation of an impressive series of classic colour and black & white photos of Serge from our private collection - most of which have never been published. These photos show Serge at his all-time glorious best. See several samples below from this beach shoot.
The bottom photo was taken by Wayne in London on the day after Serge competed in the 1978 NABBA Pro Universe. He is posed with Linda Cheeseman who was the 1974 NABBA Miss Bikini Universe.

See the SERGE NUBRET PHOTO GALLERY.

In 1975, Nubret placed second to Arnold Schwarzenegger in South Africa in the Mr. Olympia (as seen in Pumping Iron) and today he is guest posing for you!!
All photos on this page are by Wayne Gallasch, (c) GMV Productions.
Pumping Iron

The 25th Anniversary special edition DVD of Pumping Iron is now available. Most of the film focuses on the intense rivalry and competition between Arnold Schwarzenegger and Lou Ferrigno. The production also features some segments on other bodybuilders such as Franco Columbu, Ken Waller, Mike Katz, Ed Corney, Serge Nubret, Paul Grant and other top men of that time.


* This is a direct transfer to DVD with no special features.

* Available in NTSC OPEN REGION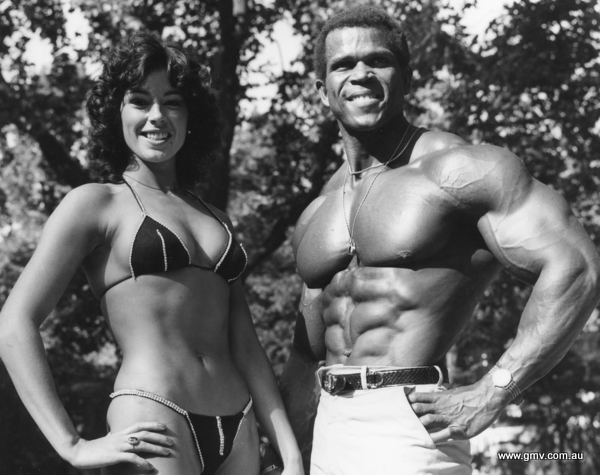 Serge Nubret Contest History
Born October 6, 1938
Died April 19, 2011
1963
NABBA Universe - Pro, Tall, 2nd
1964
NABBA Universe - Pro, Tall, 2nd
1969
NABBA Universe - Pro, Tall, 3rd
Mr World - IFBB, Tall, 2nd
1970
Mr Europe - IFBB, Tall, 1st
1972
Olympia - IFBB, 3rd
1973
Olympia - IFBB, 2nd
1974
Olympia - IFBB, HeavyWeight, 3rd
1975
Olympia - IFBB, HeavyWeight, 2nd
1976
Olympus - WBBG, 2nd
NABBA Universe - Pro, Tall, 1st
NABBA Universe - Pro, Winner
1977
Olympus - WBBG, Winner
NABBA Universe - Pro, 2nd
Pro Mr World - WBBG, Winner
1978
NABBA Universe - Pro, 2nd
1981
Pro World Cup - WABBA, 2nd
1983
World Championships - WABBA, Professional, 1st

**************************************************************************

OFFICIAL STATEMENT REGARDING NUBRET'S DEATH
From his children.
We are sad to inform you of the death of Serge Nubret. Serge has left us on April 19th 2011.
The funeral will be held in Paris (Pere Lachaise) on April 29th at 2:10 pm.