Click here for our photo & video tribute to Luke


Click here for a preview clip from this DVD


Click here for Phil Primmer's personal tribute to Luke Wood at the 2011 NABBA/WFF Australian Championships


Luke Wood - Following a Dream

Also on Digital Download.
To celebrate Australian born Big Luke Woods' arrival in the U.S.A we have released his best selling video on DVD.
Will he be the next big Aussie star, following in the footsteps of the Blonde Myth Lee Priest? Luke was 6 times an IFBB Australian Amateur Champion.

Australia's top IFBB Pro bodybuilder LUKE WOOD shows us his favourite exercises in this, his first feature DVD.
Shot the day after he placed 7th in the 2002 IFBB Australian Grand Prix, he is in superb condition. At the age of 26, Luke has a Pro career ahead of him that has great potential. This is an intimate profile on a rising star.
Includes highlights of Luke in his first two Aussie Grand Prix, meeting the fans, posing at the Olympia Weekend Expo, plus training tips from his friend Chris Cormier.
LUKE WOOD is a new young Pro who is following his dream. One of his dreams was the Olympia, and he made it onto the Olympia stage in Las Vegas in 2005 when he competed in the Olympia Wildcard Showdown placing 7th.

PHOTO GALLERY

(POST SCRIPT: We are terribly sad to report that Luke passed away at the Westmead Hospital in Sydney during and as a result of kidney surgery on August 31st, 2011. We counted Luke as one of our dear friends in Australian bodybuilding. He was only 35. Our deepest sympathy to the Wood family. Wayne & Tina Gallasch.)

REMEMBERING LUKE WOOD

Luke Wood Pro Contest History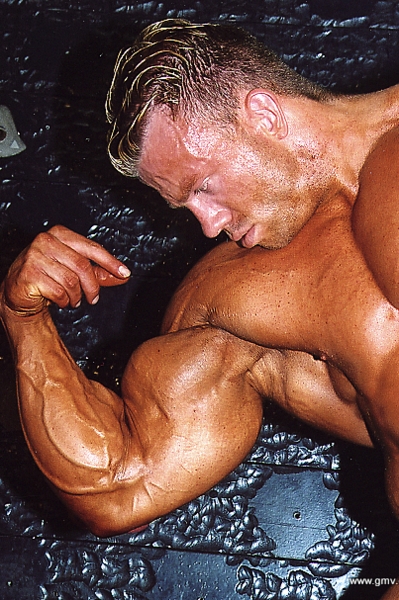 2001
IFBB Grand Prix Australia 10th
2002
IFBB Grand Prix Australia, 7th
2003
IFBB Grand Prix Australia, 6th
2004
IFBB Grand Prix Australia, 11th
2005
IFBB Charlotte Pro Championships, Did not place
IFBB Europa Supershow, 15th
IFBB Olympia Wildcard Showdown, 7th
2006
IFBB Atlantic City Pro, 11th
IFBB New York Pro Championships, 13th
2007
IFBB Arnold Classic, 16th
IFBB Grand Prix Australia, 9th
IFBB Iron Man Pro Invitational, Did not place
2008
IFBB Atlantic City Pro, Did not place

Special Features:

Photo Gallery

Click here to read a review of this DVD.

* Available in NTSC (region free)