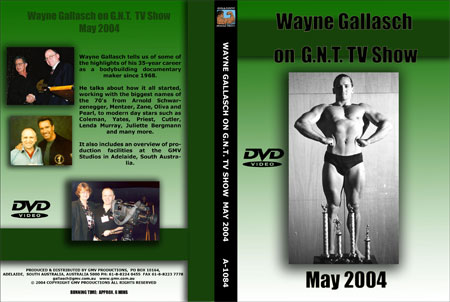 Wayne Gallasch on George Negus Tonight TV Show

Wayne Gallasch (CEO, GMV Productions) tells us of some of the historic highlights of his 38 years career as a bodybuilding documentary maker since 1966.
George Negus is one of the world's most respected journalists and his programme on National Australian TV paid tribute to this countries leading documentary makers. The programme leads us through Wayne's epic rise in the world of bodybuilding from total obscurity to now being recognised as one of the most influential bodybuilding producers and physique documentary cameramen of our time.
Wayne talks about how it all began, from working with the biggest names of the 70s such as Arnold Schwarzenegger, Mike Mentzer, Frank Zane, Sergio Oliva, and Bill Pearl up to modern day stars such as Ronnie Coleman, Dorian Yates, Lee Priest, Lenda Murray, Juliette Bergmann and many more.
The DVD also includes an overview of the GMV Bodybuilding studio including edit room, staff and more at head office in Adelaide, South Australia. It provides you with a peek behind the scenes at GMV.

During the extensive interview which will be included in an extended re-edit of this DVD, Wayne talks about his passion for competitive Concept 2 indoor rowing.
Wayne's thoughts on rowing:
Rowing is a very tough sport. The nature of rowing is that you are physically and mentally on the edge the entire race, or during each attempt at a new personal best time. Your aim is to row the last stroke that you can manage as you cross the finish line, in a state of near collapse. The sport of Rowing is not like most other sports. The pain and exhaustion you experience is actually created by yourself. You try to push yourself both physically and mentally beyond your limits.

To see Wayne in rowing action in RIPPED #3 DVD, please click here for GMV-578DVD.

To read a review on this DVD by Greg Sushinsky click here

Our special thanks to ABC TV for permission to use this feature.

* Available in NTSC (region free)