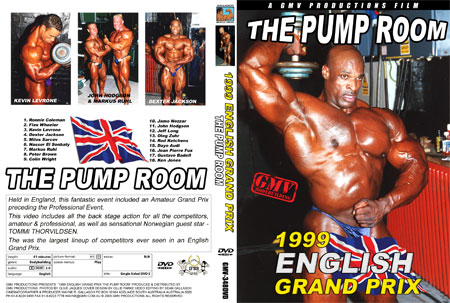 Click here for preview


1999 IFBB ENGLISH GRAND PRIX - THE PUMP ROOM
Also on Digital Download.

Held in England, this fantastic event included an Amateur Grand Prix preceding the Professional Event. The winner going onto the pro GP. With the English GP being held one week after the Mr Olympia, it is virtually a re-run of the Mr Olympia in UK, with some new faces, plus often guest posers as an added bonus.

This video includes all the back stage action for all the competitors, amateur & professional, as well as sensational Norwegian guest star - TOMMI THORVILDSEN.

It was the largest lineup of competitors ever seen in an English Grand Prix. The top 4 are still today in 2005 4 of the best bodybuilders of the last 20 years, and probably some of the best physiques of all time.

To see the show click here for GMV-347DVD 1999 IFBB English Grand Prix - Ronnie's 1st English GP Victory.

RESULTS

1. Ronnie Coleman
2. Flex Wheeler
3. Kevin Levrone
4. Dexter Jackson
5. Milos Sarcev
6. Nasser El Sonbaty
7. Markus Ruhl
8. Peter Brown
9. Colin Wright
10. Jamo Nezzar
11. John Hodgson
12. Jeff Long
13. Oleg Zuhr
14. Rod Ketchens
15. Dayo Audi
16. Jean Pierre Fux
17. Gustavo Badell
18. Ken Jones

Running time: 61 mins

* Available in NTSC (region free)
Dexter Jackson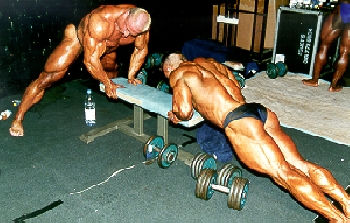 Markus Rühl & John Hodgson