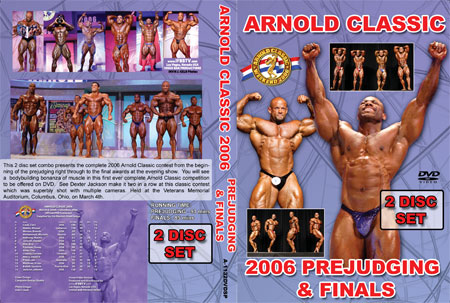 2006 Arnold Classic - Prejudging & Finals 2 Disc Set
THE FINALS DOWNLOAD.

Buy the complete 2006 Arnold Classic from the beginning of the prejudging right through to the end of the final awards. A bodybuilding bonanza, being the first time ever the complete Arnold Classic has been offered on DVD.
This 2 disc set is destined to become a collector's item.
See Dexter Jackson make it two in a row in this classic contest from Columbus, Ohio. Shot with multiple cameras, the whole production is of the highest quality.

GMV also produced the DVD of the 2006 Arnold Classic pump room. To order that DVD, please click here.

2006 Arnold Classic - Pump Room

Due to the prestige of this event we shot with 2 cameras so that we would not miss a moment of the exciting pump room and backstage action. The DVD covers both the prejudging and evening finals pump rooms, plus some posing in the photo booth.

We captured a mass of oiling, pumping, posing and sweating guys, all eager to get on stage. You see plenty of BRANCH WARREN as he pumps and prepares for his sensational second placing to eventual winner DEXTER JACKSON.



See RESULTS, PHOTOS and CONTEST REPORT below.

2006 Arnold Classic - Results
March 4th at the Veterans Memorial Auditorium
Columbus, USA
--------------------------------------------------------------------------------
Most Muscular Award went to Branch Warren, and the Best Poser Award went to Melvin Anthony.

Originally slated to compete, but dropped out weeks before the show was Chris Cormier, Dennis James (throat surgery), and Mark Dugdale (stomach flu).

RESULTS
1 Dexter Jackson, USA
2 Branch Warren, USA
3 Victor Martinez, USA
4 Gustavo Badell, Puerto Rico
5 Melvin Anthony, USA
6 Lee Priest, Australia
7 Mustafa Mohammad, Austria
8 Darrem Charles, Trinidad
9 Toney Freeman, USA
10 Troy Alves, USA
11 David Henry II, USA
12 Ahmad Haidar, Lebanon
13 Johnnie Jackson, USA
14 Kris Dim, USA
15 Chris Cook, USA


2006 Arnold Classic: The Women - The Finals - Fitness - Figure - Bodybuilding.

Again captured on two cameras, The Finals DVD has all the exciting action at one of the world's premiere women's events.

In the Ms. International event, former Ms. Olympia IRIS KYLE muscled out DAYANA CADEAU and YAXENI ORIQUEN to take the prestigious first prize in this women's bodybuilding classic.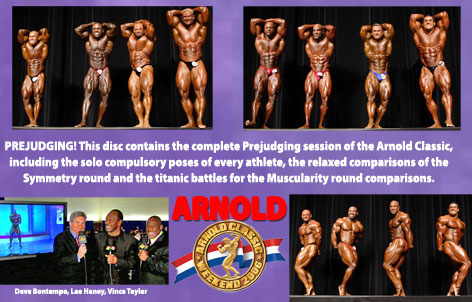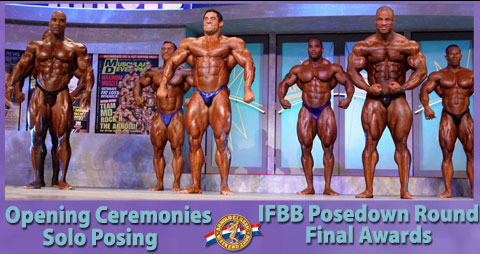 * Available in NTSC DVD Only (Region Free).