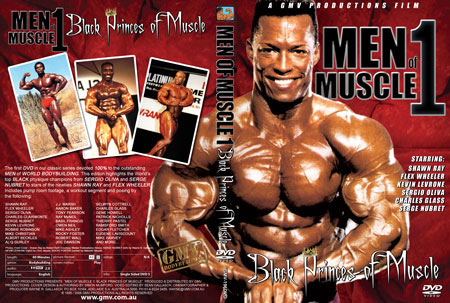 Click here for preview clip


Men Of Muscle # 1: Black Princes Of Muscle - 100% Male
Also available as a Digital Download
This was the first video, now DVD, in our now very well known "Men of Muscle" series.

To kick off the mighty "Men of Muscle" series, our first release celebrates the contribution of black physique champions to the sport of bodybuilding. This edition highlights the World's top black physique stars from Sergio Oliva and Serge Nubret to the champs of the time the DVD was made, such as Shawn Ray, Kevin Levrone and Flex Wheeler.
Click here for the FLEX WHEELER PHOTO GALLERY.

The DVD also includes several pump room segments, an interview with NPC star Gene Howell of USA, a workout segment, posing by a magnificent star studded lineup. In effect this is a display from many of the world's greatest posers. See men such as Ramsford Smith, one of the all-time NABBA most popular guest posers.
See the CHARLES GLASS PHOTO GALLERY.

The stars include:

Shawn Ray
Flex Wheeler
Sergio Oliva
Charles Clairmonte
Serge Nubret
Kevin Levrone
Robbie Robinson
Mike Christian
Albert Beckles
Alq Gurley
J.J. Marsh
Aaron Baker
Tony Pearson
Ray McNeil
Basil Francis
Owen Neil
Mike Ashley
Rocky Foster
Robert Wall
Joe Dawson
Selwyn Cottrell
Charles Glass
Gene Howell
Patrick Nicholls
Thierry Pastel
Ramsford Smith
Edgar Fletcher
Eugene Laviscount
Mike Harvey
And More…..

See our COMPLETE INDEX LISTING OF ALL MEN OF MUSCLE DVDs here.

SPECIAL NOTE: This is the last DVD appearance by the late great Ray McNeil, RIP before his murder.

* Available in NTSC (region free)

Customers who viewed this DVD also viewed:







Click here for GMV Productions complete list of Male Muscle DVDs.