Click here for preview.


1998 Finnish Grand Prix
Held in Helsinki, Finland at the Kulttuuritalo Hall, shortly after the Mr. Olympia, it was once again a stunning victory for the new Mr. Olympia Ronnie Coleman. This was Ronnie's second ever Grand Prix victory, his first being in Russia in 1997.

This DVD includes pump room interviews and highlights, plus all of the prejudging comparisons for all 13 competitors. The posing round includes the fantastic posedown and awards in this European Grand Prix of the season. See Ronnie at his absolute peak. Also pictured below.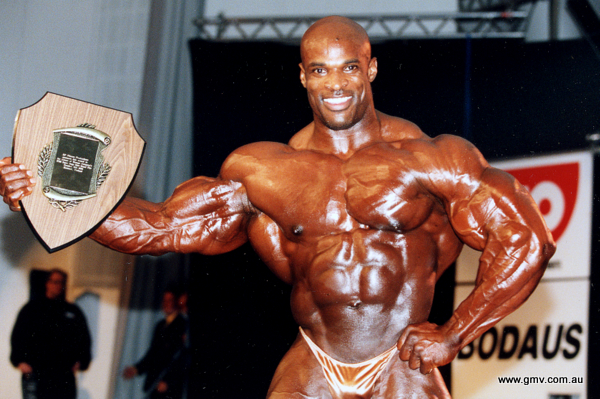 The 1998 Finnish Grand Prix was presented by - KP Fitness Production Wrange Company Super Mega Mass in Helsinki, Finland.
The top 3 are pictured front cover and Nasser is also pictured below. Contest photos by Wayne Gallasch & Clive Jaques, copyright Wayne & GMV.

See our Complete List of all DVDs from the NFE and Finland.

Click here for the PHOTO GALLERY.

The Winners were:
1. Ronnie Coleman (U.S.A.)
2. Kevin Levrone (U.S.A.)
3. Nasser El Sonbaty (Yugoslavia)
4. Chris Cormier (U.S.A.)
5. Milos Sarcev (Yugoslavia)
6. Günter Schlierkamp (Germany)
7. Claude Groulx (Canada)
8. Gianluca Daniele (Italy)
9. Marko Savolainen (Finland)
10. Giuseppe Albi (Italy)
11. Ken Jones (U.S.A.)
12. Federico Focherini (Italy)
13. Dave Smith (New Zealand)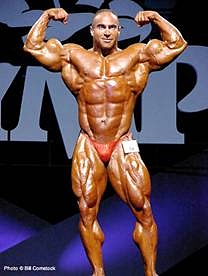 Reviews

The 1998 Finish Grand Prix by Steve Buccilli
In 1998 my wife gave me the gift of Mr. Olympia tickets. That year the show was to be held in New York City and Madison Square Garden. The media had said that Dorian was not going to compete due to the injuries he sustained defending his title the year before.

That night was a magical moment for me. Seeing and cheering for an unbelievable Ronnie Coleman victory, was well "awesome" in a word.
Several months later I wanted a way to savor this moment. I mean that although I had been there, all I had was memories. I did buy the video of the show and that was nice.
However a year later I decided to purchase GMV's video of the 1998 Finnish GP staged in Helsinki by K.P. Ourama. What I watched on that video was also just as awesome as attending the Mr. Olympia! The contest was small in numbers, but huge on talent. Ronnie, Nasser, Chris Cormier, Kevin Levrone, Gunter Schlierkamp, Milos Scarcev, and not to forget many other European champions. However there were only about 12-15 athletes. This made for an extremely intimate show.
The camera angle was very close being shot from a special TV platform, and of course the quality of the video is unparallel to any other contest footage. Seeing perhaps the best Ronnie Coleman up close was awesome. His back was so separated and thick.. His quads so incredibly dense. And his arms, so outrageously peaked!
The other athletes were all in fantastic shape. This video shows you the start of the contest, from introductions to all the prejudging callouts and comparisons, to all of the amazing posing routines. Then the awards presentations and of course the posedown.
1998 was the year prior to a new wave of pros, and seeing all these veterans in perhaps their best shape is reason enough to purchase this video. This is the year Ronnie started his dominant reign as a champion, and he looked head and shoulders above everyone else.

Again it goes without saying that you get so much more from a GMV contest video than from anyone else. These folks have been filming for 40 plus years. All of their contests show high grade quality footage and fantastic camera angles. Wayne and his crew really know how to show off a contest. They also really take into consideration the fans/customer's point of view. They have created the most extensive bodybuilding library of hardcore footage, and that in itself speaks volumes.
So here is the bottom line. If you ever wondered what Ronnie really looked like in 1998, and what his competition looked like, then get this video, GMV-310! I highly recommend it!

*************************************************

Click here to read a superb review by Matt Canning.

*************************************************
2012 IFBB Nordic Pro Championships

This outstanding IFBB Pro show and Fitness Expo was promoted by K.P. Ourama and sponsored by mass.fi The Prejudging includes all of the compulsory poses and comparisons for each competitor, followed by the evening Finals with every competitor presenting his posing routine. This was followed by the top 5 posedown and awards. It was an outstanding victory for ROELLY WINKLAAR from ROBERT PIOTRKOWICZ and RONNY ROCKEL.


GMV-842DVD
* Available in NTSC (region free)

Customers who viewed this DVD also viewed:








Click here for GMV Productions complete list of Male Muscle DVDs.