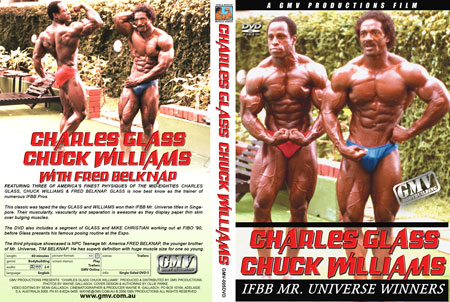 Charles Glass & Chuck Williams plus Fred Belknap - Pumping and Posing
Also available on Digital Download.

FEATURING THREE OF AMERICA'S FINEST PHYSIQUES OF THE MID-EIGHTIES: CHARLES GLASS, CHUCK WILLIAMS & FRED BELKNAP.
GLASS is now best know as the trainer of Günter Schlierkamp and many other top IFBB Pros.
This classic was taped poolside in 1983 the day GLASS and WILLIAMS won their IFBB Mr. Universe titles in Singapore. Their muscularity, vascularity and separation are awesome as they display paper thin skin over bulging muscles. This was an intense pumping and posing session, with sweat pouring under the hot and humid conditions.
See the CHARLES GLASS & CHUCK WILLIAMS PHOTO GALLERY.

The DVD also includes a segment of CHARLES GLASS and MIKE CHRISTIAN working out at FIBO '90, before Glass presents his famous posing routine at the Expo.
The third physique showcased is NPC Teenage Mr. America FRED BELKNAP pictured below, the younger brother of Mr. Universe, TIM BELKNAP. He has superb definition with huge muscle size for one so young. This pumping and posing segment was shot in a Venice Beach studio, the day after he was runner-up in the 1983 NPC Teenage Mr. America. He showed superb definition with huge muscle size for one so young. Fred pumps and poses in this his only video performance.
NOTE: We have now released on DVDs the complete 1983 IFBB Mr. Universe contest from Singapore with separate DVDs from prejudging and finals. The overall winner that day was BOB PARIS who edged out Berry de Mey. I have recently learned from Berry de Mey that this is the correct way to write his name. He is variously listed on our GMV site as Berry DeMey, Berry De Mey or Berry deMey. The correct spelling of Berry de Mey will now be used in future.

Please click here for the 1983 IFBB Mr. Universe Prejudging, GMV-265DVD.
Please click here for the complete 1983 IFBB Mr. Universe Finals, GMV-266DVD.

* Available in NTSC (region free)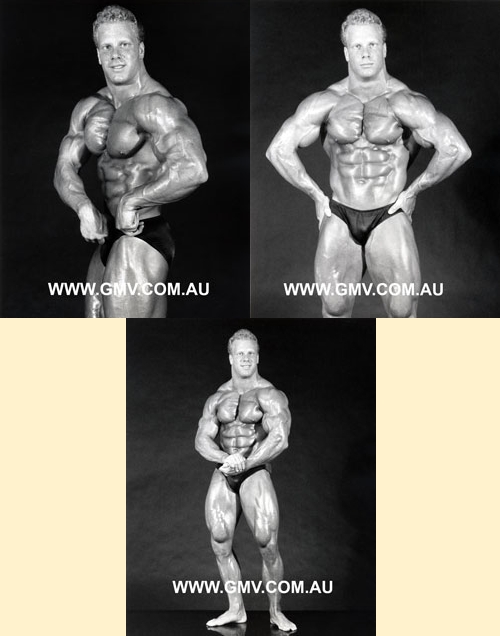 Fred Belknap photos by Wayne Gallasch

Customers who viewed this DVD also viewed:








Click here for GMV Productions complete list of Male Muscle DVDs.