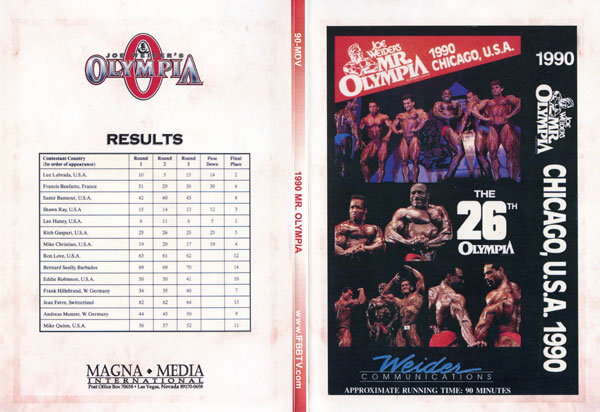 1990 Mr. Olympia (Historic DVD)

LEE HANEY WINS #7 to tie Arnold's record, but loses Round 2 to Lee Labrada who had a perfect Round 2 score. From Chicago, Illinois.

This DVD concentrates on the following competitors:
Lee Haney (1), Lee Labrada (2), Shawn Ray (3), Mike Christian (4), Rich Gaspari (5), Francis Benfatto (6), Frank Hillebrand (7), Samir Bannout (8), Andreas Munzer (9), Eddie Robinson (10), Mike Quinn (11), Ron Love (12), Jean Favre (13), Bernard Seally (14).
This is an authorized and licensed copy made directly from the broadcast-quality master tape.

Running time: 81 minutes.

1990 Mr. Olympia Complete Results
1 Lee Haney USA
2 Lee Labrada USA
3 Shawn Ray USA
4 Mike Christian USA
5 Rich Gaspari USA
6 Francis Benfatto France
7 Frank Hillebrand Germany
8 Samir Bannout Lebanon
9 Andreas Munzer Austria
10 Eddie Robinson USA
11 Mike Quinn USA
12 Ron Love USA
13 Jean-Luc Favre Switzerland
14 Bernard Sealy Barbados
* Available in NTSC DVD Only (Region Free)

Customers who viewed this DVD also viewed:








Click here for GMV Productions complete list of Male Muscle DVDs.