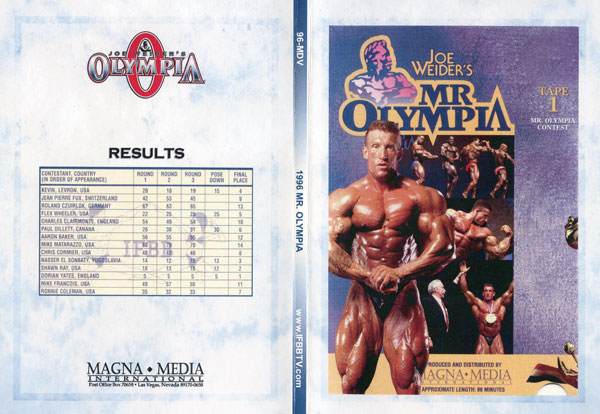 1996 Mr. Olympia (Historic DVD)
(Dual price US$39.95 or A$49.95 in Australia)

"Monsters of the Midway" -- the most massive line-up in Mr. Olympia history shook the stage in Chicago, Illinois.

Starring: Dorian Yates (1), Shawn Ray (2), Nasser El Sonbaty (3), Kevin Levrone (4), Flex Wheeler (5), Paul Dillett (6), Ron Coleman (7), Chris Cormier (8), Jean-Pierre Fux (9), Charles Clairmonte (10), Mike Francois (11), Aaron Baker (12), Roland Czuirlok (13), Mike Matarazzo (14).
This is an authorized and licensed copy made directly from the broadcast-quality master tape.

1996 Mr. Olympia Results
1 Dorian Yates England
2 Shawn Ray USA
3 Kevin Levrone USA
4 Flex Wheeler USA
5 Paul Dillett Canada
6 Ronnie Coleman USA
7 Chris Cormier USA
8 Jean-Pierre Fux Switzerland
9 Charles Clairmonte Barbados
10 Mike Francois USA
11 Aaron Baker USA
12 Roland Cziurlok Germany
13 Mike Matarazzo USA
DQ Nasser El Sonbaty Yugoslavia

Running time: 93 minutes.

* Available in NTSC DVD Only (Region Free)


Dual pricing policy.
* All customers outside of Australia/New Zealand will be charged in US dollars. If the item has dual pricing (that is in Australian and US dollars), all customers outside of Australia and New Zealand will only be charged the US dollar price.
Unfortunately, our site cannot cope with dual pricing and will default to the US dollar price. Regardless of this, all customers will be charged the correct price. Please refer to our FAQ section for any other questions, click here.

Customers who viewed this DVD also viewed:







Click here for GMV Productions complete list of Male Muscle DVDs.