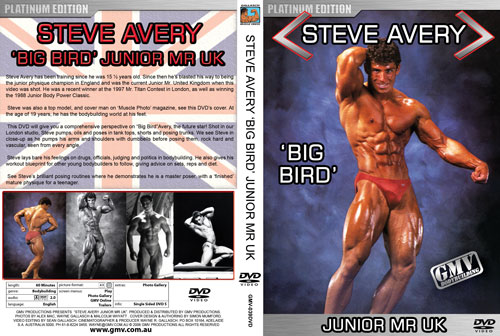 Preview clip.

Steve Avery - "Big Bird" - Junior Mr UK
Also available on Digital Download.

Special Platinum Edition
Steve Avery has been training since he was 15 ½ years old. Since then he's blasted his way to being the junior physique champion in England and was the current Junior Mr. United Kingdom when this video was shot. He was a recent winner at the 1997 Mr. Titan Contest in London, as well as winning the 1988 Junior Body Power Classic.

Steve was also a top model, and cover man on 'Muscle Photo' magazine, see this DVD's cover. At the age of 19 years, he has the bodybuilding world at his feet.
This DVD will give you a comprehensive perspective on "Big Bird" Steve Avery, the future star! Shot in our London studio, Steve pumps, oils and poses in tank tops, shorts and posing trunks. We see Steve in close-up as he pumps his arms and shoulders with dumbbells before posing them, rock hard and vascular, seen from every angle.
Steve lays bare his feelings on drugs, officials, judging and politics in bodybuilding. He also gives his workout blueprint for other young bodybuilders to follow, giving advice on sets, reps and diet.
See Steve's brilliant posing routines where he demonstrates he is a master poser, with a 'finished' mature physique for a teenager.

This is the first of our 2 DVDs on STEVE AVERY. Please click here to see STEVE AVERY - GROWTH OF A CHAMPION, GMV-244DVD.
Running Time: 60 mins

(Steve later went on to have a very successful IFBB career.)

* Available in NTSC (region free)

Customers who viewed this DVD also viewed:








Click here for GMV Productions complete list of Male Muscle DVDs.