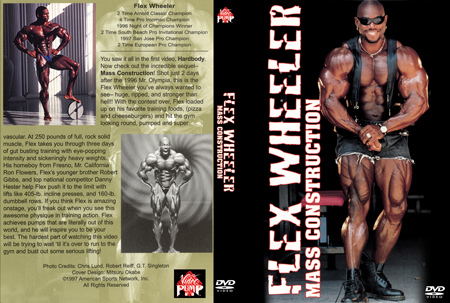 Flex Wheeler - Mass Construction (Dual price US$34.95 or A$44.95 in Australia)

You saw it all in the first video, Hardbody. Now check out the incredible sequel - Mass Construction! Shot just 2 days after the 1996 Mr. Olympia, this is the Flex Wheeler you've always wanted to see--huge, ripped, and stronger than hell! With the contest over, Flex loaded up on his favorite training foods (pizza and cheeseburgers) and hit the gym looking round, pumped and super vascular. At 250 pounds of full, rock solid muscle, Flex takes you through three days of gut busting training with eye-popping intensity and sickeningly heavy weights.
His homeboy from Fresno, Mr. California Ron Flowers, Flex's younger brother Robert Gibbs, and top national competitor Danny Hester, help Flex push it to the limit with lifts like 405-lb incline presses, and 160-lb dumbbell rows. If you think Flex is amazing onstage, you'll freak out when you see this awesome physique in training action.
Flex achieves pumps that are literally out of this world, and he will inspire you to be your best. The hardest part of watching this video will be trying to wait 'til it's over to run to the gym and bust out some serious lifting!

Click here for the FLEX WHEELER PHOTO GALLERY.




See Flex Wheeler also in HARDBODY, A-4016DVD.




* Available in NTSC DVD Only (Region Free)

Dual pricing policy.
* All customers outside of Australia/New Zealand will be charged in US dollars. If the item has dual pricing (that is in Australian and US dollars), all customers outside of Australia and New Zealand will only be charged the US dollar price.
Unfortunately, our site cannot cope with dual pricing and will default to the US dollar price. Regardless of this, all customers will be charged the correct price. Please refer to our FAQ section for any other questions, click here.

Customers who viewed this DVD also viewed:







Click here for GMV Productions complete list of Male Muscle DVDs.