Also see links below for video previews.

2006 PDI NIGHT OF CHAMPIONS: 2 DISC SET
2006 PDI Night of Champions: Pro Show also on Digital Download.
2006 PDI Night of Champions: Pro Qualifier also on Digital Download.

Pump Room Download.
The 27th staging of the Night of Champions in New York was this time staged under Wayne DeMilia's new PDI banner. This 2006 NOC 2 Disc Set is the FIRST EVER NOC release on DVD. In fact this famous event has almost never ever had a video record made for public consumption.

*HISTORIC DVD - LEE PRIEST'S LAST EVER CONTEST IN USA!

It was held in the Town Hall Theatre on 43rd Street where Arnold Schwarzenegger won his first ever Mr Olympia title in 1970. It was also the home of many early NOC events. As the event flyer said "See the hottest, sexiest best-built men in the world" – "The ultimate in Professional Bodybuilding Entertainment". Those words pretty well summed up the tone and the feel of the contest. The PDI's stated aim is to put far greater emphasis on entertainment value in their events.
Disc #1 is the complete amateur contest which was the Pro Qualifier with 14 top guys going for their pro cards. The top 2 in each class qualified for the NOC Pro show. To see the complete results of the Pro Qualifier, please click here.
This disc includes an interview with Wayne DeMilia, founder of the PDI, plus a photo gallery of the guys in the Pro Qualifier. Running time 72 minutes + extras.
Disc #2 is the complete NOC Professional event. Both discs contain the all judging rounds, all posing routines, posedowns and awards.
The evening finals commenced with the free posing routines of all 23 competitors. Many innovative and entertaining routines were presented, some with amazing props. The use of props was optional and added to the entertainment value which is an important focus of the PDI.

See the LEE PRIEST PHOTO GALLERY.
See LEE PRIEST take the crown for his first ever NOC victory. ANDREAS FREY and SAMI AL-HADDAD were worthy runners up.

Also see the famous Guru SRI CHINMOY lifting BILL PEARL in various strength feats. Special awards were made to both men.

This disc contains the photo gallery from the Pro Show. DVD photos by Ray Cassar.

Running time: 132 minutes.

Total running time for BOTH DISCS: 204 mins of HARDCORE MUSCLE.

Click here for the Pump Room DVD.

2006 PDI Night of Champions - Pump Room

This DVD is the FIRST EVER NOC Pump Room release on any medium. See all of the top guys from the Pro Qualifier along with the NOC pro show with its total of 23 competitors. Watch winner LEE PRIEST as he prepares to do battle with his challengers such as Sami Al-Haddad, Andreas Frey, Steph Sinton and more.

Catch all the oiling, pumping and drama from backstage at this famous event. Some of the guys specially posed for our camera. Includes LEE PRIEST posing with his trophy backstage after the event.



GMV-654DVD

COMPLETE RESULTS:

2006 NIGHT OF CHAMPIONS
1 Lee Priest Australia
2 Andreas Frey Germany
3 Sami Al-Haddad Bahrain, UAE
4 Zoltán Vörös Hungary
5 Steph Sinton UK
6 Valentin Jabes France
7 Sean Allan USA
8 Geoff Hargreaves UK
9 Jason Palafox USA
10 Tom Jimenez USA
11 Eduard Duque Venezuela
12 Per Juhl Sweden
13 Raphael Lapoirie France
14 Danny Rapposelli USA
15 Liam Stewart Rep. Ireland
16 Troy Moore USA
17 Billy Bourne Rep. Ireland
18 Jack 'Rhino' London USA
19 Luis Castillo USA
20 Georgie Maiorano USA
21 Anthony Forgione USA
22 Jim Vest USA
23 Joe Layton USA

Pro Qualifier
Friday, September 15, 2006 NY, New York.

CLASS A
1. George Maiorano
2. Anthony Forgione
Reuben Dennis

CLASS B
1. Edward Duque
2. David Washington
Joe Stokes
Ben Rodriguez
Saiid Kamara
Mirco Salomone
Arnold Valentine

CLASS C
1. Jason Palafox
2. Daniel Rapposelli

CLASS E
1. James Vest
2. Joe Lyton

For the complete set of results in our RESULTS section from the NOC, please click here.

To read Wayne's Hard News report on the event, please click here.

Click here to read a review on this DVD.

* Available in NTSC DVD, OPEN REGION

(Wayne is pictured below at his camera position)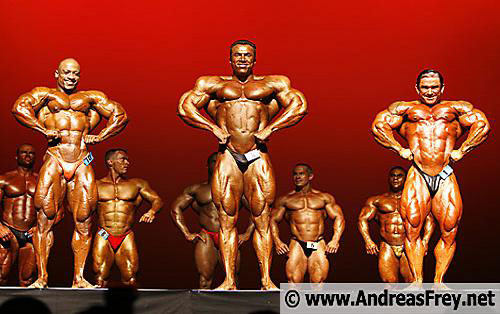 L to R: Sami Al-Haddad, Andreas Frey, Lee Priest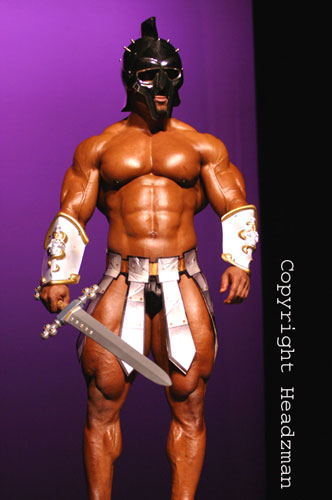 Sami Al-Haddad



To see some more photos from the NOC, please click here

Customers who viewed this DVD also viewed:








Click here for GMV Productions complete list of Male Muscle DVDs.