The 2006 NABBA Universe Photo DVD

All images by Tina Gallasch.

Part #1 The 4 men's Amateur classes
Part #2 Pro-Am and Junior men's classes
Part #3 Masters over 40 & over 50 classes
A TOTAL OF 906 DETAILED, WONDERFUL PHOTOS ARE AVAILABLE.
TO ORDER THIS PHOTO DVD - all photos are on one disc, PLEASE EMAIL TINA@GMV.COM.AU for a PayPal INVOICE.
($10 postage)



Customers who viewed this Photo DVD also viewed: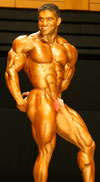 The images are copyright to GMV Productions for private viewing only and not for posting on web sites or for use for any other purpose. Copyright violators will be prosecuted. If you purchase this Photo DVD you are agreeing to these terms.