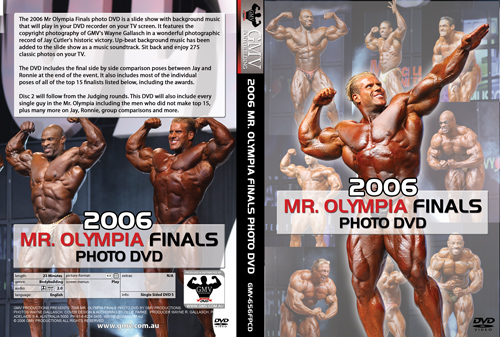 2006 Mr. Olympia Finals Photo DVD

Our brand new 2006 Mr Olympia Finals photo DVD is a slide show with background music that will play in your DVD player. It is not a photo CD simply for playing in your computer. However it will play in your computer's DVD drive if you wish.
Sit back and watch these great champions in their finest hour, all 275 photos have been hand picked by the legendary bodybuilding photographer Wayne Gallasch and rendered to DVD in the highest quality. You will see every detail from this key position in the press pit.

This DVD is a wonderful photographic record of Jay Cutler's historic victory. Up-beat background music has been added to the slide show as an interesting music soundtrack.

The DVD includes the final side by side comparison poses between Jay and Ronnie at the end of the event. It also includes most of the individual poses of all of the top 15 finalists listed below, including the awards.

Disc 2 will follow from the Judging rounds. This DVD will include every single guy in the Mr. Olympia including the men who did not make top 15, plus many more on Jay, Ronnie, group comparisons and more.

Please click here for the 2006 Mr. Olympia DVD, A-1171DVD.
JAY CUTLER PHOTO GALLERY

Top 15 placegetters highlighted in this DVD:

1 Jay Cutler USA
2 Ronnie Coleman USA
3 Victor Martinez Dominican Republic
4 Dexter Jackson USA
5 Melvin Anthony USA
6 Gustavo Badell Puerto Rico
7 Toney Freeman USA
8 Markus Ruhl Germany
9 Dennis James USA
10 Gunter Schlierkamp Germany
11 Vince Taylor USA
12 Branch Warren USA
13 Johnnie Jackson USA
14 Darrem Charles Trinidad
15 Troy Alves USA

275 Photos Running 23 minutes

* Available in NTSC (region free)

Here is a silent sneak preview of 4 of Wayne's photos from the Finals Photo DVD slide show disc from the 2006 Mr Olympia. Copyright Wayne Gallasch & GMV Productions.


Customers who viewed this DVD also viewed:








Click here for GMV Productions complete list of Male Muscle DVDs.