1995 Masters Olympia, with Mr. Olympia Reunion
See "History in the Making" as Sonny Schmidt becomes the second Masters Olympia winner and the first and only Olympia winner from Australia.
A fascinating line-up of stars - and won by the late Aussie legend, Sonny Schmidt - the only Australian to ever win a Sandow as mentioned above. The line-up also included Boyer Coe, Ed Corney, Rod Koontz, Casey Viator, Robby Robinson, Patrick Nicholls, Charles Glass and other greats of the Golden Era of bodybuilding. Quite a few of whom have passed before the cameras of a certain Wayne R. Gallasch at one time or another!!
However all eyes are on the Mr. Olympia Reunion including Larry Scott, Sergio Oliva, Arnold Schwarzenegger, Franco Columbu, Frank Zane, Chris Dickerson, Samir Bannout, Lee Haney, and Dorian Yates - all on stage at one time! See Joe Weider as he laughs and chats with the various Mr. Olympia winners starting with Larry Scott, winner from 1965/1966.
See our photo below, with thanks to Mark Joules. Visit joulesbodybuilding on eBay to purchase some of these photos.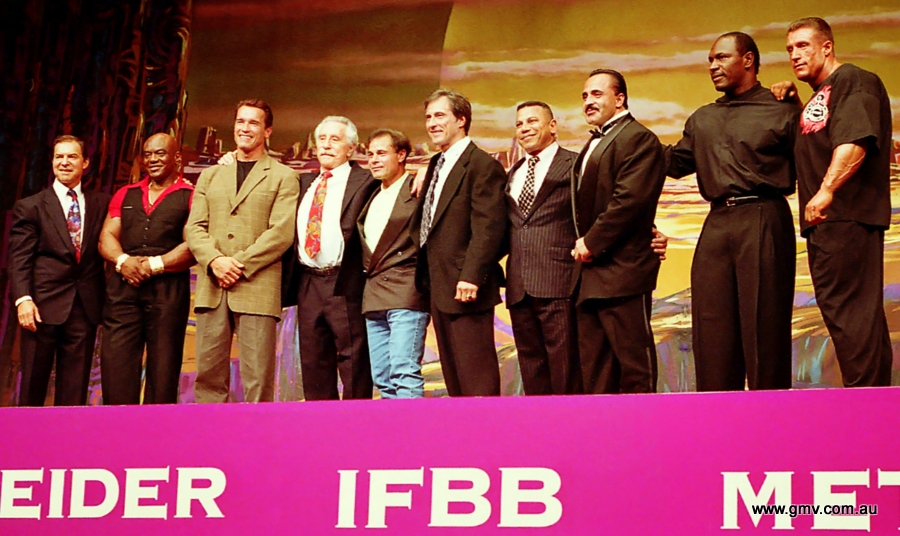 Running time:
90 mins
1995 MASTERS OLYMPIA RESULTS:

1. Sonny Schmidt - Australia
2. Robby Robinson - USA
3. Patrick Nicholls - Barbados
4. Charles Glass - USA
5. Dan Coussiux - France
6. James Roberts - Sweden
7. Olev Annus - Finland
8. Katsumi Ishimura - Japan
9. Cesar Pemental - Portugal
10. Boyer Coe - USA
11. Ed Corney - USA
12. Casey Viator - USA