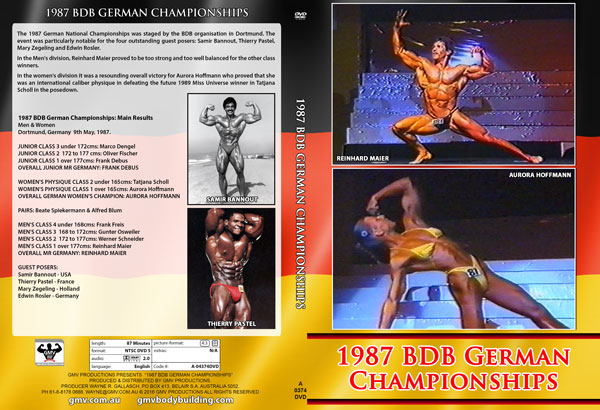 1987 BDB German Championships
Also on Digital Download.

Men & Women
The 1987 German National Championships was staged by the BDB organisation in Dortmund. The event was particularly notable for the four outstanding guest posers: Samir Bannout, Thierry Pastel, Mary Zegeling and Edwin Rosler.
In the Men's division, Reinhard Maier proved to be too strong and too well balanced for the other class winners.
In the women's division it was a resounding overall victory for Aurora Hoffmann who proved that she was an international caliber physique in defeating the future 1989 Miss Universe winner in Tatjana Scholl in the posedown. Unfortunately for all of us, Aurora never competed in the NABBA Universe in England. We feel she could well have won her class.

Running time: 87 mins
1987 BDB German Championships Results
Men & Women - Dortmund 9th May, 1987.
JUNIOR CLASS 3 under 172cms
1 Marco Dengel
2 Sven Meyerhold
3 Michael Beisser
JUNIOR CLASS 2 172 to 177 cms
1 Oliver Fischer
2 Marcus Rose
3 Dirk Froese
JUNIOR CLASS 1 over 177cms
1 Frank Debus
2 Peter Bohm
3 Ingo Lamprecht
OVERALL JUNIOR MR GERMANY: FRANK DEBUS
WOMEN'S PHYSIQUE CLASS 2 under 165cms
1 Tatjana Scholl
2 Christa Bauch
3 Maritha Klein
WOMEN'S PHYSIQUE CLASS 1 over 165cms
1 Aurora Hoffmann
2 Tamara Konz
3 Heike Schwyderek
OVERALL GERMAN WOMEN'S CHAMPION: AURORA HOFFMANN
PAIRS
1 Beate Spiekermann & Alfred Blum
2 Sonja Bauer & Thomas Buchl
3 Anita Pohl & H.-P. Franze
MEN'S CLASS 4 under 168cms
1 Frank Freis
2 Jorg Blumberg
3 Erich Rist
MEN'S CLASS 3 168 to 172cms
1 Gunter Osweiler
2 Udo Rennstich
3 Ralf Hupke
MEN'S CLASS 2 172 to 177cms
1 Werner Schneider
2 Norbert Hullen
3 Stefan Franz
MEN'S CLASS 1 over 177cms
1 Reinhard Maier
2 Uwe Zimmermann
3 Klaus Ragg
OVERALL MR GERMANY: REINHARD MAIER
GUEST POSERS WERE:
Samir Bannout USA
Thierry Pastel France
Mary Zegeling Holland
Edwin Rosler Germany
This video was originally produced by SHV Germany and licensed to GMV Productions in 1987. Special thanks also to Willy Zdenek.

NTSC DVD, OPEN REGION