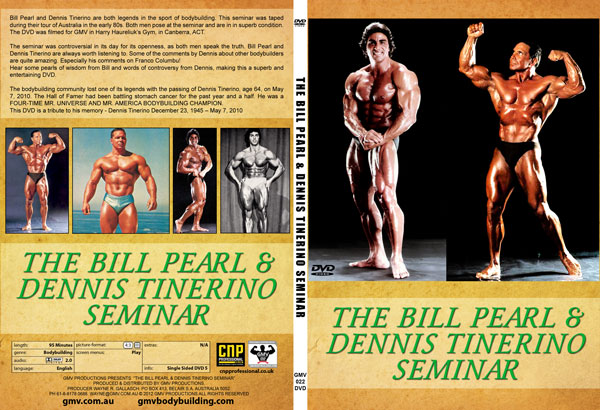 The Bill Pearl & Dennis Tinerino Seminar
Bill Pearl and Dennis Tinerino are both legends in the sport of bodybuilding. This seminar was taped during their tour of Australia in the early 80s. Both men pose at the seminar and are in in superb condition. The DVD was filmed for GMV in Harry Haureliuk's Gym, in Canberra, ACT on Bill Pearl's 51st birthday, on October 31st, 1981. This was one of the last guest posing appearances made by Bill.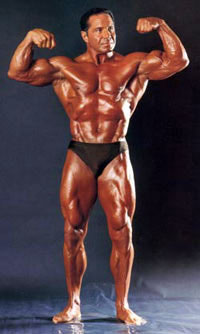 The total joint posing time came to approx 8 mins.

This seminar was recorded a matter of days after Dennis had won the 1981 Professional Mr. Universe in Sydney. Accordingly he was in sensational shape for his guest posing at the conclusion of the seminar.

DENNIS TINERINO PHOTO GALLERY

DENNIS TINERINO BIO

The seminar was controversial in its day for its openness, as both men speak the truth. Bill Pearl and Dennis Tinerino are always worth listening to. Some of the comments by Dennis about the 1980 and 1981 Olympias, and on other bodybuilders are quite amazing. Especially his comments on Franco Columbu!

Hear some pearls of wisdom from Bill and words of controversy from Dennis, making this a superb and entertaining DVD.
The bodybuilding community lost one of its legends with the passing of Dennis Tinerino, age 64, on May 7, 2010.
The Hall of Famer had been battling stomach cancer for the past year and a half. He was a FOUR-TIME MR. UNIVERSE & MR. AMERICA BODYBUILDING CHAMPION.
This DVD is a tribute to his memory - Dennis Tinerino December 23, 1945 – May 7, 2010. RIP.

The majority of this DVD has been incorporated into the Bill Pearl Super DVD called PEARLS OF WISDOM with Bill Pearl. CLICK HERE for details on GMV-659DVD.

Running time: 95 mins

NTSC DVD, OPEN REGION