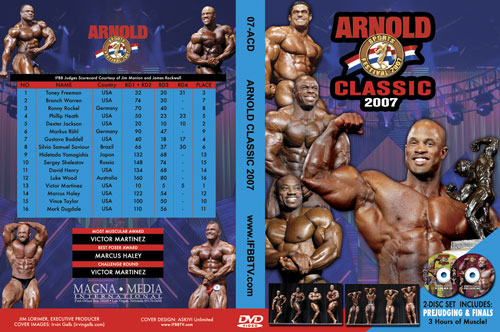 2007 Arnold Classic - 2 disc set - Full Prejudging & Finals

3 HOURS OF PROFESSIONAL MUSCLE ON SHOW IN A 2 DISC SET!!
Preview clip.

For the second year in a row we are proud to offer the complete 2007 Arnold Classic men's DVD as a 2 disc set. You get the prejudging and the complete finals through to the awards.

90 minutes of hard core mind-bending muscle action on EACH disc. See how Victor Martinez was able to surpass Dexter Jackson and Toney Freeman after a titanic battle.

2007 IFBB Arnold Classic Results:

1 Victor Martinez
2 Dexter Jackson
3 Toney Freeman
4 Gustavo Badell
5 Phil Heath
6 Silvio Samuel
7 Branch Warren
8 Ronny Rockel
9 Markus Ruhl
10 Vince Taylor
11 Mark Dugdale
12 Marcus Haley
13 Hidetada Yamagishi
14 David Henry
15 Sergey Shelestov
16 Luke Wood

Pictured below is the GMV Booth at the 2007 Arnold Classic Expo. L to R - Brett DeHaan & Tina Gallasch. Photo by Wayne Gallasch.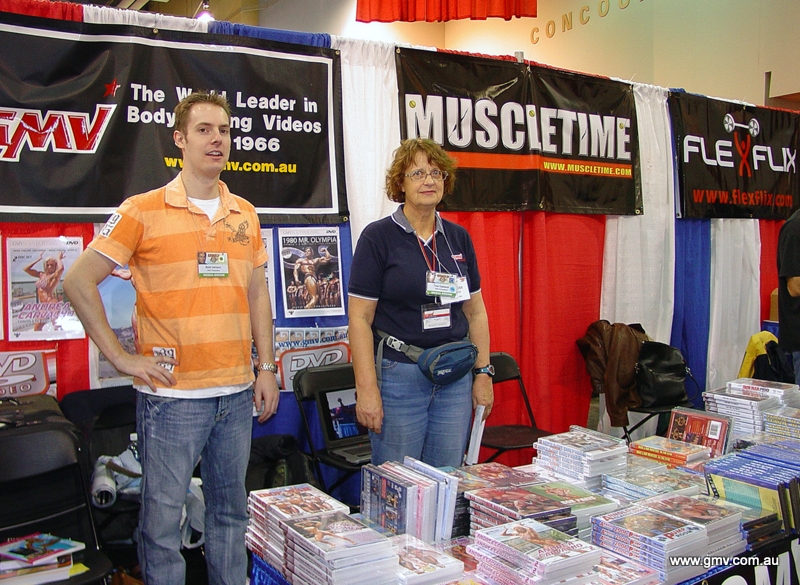 Running time: 180 mins.
2007 Ironage Reunion and Chuck Sipes Award to Roland Kickinger.

2007 Ironage Reunion and Chuck Sipes Award to Roland Kickinger. LEGENDS OF BODYBUILDING GATHER AT THE 2007 ARNOLD WEEKEND. The first ever Ironage dinner was held in Columbus, Ohio on March 1st, 2007. Held in conjunction with the Arnold Sports Festival, this groundbreaking charitable event kicked off festivities for many ironage fans at the 2007 Arnold weekend. In particular the dinner was to honour the first annual Chuck Sipes award to ROLAND KICKINGER for his work with disadvantaged children. Roland has shown positive leadership to young people in his local community.



GMV-674DVD.
2007 Arnold Classic: The Women PJ & Finals 2 DVD Set from GMV.

In this Women's Prejudging and Finals Special Deal 2 DVD Set, SAVE $$$$s Our Special Price for the 2 DVDs will show as only one postage charge.

Click on the individual DVD covers for Prejudging or Finals for more information on each DVD.



GMV-664DVDSP.


* Available in NTSC DVD Only (Region Free)

Customers who viewed this DVD also viewed:






Click here for GMV Productions complete list of Male Muscle DVDs.