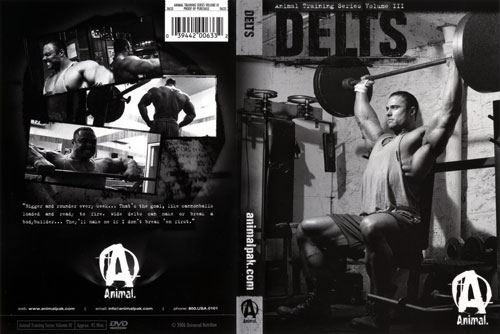 Frank McGrath - Animal Delts - Animal Training Series, Volume 3

Motivation! - Motivation! - Motivation! - This is the DVD for you!!!

"Bigger and rounder every week… That's the goal, like cannonballs loaded and ready to fire. Wide delts can make or break a bodybuilder… They'll make me if I don't break 'em first." -Wrath

Volume 3 of the Animal Training Series again follows Wrath, this time obliterating his delts. With military presses, shrugs and lateral raises in every direction, Wrath grants no mercy to a single muscle fiber in his shoulders. As inspiring and raw as ever, in "Delts" Wrath puts it all on the line to show you what it takes to truly be an Animal.

Since there is so little footage of Canadian Pro FRANK McGRATH showing him working out, either on the web or in any other DVD, this DVD will be in great demand with his many fans. Moreover, the stills of Frank in the DVD should add to the popularity of the DVD as an added bonus feature. You can also see Frank as he competed in the Prejudging only of the 2007 Iron Man Pro which is V-203DVD.

Running time: Approximately 30 mins.

Click here for Volume 1. Frank McGrath – Animal Arms.

Click here for Volume 2. Frank McGrath – Animal Chest.

Limited CLOSEOUT STOCK, and then the Animal series is gone.

* Available in NTSC DVD Only (Region Free)

Customers who viewed this DVD also viewed:






Click here for GMV Productions complete list of Male Muscle DVDs.