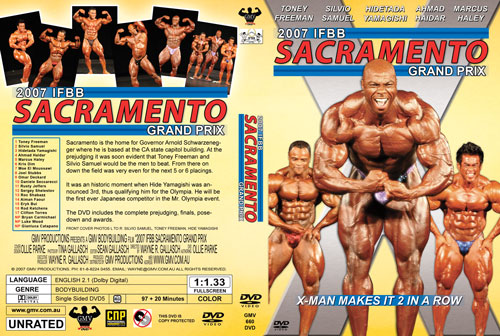 click here for preview.


2007 IFBB Sacramento Grand Prix



Sacramento is the home city for Governor Arnold Schwarzenegger where he is based at the CA state capitol building. Due to Arnold's long connection with bodybuilding it seemed appropriate for this Northern California Pro show to be staged in Sacramento. Held in the wonderful Art Deco Crest Theatre, it was soon evident at the Prejudging that Toney Freeman and Silvio Samuel would be the men to beat. From there on down the field was very even for the next 5 or 6 placings.

It was an historic moment when Hide Yamagishi was announced in 3rd place, thus qualifying him for the 2007 Olympia. He will be the FIRST EVER Japanese competitor in the Mr. Olympia event. Unlucky to miss out on Olympia qualification was 4th placed Ahmad Haidar with his outstanding physique and incredible abs. Formerly known as the San Francisco Grand Prix, this year the event became the Sacramento Grand Prix. The very worthy winner was TONEY FREEMAN.

The DVD includes the complete prejudging, finals, posedown and awards. ****See PHOTOS BOTOM OF PAGE.

RT Main movie 97 mins (Only this part is seen in the Digital Download.)

20 mins extra scenes is as follows - from our second camera, side and closeup:
Key comparisons
Top 3 posing routines
Posedown top 5
Awards

TRT: 117 mins

Complete Results:

1 Toney Freeman
2 Silvio Samuel
3 Hidetada Yamagishi
4 Ahmad Haidar
5 Marcus Haley
6 Kris Dim
7 Moe El Moussawi
8 Joel Stubbs
9 Omar Deckard
10 Daniele Seccarecci
11 Rusty Jeffers
12 Sergey Shelestov
13 Roc Shabazz
14 Aiman Faour
15 Eryk Bui
16 Rod Ketchens
17 Clifton Torres
NP Bryan Carmichael
NP Luke Wood
NP Gianluca Catapano

There is also a separate DVD covering the 2 women's contests held at this show. See below.


* Available in NTSC DVD Only (Region Free)
Customers who viewed this DVD also viewed:






Click here
for GMV Productions complete list of Male Muscle DVDs.