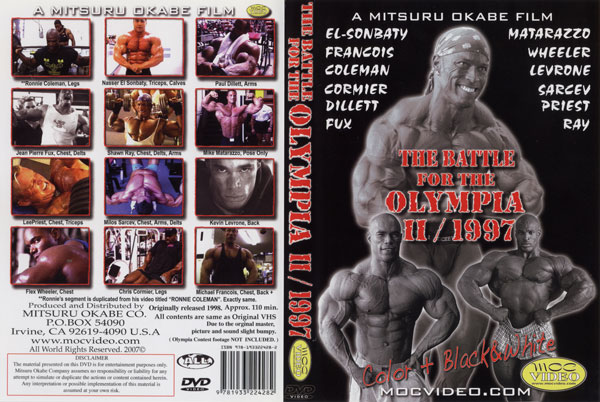 1997 Battle for the Olympia

Part 1 on Digital Download - Ronnie Coleman, Nasser El Sonbaty, Jean Pierre Fux & Paul Dillett.
Part 2 on Digital Download - Shawn Ray, Mike Matarazzo, Lee Priest & Milos Sarcev.
Part 3 on Digital Download - Kevin Levrone, Flex Wheeler, Chris Cormier & Mike Francois.
Preview clip Part 1.
Preview clip Part 2.
Preview clip Part 3.

The following top professional bodybuilding athletes are featured as they prepare for the 1997 Mr. Olympia:

Ronnie Coleman : Legs, Posing Practice with Diana Dennis; (This is same footage seen in Ronnie's first training video.)
Nasser El Sonbaty : Triceps, Traps, Calves
Paul Dillett : Arms.
Jean Pierre Fux : Chest,
Shawn Ray : Chest, Shoulders, Arms,
Mike Matarazzo : Pose only,
Lee Priest : Chest,
Milos Sarcev : Chest,
Kevin Levrone : Back,
Flex Wheeler : Chest, Posing practice,
Chris Cormier : Legs,
Mike Francois : Chest.
* Regarding Flex Wheeler: He was taped four days after he got car-jacked and interviewed after the Olympia. He speaks out in this video about the incredible incident which made him pull out of the 1997 Olympia contest!! Was this a ruse to cover up some training injuries? You will be the judge. Also includes Kevin Levrone in his best ever shape plus much more!!

Flex Wheeler talks about this incident in his own DVD, many years later!

Dare2Dream: The Flex Wheeler Story

In this collector's item DVD, Wheeler's life and times are captured by those who knew him best. Follow Flex Wheeler's journey through insights from his contemporaries Ronnie Coleman, Shawn Ray, Dorian Yates, and Kevin Levrone; and industry insiders Peter McGough, Charles Glass, Chad Nicholls, Tony Doherty, and many more as they 'weigh in' on the unparalleled impact Wheeler has made on the sport that has become synonymous with his name.
Featuring contest highlights and previously unseen archival footage of bodybuilding's most admired and respected champions, this DVD provides unprecedented access to the life of an enigmatic figure. A true legend of the sport of Bodybuilding.

All contents are the same as the original VHS video. Colour + B&W.
See our complete INDEX LISTING of all Battle for the Olympia DVDs.


Running time: 110 mins

* Available in NTSC DVD Only (Region Free)

Customers who viewed this DVD also viewed:








Click here for GMV Productions complete list of Male Muscle DVDs.