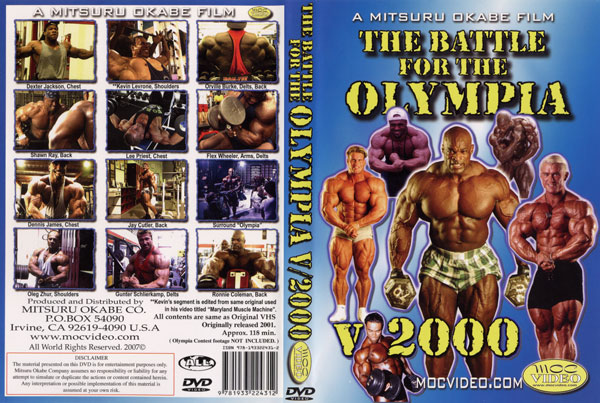 2000 Battle for the Olympia

Spectacular live muscle action featuring the top professional IFBB Bodybuilders:

• Dexter Jackson : chest;
• Kevin Levrone : shoulders;
• Orville Burke : shoulders & back;
• Shawn Ray : back;
• Lee Priest : chest;
• Flex Wheeler : arms & shoulders, no posing;
• Dennis James : chest ;
• Jay Cutler : back;
• Oleg Zhur : shoulders;
• Gunter Schlierkamp : shoulders;
• Ronnie Coleman : back
Also include backstage actions and photo session footage. (James, Schlierkamp, Levrone, Coleman, Zhur, Burke.)
All contents are the same as the original VHS video.
See our complete INDEX LISTING of all Battle for the Olympia DVDs.

Running time: 118 mins.
2000 Mr. Olympia - The Pump Room # 1

Share the intimate Pump Room experience back stage at the 2000 Olympia in Las Vegas. It's every man for himself in the tense moments before their on-stage battle for bodybuilding's ultimate prize - THE 2000 MR. OLYMPIA TITLE!! In particular we feature the pump room preparation of Günter Schlierkamp, Jay Cutler, Nasser El Sonbaty, Lee Priest, Markus Rühl, Orville Burke & Kevin Levrone. This was the closest Kevin came to winning Mr Olympia. His condition was sensational. It took the incredible size, shape and condition of Ronnie to deny him the title.


GMV-386DVD.

2000 Mr. Olympia - The Pump Room # 2

This DVD (Part 2 of a 2 part series), was shot primarily during the tense Round 3 Pump Room Section of the Mr. Olympia evening finals. In 1999 we pioneered Mr Olympia Pump Room DVDs. This is the second year in our Olympia Pump Room series. See the normally private back stage pump up area and hear the final instructions to the nervous, tense competitors, all trying to gain the edge. Most fans never ever get the chance to set foot in this pump room area. This is your chance to see what really takes place back stage at the Olympia!



GMV-387DVD.

2000 Mr. Olympia: Controversial Muscle!

This DVD has a real "edge" to it and is completely different to anything we have ever offered before. If you like a little controversy, this DVD is for you! Now you too can be a fly on the wall at the Mr. Olympia athlete's meeting and hear the heated debate between Shawn Ray and Wayne DeMilia about the Round One judging procedure. You can hear the controversy surrounding the Press Conference with Shawn Ray, Ronnie Coleman and then Flex Wheeler taking on Big Sean Allan. You'll also see Sean Allan posing for us at Shark Reef.



2000 Mr. Olympia (Historic DVD)

"Mr. Perfect" Ronnie Coleman wins every round in this decisive victory, closely followed by Kevin Levrone in a near-unanimous silver medal finish over Flex Wheeler. Fantastic DVD coverage of the world's greatest physiques!


A-1001DVD.





* Available in NTSC DVD Only (Region Free)

Customers who viewed this DVD also viewed:








Click here for GMV Productions complete list of Male Muscle DVDs.