FIBO '99: It's FIBO time in '99
Once again the world's best young bodybuilders gathered in Essen for a great 'pose-fest'. See many new faces as the new crop of young professionals and top amateurs strut their stuff in the last FIBO of the millennium. The 1999 FIBO DVD Includes a special guest appearance by Mr. Ben Weider.

All the posing and all the stars, including:

Jay CUTLER
Gunter SCHLIERKAMP
Melvin ANTHONY
Monica BRANT
Sabine FROSCHAUER
Lamar LOWERY (wearing the chains and only seen in the preview clip)
Mario RIEGER
Olaf MANEVAL
Jose Botet CHAPPOTIN
Thomas SCHEU
Florian MAIER
Daniella SERDA
Mike SAYER
Hamdullah AYKUTLU
Tanya MERRYMAN
Annett WITTIG
Roland CZIURLOK
Matthias HERZOG,
Tito RAYMOND and more.
GMV interviewed JAY CUTLER in what was our only ever interview with Jay, the future 2006 Mr Olympia. It gave a fascinating insight into what was to happen in the future.

See highlights from the following competitions:
IFBB European Women's Bodybuilding and Fitness Championships
NABBA Men's Fitness
NABBA Figure/Fitness Women's Championships
Also includes an interview with GEORGE BUTLER of Pumping Iron fame, and the ALL STARS TEAM Posedown.
Click here for the COMPLETE INDEX OF FIBO DVDs.

* Available in NTSC DVD, OPEN REGION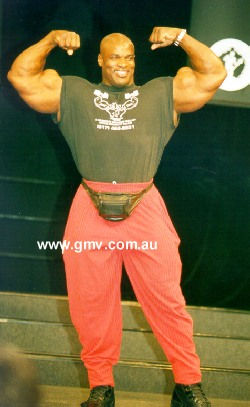 Ronnie Coleman
Olaf Maneval
Sabine Froschauer
Customers who viewed this DVD also viewed:




Click here
for GMV Productions complete list of Male Muscle DVDs.