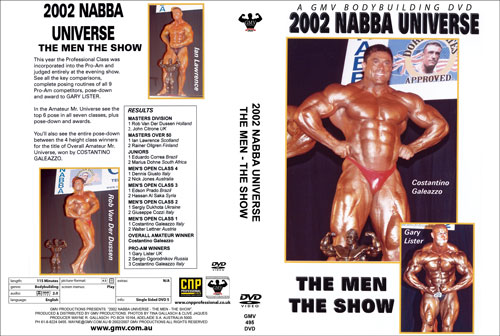 Click here for Gary Lister clip
2002 NABBA Universe: The Men - The Show
Digital Download.

This year in Newcastle, England, the Professional Class was incorporated into the Pro-Am and judged entirely at the evening show. See all the key comparisons, complete posing routines of all 9 Pro-Am competitors, pose-down and award to GARY LISTER.
In the Amateur Mr. Universe see the top 6 pose in all seven classes, plus pose-down and awards.
You'll also see the entire pose-down between the 4 height class winners for the title of Overall Amateur Mr. Universe, won by COSTANTINO GALEAZZO.
Ian Lawrence became the first ever Masters Over 50 Winner.
Please click here for the MEN'S PREJUDGING from this contest, GMV-494DVD.
Please click here for the MEN'S PUMP ROOM, GMV-496DVD.

To see a complete list of results for all classes, please click here.
For the COMPLETE MEN'S RESULTS as seen in this tape, see below. Note the Pro-Am men are only seen in this Show DVD, GMV-495DVD.

Running time: 115 mins
2002 NABBA UNIVERSE
MASTERS OVER 40

1 Rob Van Der Dussen Holland
2 John Citrone UK
3 Terry Fisher UK
4 João Bispo de Andrade Brazil
5 Gerard Leroy France
6 Dayo Audi UK
7 Gerhard Grossauer Austria
8 Nigel Cox UK
9 John Lee UK
NP
Tony Rizzo Australia
Jurgen Schirmer Germany
Patrick De Wiest Belgium
Phillip Louis UK
Michael Bachhausen Germany
Earl Maduro Holland
Renato Somenzi Sweden
Graham Park UK
MASTERS OVER 50

1 Ian Lawrence Scotland
2 Rainer Ollgren Finland
3 Brian Balmer UK
4 George Chaumier Canada
5 Bernie Cooper UK
6 Andres Ferrero Argentina
JUNIORS

1 Eduardo Correa Brazil
2 Marius Dohne South Africa
3 Ricardo Da Costa Brazil
4 Nick Vandal UK
5 Geoff Baston UK
6 Jonathan Hughes UK
MEN'S OPEN CLASS 4 SHORT

1 Dennis Giusto Italy
2 Nick Jones Australia
3 Paul Lands Holland
4 Gilbert Feitosa Brazil
5 Paul Sutton UK
6 Darryl Aldis UK
7 Lee Callaghan UK
8 Steve Thompson UK
NP
Wayne Robinson UK
Justin Miller USA
Simo Bogdanoff Finland
MEN'S OPEN CLASS 3 MEDIUM SHORT

1 Edson Prado Brazil
2 Hassan Al Saka Syria
3 Jamie Manuel UK
4 Stephen Sinton UK
5 Billy Jones Wales
6 Djalma Laroque Brazil
7 Karsten Wagner Germany
8 Pierre Mifsud Malta
NP
David McLurg UK
Jean Mondolini France
Gilbert Sneddon UK
Jorg Fuchs Germany
Jo Walker UK
Manuel Cuevas Sevilla Spain
Shaun Danby UK
Lubos Obornik South Africa
Ben Rodriguez USA
Nick Borg Olivier Malta
MEN'S OPEN CLASS 2 MEDIUM TALL

1 Sergiy Dukhota Ukraine
2 Giuseppe Cozzi Italy
3 Sami Ben Otman Holland
4 Adam Ashley UK
5 Geoff Hargreaves UK
6 Gerson Guimaraes Brazil
7 Eric Overdevest Israel
8 Brian Flockhart UK
NP
Tony Stevenson UK
Derek Rutherford UK
Pascal DeLoos France
Alexander Kirschke Germany
Barry Chamberlain UK
Thierry Bidault France
Eric Tilman Holland
Luke Nichols UK
Michael Holton Australia
Alan Micallef Malta
MEN'S OPEN CLASS 1 TALL

1 Costantino Galeazzo Italy
2 Walter Lettner Austria
3 Eli Hanna Israel
4 Gino Barrios Holland
5 Harold Marillier UK
6 Andre Vander Mescht South Africa
7 Art Eggen Holland
8 Vincent Beltran Spain
NP
Yves Terrier France
Robin Munro UK
Richard Politano USA
Enzo Perondini Brazil
John Rizzo Australia
Gary Case UK
OVERALL MEN'S AMATEUR MR. UNIVERSE:
Costantino Galeazzo ITALY

PRO-AM / PROFESSIONAL MR. UNIVERSE

1 Gary Lister UK
2 Sergio Ogorodnikov Russia
3 Costantino Galeazzo Italy
4 Federico Focherini Italy
5 Steffen Müller Germany
6 Mikhail Bekoev Ukraine
NP
Dirk Karrengarn Germany
Jose Acosta Spain
Fabrizio Zittucro Italy
NTSC DVD, OPEN REGION

Customers who viewed this DVD also viewed:




Click here for GMV Productions complete list of Male Muscle DVDs.